Above: At Harbinger, the dish Spring's Fresh Spinach offers multiple delights, including "mushroom bacon." Photo: Byron C. Jones Photography
— By Wini Moranville —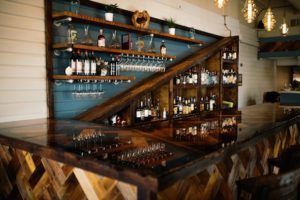 Harbinger, the new restaurant created by Jason Simon and Joe Tripp (owner and former executive chef of Alba, respectively), is now open. I'll cut to the chase: You'll want to make a reservation ASAP. I predict this snug spot will make a big splash and will likely be jampacked for weeks to come.
The rustic New American overhaul of the former Bistro Montage space will, I hope, help straighten out a common misconception about the place: People, this is not an Asian restaurant.
Yes, Tripp's flavor patterns are unmistakably inspired by his culinary journeys to Southeast Asia; words like yakitori, nam jim and yuzu kocho pervade the menu. But the highly original food here should not be viewed through the lens of your favorite Thai or Vietnamese spot. You'd be missing the point.
Rather, the focus is on New American food. The ingredients, as locally purveyed as possible, come first, and seasonality stars on every plate. On a recent soft-opening visit, spring's vibrancy shined in the asparagus, spring garlic, ramps, alliums, fava beans and the earliest leaves of locally grown spinach.
One standout, among many, was a dish called Spring's First Spinach. The crinkly leaves arrived slick, lightly wilted and sparkling green, with a scattering of sautéed mushrooms, all sunny-ed up by a soft-cooked egg yolk. The plate was garnished with this crazy-amazing thing called "mushroom bacon" — thin, brittle planks of flattened mushrooms that ate like crisp bacon but tasted intensely like the woodsy mushrooms they were. A soy-ginger vinaigrette may be where the Asian angle comes in, but it wasn't the point. Spring in Iowa, with all its surprises and exuberance, was the point.
Our table of four tasted through almost the entire menu of small plates, and dish after dish brought such inventive, finely detailed, unmistakably fresh and seasonal food. The prices and portions of these small plates — most priced under $16 — invite you to eat in courses. I suggest choosing a couple of veggie-centric options to start with, then moving on to a heartier plate, such as heritage chicken, beef strip loin or pork belly.
Harbinger is at 2724 Ingersoll Ave.; 515-244-1314. On Facebook: Harbinger Des Moines.
Wini Moranville covers food and dining for dsm. Follow her at All Things Food – DSM Wini Moranville.