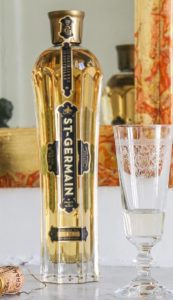 As our local craft-cocktail scene continues to flourish, I'm beginning to realize something: Nearly all of my favorite cocktails around town feature St. Germain Elderflower Liqueur somewhere in the mix. The French spirit is made from macerated elderflowers; thankfully it's more about a citrusy, pear-like freshness than it is about the floral notes, which are present, but not overly so.
I love what it brings to cocktails, and so do bartenders. In fact, Kate Willer, general manager of Bubba–Southern Comforts, calls St. Germain "bartender's bacon," because mixologists gravitate toward using it. At RoCA, bartender John Allen says the spirit "is perfect for brightening up spring and summer cocktails."
TI especially appreciate the spirit in cocktails that also feature sparkling wine. Here are three such concoctions to look for around town:
* Lavender Love Potion #9 at RoCA:
A refreshing, lilac-colored beauty, this combines creme de violette, St. Germain, lime juice and prosecco for what may be my favorite local craft cocktail.
* Saint of the Morning at Eatery A:
Gin, sparking wine, St. Germain and rosemary honey mingle for a dashing cocktail that's on the brunch menu (though I've sweet-talked the staff into making it for me to kick off an evening).
* The Orange Blossom at Bubba–Southern Comforts:
New for patio season, this cocktail starts with a sugar cube doused in orange bitters; in goes the St. Germain and prosecco for a fresh update on a classic Champagne cocktail.
P.S.: I enjoy St. Germain so much that I've brought a bottle home. (Find it at Ingersoll Wine & Spirits for $39.99.) I use it for a riff on a French Kir Royale: Place two to three teaspoons of St. Germain in a Champagne flute. Fill with sparkling wine. Toast the good life.
— Wini Moranville