Above: Range Grill + Golf is scheduled to open in July.

By Wini Moranville
Greater Des Moines' restaurant scene is a crowded field, so if you want to get in on the action, you'd better do something off the beaten path. With his new Range Grill + Golf, slated to open in mid-July, Steve Garrels seems to be doing just that. The venue will combine a restaurant, bar and six golf simulators in one building on Hickman Road in Urbandale. Garrels, who also owns the Signature Male hair salon, said that he "fell in love with the concept" when he experienced Fairways, a similar operation in Chicago.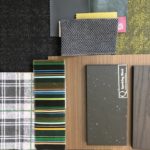 If you, like me, immediately pictured a sports bar, think again. The way Garrels described his vision to me, it sounds more like a hip, modern interpretation of a country club (albeit less stuffy and with no dues). Garrels says the interior, designed by Invision Architecture, will include walnut furnishings and a gray, black and chartreuse color scheme. A three-season screened-in porch, complete with a glass garage-style door, will open directly to the lounge. Des Moines' own Slingshot Architecture designed the building.
The restaurant's name has a dual meaning. It refers to the golf range, of course, but the menu itself will bring to mind another kind of range: With elk tenderloin and bison filets, ribeyes and burgers, there's a certain "home on the range" appeal. I also spotted plenty of more common options—including steaks, burgers, buffalo wings, salmon and shrimp Alfredo pasta—on the preliminary menu. A non-buffet weekend brunch is in the works.
The chefs are Jeff Snowgren, formerly executive chef at AJ's Steakhouse at Prairie Meadows, and Jeremy Brittain, formerly sous chef at Centro.
Range will be at 11865 Hickman Road, Urbandale. The website is under construction at rangedesmoines.com. No phone number was available at press time; to contact the restaurant, email info@rangedesmoines.com.
Want to be the first to hear about Des Moines dining news? Follow Wini Moranville on Facebook at All Things Food DSM – Wini Moranville.