Above: Much ado was made about nothing in a 2015 performance of Shakespeare at Salisbury House. Photo: Andrea Markowski
Shakespeare's unwieldy shrew gets tamed on the lawn of Salisbury House June 15-18 as the Repertory Theater of Iowa once again takes it outside.
If one is not unduly aggrieved today by the notion of a wife being "tamed," then this is still a frolicsome night of fine fun theater for all its 425 years. Chairs are provided, but many enjoy bringing a blanket and picnic in a designated area. Or get your goodies on site: Chocolaterie Stam will be selling gelato, and Hy-Vee will sell food, snacks, water, soda, beer and wine. Admission is $25 (less for students). Get more info on "The Taming of the Shrew" and make your reservation here. Gates open at 6:30 pm. and the play begins at 7:30 p.m.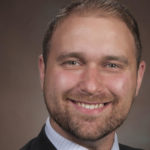 The merger of Repertory Theater of Iowa and StageWest Theatre Company takes effect next month, under the name Iowa Stage Theatre Company. Dan Haymes (right) has been named executive director of the new company. A 2010 graduate of Drake University, Haymes has worked in diverse corporate roles while being active in local theater in Des Moines and Chicago.