Above: "We seek good, authentic works that we hope people will love," says Tiffany Johnson, artistic director of Pyramid Theater Company, "and we want to provoke you some, too."
Writer: Barbara Dietrich Boose
Photographer: Jami Milne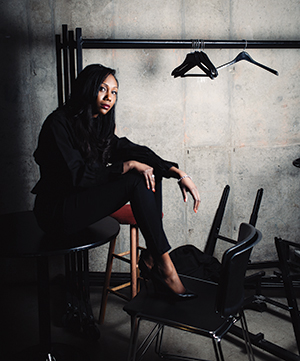 Beyond its productions of new and classic works by African-American playwrights, beyond its appeal to diverse audiences, and beyond the success of the plays it has staged since forming in 2015, there is something else remarkable about Pyramid Theatre Company: its female leadership.
Nationally, women seldom have leadership roles in theater, says Ken-Matt Martin, Pyramid Theatre Company's
co-founder and executive director. "With our little company in Des Moines, we're very passionate about changing that."
Change is overdue. A recent study of the 74 member organizations of the League of Resident Theatres revealed only 15 women served as artistic directors and only 19 were in executive or managerial roles. Of those women, only one was of color. In addition, according to an annual study by the Dramatists Guild and Lilly Awards, of the 2,508 productions put on by 153 regional theaters in the 2013-2014 season, only 20 percent were by female playwrights.
Statistics don't get in the way of Pyramid's leading ladies: Renee Hardman and Rosemary Parson, chair and a member of Pyramid's board of directors, respectively; Claudine Cheatem, general manager; Alexis Davis, managing director; and Tiffany Johnson, artistic director. Martin—who, when he isn't in Des Moines, is working on his Master of Fine Arts degree in directing at Brown University—describes them as the "kind of women who are born to do what they want to do.
"I love that these women of color are in our leadership. It's so important to highlight them," he says. "I don't actually do anything except come into town and run my mouth. They're the ones calling the real shots."
Those shots include selecting the two plays Pyramid produces annually, auditioning and stage-managing the actors, raising funds, and taking care of business operations. Founded on the critical success of "Fences" in 2014 and "A Soldier's Play" in 2015, Pyramid again wowed audiences last summer with "A Raisin in the Sun" and "Hooded, Or Being Black for Dummies."
This year's productions will be "The Amen Corner," July 21-Aug. 6, and "Mississippi…,"  July 27-Aug. 6 (see accompanying story, page 96).
Claudine Cheatem recalls watching her older brother's senior class perform "The Amen Corner" when she was in eighth grade. "I then realized that a great actor can impact people as well as a preacher or teacher," she says. "Now, with Pyramid, I don't have to long for Atlanta or Chicago or Kansas City. To see we have a diverse audience at our productions feeds me. It gives people hope there's opportunity here if we're willing to make it happen."
Tiffany Johnson met Martin when the two performed in the 2014 StageWest Theatre Company production of "Clybourne Park." He then wooed her to perform the lead role of Rose in "Fences." For that production, Martin won a regional Broadway World award for best director, and Johnson won the award for best actress.
"We fell in love with the idea we could tell these kinds of stories in Des Moines—stories of love, pain and struggles that happen in black lives," Johnson says. "But they also help us see we're more alike than different. That's exactly what we want people to see. It's not African-American history; it's American history."
Martin calls the chemistry of Pyramid's leaders "a true testament to the power of theater.
"Theater has always been a catalyst for social change," he says. "The people we've managed to bring together are of three different generations, but the beauty is we're all able to stand behind the importance of telling different stories.
"I'm the luckiest man in the world to have them as collaborators, partners, friends, confidantes, assistants, sisters and mothers," Martin adds. "I can't say how unique that is in theater. You [seldom] get the opportunity to work with such caring, nurturing people."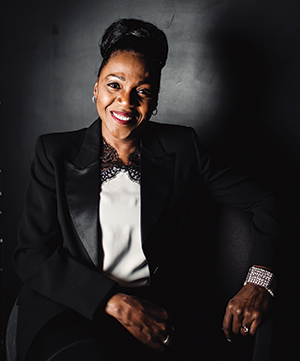 Rosemary Parson
Focused on Results 
Rosemary Parson was recruited to West Des Moines in 2003 to help build EquiTrust Life Insurance Co. from the ground up as a new subsidiary of FBL Financial Group Inc. and then coordinate its transition to new ownership. She also became
a leader in charitable organizations, including the Chrysalis Foundation, Children and Families of Iowa, and Des Moines Performing Arts, as well as served on the board of the Iowa Economic Development Authority. The experiences have given her an expertise in the complexities of business operations, planning, finance and time management.
Those skills were evident when friend Renee Hardman got Parson and Ken-Matt Martin together for the first time at 900 Mulberry St., where a former Des Moines firehouse
was being transformed into the new home of the Des Moines Social Club.
"I went to this dusty site in my four-inch heels, where we sat on metal folding chairs to talk," Parson recalls. "After Ken-Matt talked, I said, 'I have just one question: How much capital will it take?' He said $25,000. I said, 'Keep talking.' "
Martin answered her questions about where he'd find talent. He put together a business plan. He persuaded the savvy business leader to get on board.
"I don't know about theater production. I don't sing, I don't dance—I can dispel that black stereotype right away," Parson says. "But I have an innate drive for this community, this state, this nation and this world to understand our ethnicity beyond what's in the media. For us to be able to look at and tell our story from our own viewpoint is very powerful."
As someone accustomed to "building, consolidating and making ideas reality from a business perspective," Parson also believes Pyramid can be more than plays on a stage. She notes its potential to engage people in the components of theater that occur behind the scenes—sound, set design, management and more.
"I try to dream and then dream bigger," she says. "That is the accountability and responsibility we can reach through the arts to pull people into careers where they can sustain themselves and their families."
Like her fellow board member Renee Hardman, Parson had no lack of volunteer obligations when she met Martin. But she wasn't worried that joining the Pyramid board would stretch her too thin.
"If I can't be a quality board member, I say no. I don't need a trophy; I don't need to walk across the stage to get an award. I want results," she says. "How do you know this is something that is possibly going to have success, be sustainable, raise funds and do so in ways our reputations
will be protected? All of those concerns had to be addressed."
They were, with more. Parson describes being approached after "A Soldier's Play," a work about racism and racist stereotypes in the military, by female military members and a wheelchair user who could relate to experiencing discrimination. At Pyramid's 2016 production of "A Raisin in the Sun," she talked with an elderly white woman who'd "challenged" her book club members to attend and proposed the book be the club's next read.
"That was like a validation," Parson says. "I thought, 'Why would we not want to do this?' There's a hunger in the community for that education that goes well beyond entertainment."
Parson, who describes herself as a "female executive in the insurance world where most people don't look like me," works to encourage other women—such as the members of the East High School girls' basketball team whom she mentors—to dream big. But she also points out she's "nothing but honored" to work with the men involved with Pyramid, such as board member Jerry Patterson, who, with his wife, Colleen, hosted a 2017 season kickoff party in their home.
"Like these women of Pyramid who are power hitters, there are men who are power hitters working alongside us," she says.
Most important to Parson is what Pyramid offers Des Moines.
"Pyramid brings me a sense of 'value add' to the community. When I walk away, there will be something greater than I—a person who was educated, a young person who was inspired," she says. "I want the company to be successful, and I want the community to learn and grow. Diversity of thought is the most powerful form of diversity that we can have."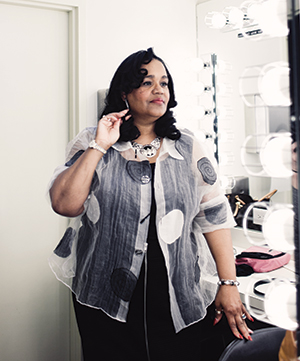 Renee Hardman
'Start Small and Build Smart'
Renee Hardman knew Ken-Matt Martin because she had been a classmate of his father, Ken, at Drake University, and because they attend the same church. Still, when he approached her with his idea of starting a theater company, her first thought was, "Another nonprofit—just what we need."
Then she listened to him.
"I realized we didn't need to build a theater," she says. "It was the opportunity to do a couple of different productions a year and bring to Des Moines works that other companies weren't doing. We had to start small and build smart, but Pyramid has told beautiful stories no matter what your race is."
Hardman understands how important that is for the community. She came to Des Moines from Chicago in 1979
to enroll at Drake, and she's been here ever since. An active volunteer for several organizations, she also owns Hardman
Consulting, which provides diversity and inclusion training, executive coaching and human resources consulting.
"I just so believe in Pyramid's mission, and I can use my voice. If not now, when?" she says. "I can't be on the sidelines complaining about the lack of diversity in the arts in Des Moines; I've got to be the train that's on the track.
I want to see this theater company sustain itself over the years. We need to ensure our children and aspiring artists have a place where they can raise their hands and have their voices heard.
"Young people thrive on cultural diversity, so I also believe investing in Pyramid is a way to help keep young people in the community," she adds. "That's good for business. It's a solution."
Tiffany Johnson
Poking the Elephant
As a student at East High School, Tiffany Johnson trained for the stage under the tutelage of local legends like drama coach Ruth Ann Gaines, who now serves in the Iowa House of Representatives. "Everyone thought my career would be acting," Johnson says. Then life happened: She became a single mother at age 18: "I had to own my responsibilities. Being a parent became my focus."
Johnson says her life's experiences were the best training for the theater. She started getting involved in theater again in 2010, crossing paths with Martin when they auditioned for StageWest Theatre Company's 2014 production of "Clybourne Park."
"We immediately had this chemistry and connected on so many levels," she says. "We vowed to work together again."
They continue to do so, with Johnson as Pyramid's artistic director. Last year she had her directing debut with "A Raisin in the Sun," for which she received some guidance from her early mentor, Gaines, who now is a member of Pyramid's advisory board. Johnson also reads a lot of scripts to help the company balance its productions between classic works and new ones.
"You have to use innovative ways to tell new stories to get people to attend, including people who already have a palate for theater as well as younger audiences," she says. "We want to add to and enhance the cultural landscape. We seek good, authentic works that we hope people will love, and we want to provoke you some, too."
Pyramid did that last year with "Hooded, Or Being Black for Dummies." The production included post-show "talk backs" for the actors and audiences to ask questions and express their emotions.
"A black man in the audience was pacing, he was so angry. When he got to share, he said, 'I'm angry. I live with this every day,' " Johnson says. "We want to make sure our voices are being heard, and to let audiences walk up to that elephant in the room and poke it and talk to it and ask questions about it."
Johnson and her colleagues go to churches and community events to promote Pyramid and scout for talent.
This spring, she and some of the actors talked about racism with the Ray Society, Drake University's lifelong learning organization, and also spoke to the Greater Des Moines Leadership Institute on the topic of "cultural capital."
"We can actually help educate people by being part of these discussions," Johnson says. "That makes us all better."
There is no doubting Johnson's or her colleagues' commitment to Pyramid and its legacy—"We're all hands on deck, all the time," she says—but contemplating how the company has come together makes her pause.
"I can't even tell you how we got here so fast. I can't take the grace of God out of it," she says. "We're still learning and growing, but we're also accomplishing what we set out to accomplish. When you're moving toward your purpose, things do fall into place. Obstacles fall out of the way, and stumbling blocks become stepping stones."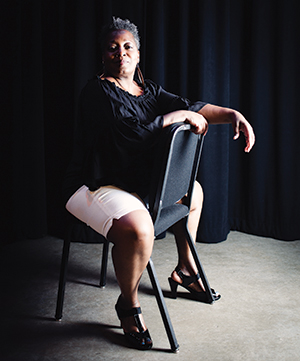 Claudine Cheatem
The 'Encourager'
Claudine Cheatem began producing plays in her Des Moines backyard when she was 8, recruiting some of her 13 siblings to perform on a picnic table stage.
"Paid entertainment didn't exactly flow around our house, so we had to make our own," she says. She's still doing that as Pyramid's general manager, with responsibilities ranging from setting up auditions to arranging guest artists' travel to getting contracts signed.
"Overall, I'm the 'encourager,' " she says. "I was taught at home and in church that if you want to make your dreams come true, you've got to help others make their dreams come true, too."
Cheatem became involved with Pyramid as company manager of "A Soldier's Play" at the Des Moines Social Club's Kum & Go Theater in 2015. "It was so important to me that that production was successful. At the first performance, I just wanted to leap out of my seat," she says. "I went through the audience every night to watch their reactions. Then I'd send the guys [in the cast] email messages: 'You guys nailed it. They loved you.' "
When not working on Pyramid projects, Cheatem activates software installed in new tractors at John Deere. The author of children's books and several stage plays, including one Ken-Matt Martin directed for her at Goodrell Middle School, she has been a costume designer and will play the role of Odessa in this year's production of "The Amen Corner."
She also has an eye for talent; last year she spotted young Elijah Torres at Merle Hay Mall and, though
he'd never been on a stage before, recruited him to perform as Travis Younger in Pyramid's production of "A Raisin in the Sun."
"It's amazing to see the transformation in the actors.
Elijah just opened up," she says. "And the guys in 'A Soldier's Play' so enjoyed the offstage camaraderie they had. That dressing room, like the young people say, was lit."
Cheatem loves that theater can provide diverse perspectives along with timeless themes and universal experiences that audiences can share.
"I saw 'Dreamgirls' at the Starlight Theatre in Kansas City with my 83-year-old mother-in-law, which she loved," she says. "Now I've seen the movie version with Beyonce with my granddaughters. I tell people theater is ministry. Not as 'where I believe in God,' although you can get that message across, but where we can truly connect. And you don't know what part of a script will touch someone in the audience."
Alexis Davis
'Wherever I'm Needed'
Alexis Davis, Pyramid's managing director, hadn't given much thought to the lack of women in theater leadership roles. That changed on Aug. 28, 2016, during the second annual presentation of the Cloris Leachman Excellence in Theater Arts Awards, Central Iowa's version of the Tonys.
"I was looking at all these award categories and the nominees, and it was this whole spread of men," she says. "I thought, 'Where are all the women?' "
It was still a happy night. Ken-Matt Martin, Pyramid's executive director, received the Cloris Leachman Special Recognition Award. And the Best Play Award went to Martin and the Des Moines Social Club for "A Soldier's Play." Still, the experience affirmed for Davis Pyramid's efforts to engage more women and others who have been underrepresented in theater.
That effort is among many that Davis and her Pyramid colleagues are juggling. A full-time relationship banker at Bankers Trust, Davis also is associate choreographer for Hoover High School's theater department, and she's pursuing her master's degree in communications leadership at Drake University. For the Des Moines Social Club's 2014 presentation of "Fences," which Martin produced and directed, Davis was the house director, sound board operator and assistant stage manager, who also helped run the light board.
"Wherever I'm needed, I fill in. I like working behind the scenes," she says. "We're a very small team, so it can get hectic. But we've grown stronger in our relationships with each other even though we have different career backgrounds and are of different ages."
Davis describes Pyramid as a company that "sheds light on a community that is not really recognized. It allows African-American actors to get outside their comfort zone and realize there are more stories that tell their lives," she says. But Pyramid "tells truth" not just for African-Americans, she adds.
"When we did 'A Soldier's Play,' we got a lot of feedback from white veterans that the production spoke so much truth to them about the military," she says. "I love every bit of that. When you feel that you're doing something you love and you're seeing it speak to the audience, that makes such a big impact on you."
Davis also is glad that Pyramid Theatre is helping change the view that leadership positions in theater are men-only roles. "These women I work with put so much into Pyramid and get things done," she says. "At the end of the day, that's what should really matter."
---
Pyramid's 2017 Season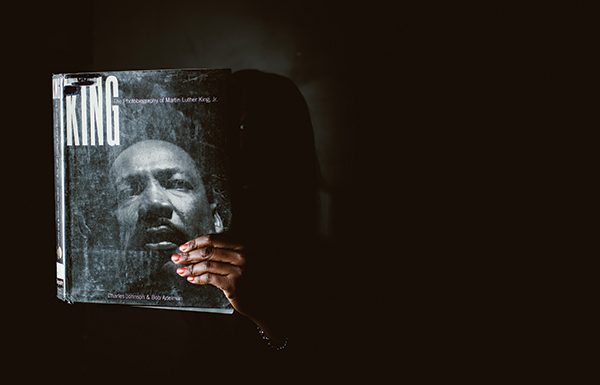 Three features of Pyramid's 2017 season highlight its growth, success and willingness to be provocative—this year's two productions and its new home in Stoner Theater.
James Baldwin's "The Amen Corner," July 21-Aug. 6, portrays Sister Margaret Alexander, who has moved her Harlem congregation with a mixture of personal charisma and ferocious piety. But when Margaret's estranged husband, a jazz musician, comes home to die, she risks losing both her standing in the church and the son she has tried to keep on the godly path.
"I've always been a huge James Baldwin fan," says director Ken-Matt Martin. "As a man of faith, I felt like we wanted to do something in the way of faith and hope. Not Christian faith, but a leap of faith. It's also a play with music, so we're dipping our toe in musical theater."
"Mississippi…," July 27-Aug. 6, examines the next-door neighbors of Civil Rights activist Medgar Evers who struggle with tough decisions in a tumultuous time. The play, by Jonathan Norton, premiered in 2015 in Dallas.
"The play turns on its head immediately because it's not investigating the Civil Rights movement but instead what every person can understand—two generations trying to understand how to move forward," Martin says. "There's a young daughter who wants to move forward with protesting, and her parents who don't want to turn on the 5 o'clock news and see their daughter in danger or hurt.
"It's a beautiful, compelling play because it investigates that struggle," he adds. "You may not know what it's like being black and growing up in the South, but you do know what it's like being a rebellious teen, and maybe you know what it's like being a parent."
After a "difficult state-out-loud conversation," Pyramid board member Rosemary Parson says, the company chose not to use the play's full name, which includes an expletive.
"Our work has to fit within the respectful bounds of this community, our reputations and our beliefs," she says, noting that marketing the play's full name could alienate potential audience members. "We have to be strong, tough and business-minded. If you're going to exclude a portion of the community right out of the blocks, that's not a very sound business model."
Both plays will be staged at Stoner Theater in the Des Moines Civic Center. Martin praises Stoner's focus on theater productions and is excited to utilize Des Moines Performing Arts resources, such as its technical staff and ticket sales operations.
Eric Olmscheid, director of programming and education for Des Moines Performing Arts, says Stoner has a "long-standing tradition of being a resource for the community" and hosting Pyramid productions there is a natural extension of that mission.
"Having a regular home allows for Pyramid Theatre audiences to know where they're performing and where to look for information," he says. "We look at this as a long-term relationship."