Now this calls for a nice meal: Des Moines' 10th annual Restaurant Week is Aug. 18–27. Ten years! That's 100 days of Restaurant Week satisfaction. Over the past decade, more than 1,400 recipes have been created as Restaurant Week specials.
How many tens of thousands of people have enjoyed these meals? How many found true love on a Restaurant Week date? How many wept at their tables, overwhelmed by Restaurant Week values? It's all been so lusciously wonderful, we simply must do it again.
We have 39 participating restaurants this year—familiar favorites like Alba and Django, and promising newcomers such as Harbinger and Reed's Hollow. Sure-to-please offerings this year include the braised beef short rib at Trostel's Dish and rigatoni alla Norma at Centro.
Once again, each participating restaurant will offer specialties created for this event with Restaurant Week pricing: two lunches or one three-course dinner for just $28. This annual festival of food is presented by dsm magazine in partnership with the Greater Des Moines Convention and Visitors Bureau.
You'll get more than a great dining experience. You also can win a prize package of food deals worth $600, including gift cards for opportunities all over town. Turn to page 15 in this section for details. To learn more, visit DesMoinesRestaurantWeek.com. Then follow the fun on Facebook and Instagram (#dsmrw2017). There's a handy app (search "dsm Restaurant Week").
---
ON THE MENU
Writer: Wini Moranville
Photographer: Duane Tinkey
LOBSTER ROLL
Vivian's Diner + Drinks
For one of the dishes on their Restaurant Week menu at Vivian's, owner Jeff Duncan and his team will feature a lobster roll, a classic sandwich that you'll find in casual cafes throughout New England. True to Vivian's code of adding stylish updates to casual American classics, the kitchen will dress the lobster in garlic aioli, add a few sundried tomatoes and arugula, and switch in focaccia for the usual hot-dog bun.
The dish's two sides will swing both classic and modern: A warm kale salad will feature portabella mushrooms, feta and sautéed onions, while the crisp, hot fries should satisfy those diner-food cravings—they're also a traditional accompaniment to a lobster roll.
---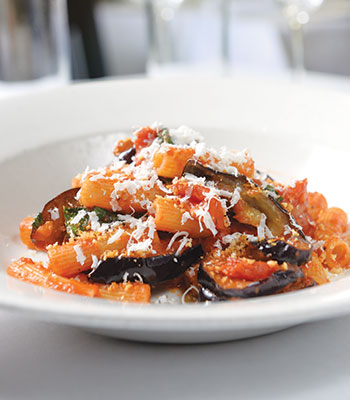 RIGATONI ALLA NORMA
Centro
For Restaurant Week, executive chef Derek Eidson and chef-partner George Formaro's menu will pay homage to prominent south-side families who emigrated from Italy and who later opened restaurants or food shops in Des Moines. Names like Lacona, Tumea, Vacco, Riccelli, Graziano and Formaro will grace the menu. Each dish featured will either be a favorite family recipe or a specialty from the clan's hometown in Italy.
One such dish is Rigatoni alla Norma, a specialty of George Formaro's mother, Gina Formaro. While George and his siblings were growing up on the south side, his mother often made her recipe using fresh tomatoes and eggplant grown in the family's backyard garden. The dish, which also features garlic, chili flakes, basil, breadcrumbs and ricotta salata, is a famous specialty of Gina Formaro's native Sicily.
---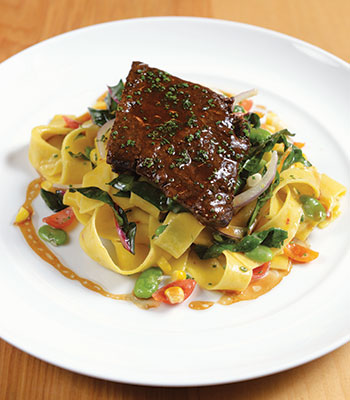 BRAISED BEEF SHORT RIB
Trostel's Dish
For one of his Restaurant Week selections, chef Johan Larsson will serve this braised Iowa beef short rib atop a nest of tagliatelle that's studded with summer vegetables. Asked which vegetables those might be, Larsson responded, "Whatever's fresh and beautiful from Central Iowa Organics."
A truck from the Winterset farm arrives regularly throughout the growing season, bringing a veritable farmers market right to the restaurant's door. While sweet corn, radishes, rainbow Swiss chard, tomato and basil could well make their way into the dish, don't be surprised if you find other garden-fresh surprises
woven throughout the house-made, hand-cut egg-enriched tagliatelle.
---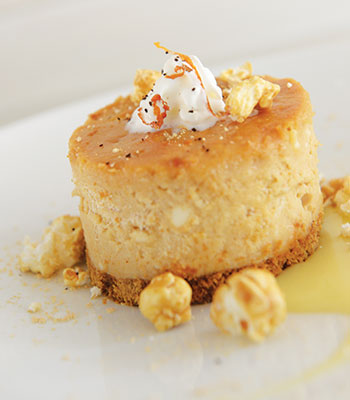 PEANUT BUTTER CHEESECAKE
Goldfinch
For one of Goldfinch's Restaurant Week dessert selections, executive sous-chef Ryan Carey chose a recipe that salutes a beloved Des Moines mainstay: the farmers market that takes place seasonally on Saturdays just outside the restaurant's doors. Made from homemade peanut butter and locally sourced cream cheese, the peanut butter cheesecake gets a playful sprinkling of caramel corn—that quintessential farmers market munchie—that's been caramelized and pulverized.
While the dessert may sound rich and indulgent, it was chosen with summer in mind. "The cheesecake is comforting, like a Midwestern dessert should be," says general manager Brian Edwards, "yet it is airy and light, which is a perfect finish in the stagnant heat of August."
---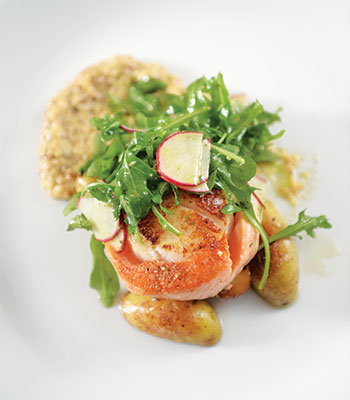 OSSO BUCO WITH SALMON AND SCALLOPS
Splash Seafood Bar & Grill
During the election season last year, Delmonico's, the famed New York steakhouse, featured notable dishes served to past U.S. presidents. While the dishes were trending on Instagram, one in particular caught Splash executive chef Dom Ianarelli's eye: osso buco of salmon and scallops. The dish was served in honor of the Italian prime minister's visit to the White House during the Clinton administration.
Since spotting the striking sea scallop in its cloak of salmon, Ianarelli re-created the specialty for gala events earlier this year, including Winefest's Thrivent Financial Iron Somm competition and the Iowa Restaurant Association's Culinary Affair. Lucky diners can snag the dish during Restaurant Week. Ianarelli also plans to offer it now and then on the menu as a daily feature this summer.
---
Restaurant Week Participants
Writer: Wini Moranville
+39 ITALIAN RESTAURANT
1430 Locust St.; 515-421-4500
plus39italian.com
Named after the international phone code for Italy (+39), this Italian eatery combines Edwardian grandeur with an urban-edgy vibe: Unclothed slate-and-black chairs mix it up with molded columns and wood-trimmed walls, with a billowy chandelier crowning the space. Look for back-to-basics Italian dishes—pizza, pasta, grilled and roasted entrees—plus a few American standbys (burgers, Caesar salad).
320 RIVER CENTER
320 W. Martin Luther King Jr. Parkway, Suite 140; 515-330-1517
320rivercenter.com
Restaurant Week will offer a terrific chance for diners to get inside this all-new event center, which is owned and operated by restaurant veterans Michael and Lisa LaValle. As of press time, the center was under construction, but plans include a decor that combines Iowa-native touches, such as reclaimed wood and barn doors, amid an overall neo-industrial look with polished concrete floors, exposed brick, metal-top bars and metal chandeliers. For Restaurant Week, Diego Critelli, who recently joined the LaValles' Port of Des Moines catering empire as executive chef, will present "An Evening in the Veneto," with recipes inspired by his Italian homeland.
ALBA
524 E. Sixth St.; 515-244-0261
albadsm.com
Vintage wooden doors suspended from the ceiling, along with the curved bank of windows lining the dining room, lend an animated setting to the energetic cuisine found here. The contemporary-American menu brings refined flavors from all over the world; that is, you might find an Argentine chimichurri on a pork loin or an Italian-influenced pine-nut gremolata on stout-braised short rib. Yet no matter how far-flung the inspiration, the ethos is unmistakably native. What you'll remember most is the genuine flavors of seasonally, locally sourced food.
AMERICANA RESTAURANT AND LOUNGE
1312 Locust St.; 515-283-1312
americanadsm.com 
With windows framing the John and Mary Pappajohn Sculpture Park, this stylish, two-story restaurant occupies a historic former car dealership on Locust Street. Bright World War II-themed murals pay tribute to the midcentury cocktail generation, and the bar follows suit with handcrafted libations. The menu opens to American bar-grill favorites (steaks, burgers, pasta and small plates); most dishes are tweaked with hallmarks of today's polished-contemporary cuisine. To wit: truffle fries, truffle mac-and-cheese, seared tuna with wasabi, miso-glazed salmon and Cajun-chicken gnocchi.
APOSTO
644 18th St.; 515-244-1353
apostodm.com
Located in a Sherman Hill mansion, Aposto serves private parties; themed multi-course tasting menus, as well as a walk-in casual menu, every Saturday; brunch on the first Sunday of each month; and various pop-up dinners throughout the year. Fans of the romantic setting—formerly the site of Café di Scala—will be glad to know that Aposto plans to open to the public during some of Restaurant Week. Specifically, the restaurant will be open Aug. 20-26, but reservations are required and you must purchase a ticket through Midwesttix.com. There will be several different time options available for diners to choose from.
BARU 66
6587 University Ave., Windsor Heights; 515-277-6627
baru66.com
David Baruthio, a native of Alsace, has cooked all over the world, from Belgium to Mongolia. While his modern-French menu offers a few straightforward presentations, this is the place to order playful, multi-ingredient dishes such as a millefeuille of savory graham crackers, caviar and lobster gelée with white chocolate foam. Each original dish brings an unmistakably French combination of indulgence and exactitude. If you're not sure whether or not such detailed and complex food is your style, Restaurant Week is a great chance to discover what this chef is all about.
BUBBA—SOUTHERN COMFORTS
200 10th St.; 515-257-4744
BubbaDSM.com
Christopher Diebel's chic downtown locale exudes grandeur, poise and polish; the lounge, especially, feels like a stylish update of the Southern parlor setting, replete with nailhead-trimmed upholstered dining chairs and 6-foot chandeliers framed by swag-draped windows. Take it all in while sipping clever craft cocktails. When you head to your table, loosen your belt: Big-food bravura dominates much of the menu, where Southern fried chicken, meatloaf, and shrimp and grits are mainstays. Of note: This past spring, Courtney Oberender took over the kitchen as executive chef. She plans to add seasonal appeal to the menu, especially during the growing season.
CENTRO
1003 Locust St.; 515-248-1780
centrodesmoines.com 
More than a decade ago, Centro energized the downtown Des Moines dining scene with urban-chic ambiance and grand-scale ambition. Its appeal endures: On any given night, the room swells with the animated buzz of a contented crowd. Some pile in for chef-restaurateur George Formaro and executive chef Derek Eidson's satisfying and sincere takes on Italian-American food (Mama's meatballs, onion rings, sausage rigatoni, red-sauced cavatelli and the like). Others seek out the more refined side of the menu, such as seared sea scallops with potato gnocchi. During Restaurant Week, check out Eidson's homage to the food that Italian immigrant home cooks brought to Des Moines (see opposite page).
CHEF'S KITCHEN
903 Beaver Ave.; 515-255-4411
chefskitchendm.com 
These days, you can find sports bars and fine-dining spots all over the place. What's  harder to hit upon is that sweet spot in between: a place you can go for that casual Tuesday-night meal that's as thoughtfully prepared as a Saturday-night splurge. Chef's
Kitchen is exactly that. On red-letter days, try the steak de Burgo, shrimp scampi or Bistecca alla Fiorentina (grilled steak finished in olive oil, garlic and herbs). For a more casual night, check out their extensive burger and sandwich options. Also note there's never a corkage fee here.
CHRISTOPHER'S
2816 Beaver Ave.; 515-274-3694
christophersdsm.com
Owned and operated by the Giudicessi family since 1963, this ever-popular Beaverdale venue does not rest on its laurels. Devotees continue to head here not for merely nostalgia's sake, but for well-crafted versions of classic pasta, seafood and fish (including terrific pan-fried walleye), steaks and prime rib. Sandwiches and
pizza in the lively lounge continue to offer
a classic way for locals to relax with
their friends.
CITY CENTER LOUNGE—DES MOINES MARRIOTT DOWNTOWN
700 Grand Ave.; 515-245-5500, ext. 5708
marriott.com 
Go early for a pre-dinner cocktail—settling into the plush, soft seating of this colorful  and contemporary lounge lets you live large in your own hometown. The menu brings American favorites such as quesadillas, wings, steaks, burgers and salmon, and many are niced-up Iowa-style with local ingredients, such as Graziano's sausage (in the pasta bolognese), Cedar Ridge bourbon (in the banana bread pudding) and Berkwood Farms pork (in an Iowa Chop entree).
DISTRICT 36 WINE BAR & GRILL
1375 S.W. Vintage Parkway, Ankeny; 515-261-2502
district36winebar.com
Dave and Jean Thomson, the owners of Urbandale's popular Urban Grill, opened this sister venue in 2016. The menu covers many polished bar-grill favorites (pasta, sandwiches, entrees), some straight-on, others with a twist. The grilled chicken Caesar salad, Reuben, French dip and burgers stay mostly classic, but a rib-eye gets an update with Hawaiian marinade and spices, while a peppercorn crust adds a new angle to steak de Burgo. Enjoy it all in a handsome atmosphere.
DJANGO
210 10th St.; 515-288-0268
djangodesmoines.com
All hail Django for helping Des Moines understand that there's nothing inherently snobbish about French food. The always-buzzing brasserie-style restaurant merrily trots out crowd-pleasing French favorites (pâtés and charcuterie platters, coq au vin, boeuf bourguignon and the like), alongside more casual fare, such as burgers, macaroni gratin, main-dish salads and crepes. To reinforce its good-time vibe, the restaurant encourages patrons to bring their own wine, with no corkage fee, ever.
EATERY A
2932 Ingersoll Ave.; 515-282-8085
eateryadsm.com 
When he opened Eatery A three years ago, restaurateur Jason Simon brought grand-scale ambition to the casual dining scene. He started by tricking out an Ingersoll eyesore with dash, verve and gleaming reclaimed wood. Inside, executive chef Nic Gonwa's lively menu focuses on wood-fired pizzas and a dynamic array of appetizers, salads and entrees with a Mediterranean focus. The menu changes frequently, but adventurers should try Gonwa's takes on octopus and pork cheeks when they spot them, while dishes like hanger steak and ricotta cavatelli should please the less intrepid just fine.
FLAVORY BISTRO
1450 S.W. Vintage Parkway, Ankeny; 515-443-7272
Facebook: Flavory Bistro
Look for fresh and homemade Mediterranean-focused fare at this family-run eatery located in The District at Prairie Trail, the growing shopping, dining and entertainment hub in Ankeny. The menu includes gyros, falafel and grilled chicken pitas; paninis; and salads. Also look for cheese, meat and Mediterranean platters—perfect for enjoying on the patio with a glass of wine in summer. Healthy, vegan and gluten-free options are available, and smoothies and fresh-squeezed "green juices" (made with good-for-you fruits and veggies) are also a specialty.
GILROY'S KITCHEN + PUB + PATIO
1238 Eighth St., West Des Moines
515-809-1727
gilroyskitchen.com 
When the immensely popular '80s-'90s-era Jimmy's American Cafe closed at this location back in 2000, it left a gaping hole on West Des Moines' Eighth Street dining  corridor. Last year, restaurateur Scott Carlson (owner of Court Avenue Brewing Co. and Americana) overhauled the place, and the new venue is a go-to choice for polished-casual dining at breakfast, lunch and dinner. Enjoy burgers, sandwiches, comfort-food entrees (such as meatloaf, potpie, and fish and chips), a handful of steaks and salads, and a buoyant bar and patio scene.
GOLDFINCH
316 Court Ave.; 515-282-2995
goldfinchdsm.com
The modern birchwood-white and natural-wood interior, with splashes of bright colors here and there, recalls the fresh, breezy feel of a whitewashed farmstead. It's an apt setting for the garden-inspired cuisine here. Hearty dishes like braised short ribs, chicken, grilled rib-eye and pan-seared salmon arrive with fresh and seasonal touches, such as watercress, fennel and orange salad, corn cakes, red cabbage, jicama or sautéed leeks. Craft cocktails also star the garden in unique ways, with the likes of lavender, herbes de Provence, beets and rosemary making their way into the glass. For Restaurant Week, get a taste of the restaurant's seasonal devotion with an heirloom tomato salad (see page 9 of
this section).
GRANITE CITY FOOD & BREWERY
12801 University Ave., Clive; 515-224-1300
Named for the granite quarries of its St. Cloud, Minn., birthplace, this brewpub currently has 36 locations across 15 states. At the Clive location, a lively bar scene, an on-site brewery and the open kitchen energize a smart-casual spot. Perennial crowd pleasers, such as spinach-artichoke dip, Buffalo wings, Cajun pasta, shrimp tacos and blackened salmon salad pack the menu, along with seriously satisfying half-pound burgers. Sundays bring a much-loved brunch extravaganza—the generous buffet offers brunch-land favorites, including a made-to-order eggs Benedict station and RumChata French Toast.
HARBINGER
2724 Ingersoll Ave.; 515-244-1314
harbingerdsm.com
Chef Joe Tripp made a name for himself at Alba in the East Village, and now he and Alba owner Jason Simon have teamed up to bring equally admirable food, albeit in a small-plates package, to Ingersoll Avenue. The flavor patterns are inspired by Tripp's repeated culinary journeys to Southeast Asia (expect words like yakitori, nam jim and yuzu kocho to pervade the menu). Yet make no mistake: This is first and foremost New American cooking. The ingredients—as locally purveyed as possible—come first, and seasonality stars on every plate. The rustic-chic ambiance underscores the restaurant's true-to-Iowa ethos.
HOQ
303 E. Fifth St.; 515-244-1213
hoqtable.com 
Suman and Cynthia Hoque's airy and bright East Village bistro is a farm-to-fork leader. The menu, which changes almost daily, employs grass-fed beef and lamb and free-range chickens and duck. All are raised without hormones, antibiotics or cages. Butter and cream come from grass-fed cows, and seafood is sustainably sourced. This all comes to the table in inventive dishes, such as the arugula salad with La Quercia lardo, local black walnuts and fried soft shell crab.
LE JARDIN
2815 Beaver Ave., Suite 101; 515-255-5787
lejardindsm.com
The casual yet life-enhancing everyday cooking of France is the draw at this French bistro. Chef-owner Tag Grandgeorge's signature plates include rabbit meatloaf, lush charcuterie plates and dinner-worthy omelets. But check the website often; Grandgeorge updates the menu weekly, with dishes like sausage and crab linguine with caramelized onion, lemon oil, and lobster/dill butter. His weekend brunches are a Beaverdale favorite.
MACHINE SHED
11151 Hickman Road, Urbandale; 515-270-6818
machineshed.com
With the mantra "dedicated to the American farmer," Machine Shed is appropriately housed in a structure near Living History Farms that recalls a barn. Generous portions and home-style cooking at breakfast, lunch and dinner are the restaurant's hallmarks. Favorites such as the roasted stuffed pork chops, Haybaler top sirloin and pan-fried chicken keep fans returning. And the award-winning cinnamon rolls with butter-cream frosting? Legendary.
MALO
900 Mulberry St.; 515-244-5000
malodesmoines.com
Located in the headquarters of the Des Moines Social Club, Malo is another see-and-be-seen venue in the George Formaro/Orchestrate Management empire. With pisco sours, mojitos and a daiquiri-style sip that pays homage to Hemingway's time in Cuba, the thrilling drinks menu celebrates the cocktail culture of Latin America. The menu includes Mexican favorites, such as tacos made from fresh-pressed tortillas and slow-braised meats. Also find signature dishes, ranging from the refined (pumpkin-seed-crusted chicken) to the irreverent (Tot'chos—tots loaded up, nacho-style).
PRIME LAND + SEA
1261 Eighth St., West Des Moines; 515-221-1325
primedsm.com
With options ranging from pastas, burgers and stone-baked pizzas to cold seafood platters, rack of lamb and prime dry-aged steaks, you can go high or low at this easygoing bistro-style spot from French chef David Baruthio, who also owns the high-end Baru 66. Prime's lounge makes a great place to wind down after work and enjoy some of the more casually focused food—especially during happy hour (4 p.m. to 6 p.m. Tuesday through Saturday and all night Thursday), when pizzas are half price and select wines and tap beer are $3. Whenever you go, be sure to order some of chef Nico Ebtinger's exemplary hand-cut fries.
PROOF
1301 Locust St.; 515-244-0655
proofrestaurant.com
Chef-owner Sean Wilson pays homage to his native North Carolina, where he started his career at the age of 14 working in fish houses. The menu changes often; look for refined versions of low-country cooking, such as a pork chop with pickled peanut salad, ginger collard greens, cream peas and mustard-sorghum sauce. A pioneer in this town's craft cocktail movement, Wilson's alter-ego, Doc Wilson, house-infuses spirits, creates his own vermouths and bitters, and turns out dashing signature libations. Located at the edge of Western Gateway, Proof also offers a captivating view of downtown Des Moines through immense, east-facing windows.
REED'S HOLLOW
2712 Beaver Ave.; 515-777-3625
Facebook: reedshollow
A few years back, chef Zach Gutweiler turned heads by serving inventive food on paper plates from a two-burner kitchen at the Hole in the Wall at the Gas Lamp. While Reed's Hollow may bring a more traditional dining experience (real plates, dedicated dining rooms, a real kitchen), Gutweiler's food remains cutting edge: A recent menu brought choices like corn dog-battered frog legs, lobster/butternut bisque ramen and a dish called "rabbit food," with rabbit belly, rabbit loin, rabbit rilletes, hay-roasted carrots and harissa chèvre.
REPUBLIC ON GRAND
401 E. Grand Ave.; 515-518-6070
therepublicongrand.com
Rise above it all—head to this 21st-century stylish lounge on the sixth floor of the new AC hotel, which opened last spring. Its enticing patio is especially set to be the summer's hotspot. Enjoy craft cocktails and brews, as well as well-purveyed whiskeys and wines, including six bubblies by the glass that sparkle like the city lights in full view. Stay for a snack (deviled eggs, hot nuts), or thoughtful small and shared plates that can add up to a meal (flatbreads, charcuterie, mini-burgers).
RōCA
208 Court Ave.; 515-282-3663
rocadsm.com
Executive chef Aaron Holt crosses hearty foods with flavor-charged touches for his menu of shared plates (pork belly tacos with daikon slaw; crab croquettes with red pepper remoulade), flatbreads (Graziano's sausage and giardiniera; mushroom and goat cheese), charcuterie boards, sliders (root beer-braised pork; crabcakes) and a handful of large plates (chicken marsala, beef tenderloin pasta). The precise craft cocktails are immensely gratifying.
SPLASH SEAFOOD BAR & GRILL
303 Locust St.; 515-244-5686
splash-seafood.com 
This is the city's premier spot for high-end seafood. The fish and shellfish are jet-fresh, of course, but the real pleasures lie in the way chef Dominic Iannarelli and team get these delights to the table just-from-the-heat hot, yet glistening with a sparkle of the sea. For more casual nights, duck into the raw oyster bar and enjoy well-purveyed oysters from the Pacific Northwest and New England and enticing appetizers, such as the kung pao-style calamari and shrimp. Be sure to check out the salmon and scallop osso buco on this year's Restaurant Week menu—see page 10 of this section.
STRUDL HAUS
1951 Indianola Ave.; 515-259-9886
strudlhaus.com
The rich red wallpaper, cushioned armchairs and crystal chandeliers at this decidedly European cafe hint at Austro-Hungarian grandeur, but the snugness of the old south-side building puts forth a certain cozy charm. While the lavish pastry case is the immediate focal point, the seasonally focused lunch and dinner entrees are equally a draw. Try the delicate Wiener schnitzel, and check out the wine list—Austrian-born chef-owner Michael Leo is also an expert sommelier.
TABLE 128 BISTRO + BAR
12695 University Ave., Suite 140, Clive
515-327-7427
table128bistro.com
Having grown up on an Illinois farm, chef Lynn Pritchard's passion for the farm-to-table movement runs deep. At Table 128, he brings the fresh-and-local ethos to the table with the precision and refinement of a classically trained chef. Meanwhile, his wife and business partner, Sarah Pritchard, runs the front of the house with both graciousness and an eagle eye. Though their restaurant has become a long-standing favorite of food lovers, the Pritchards aren't content to rest on their laurels: As of press time, changes were afoot to completely transform and re-energize the restaurant's space. For Restaurant Week, Lynn's menu will take inspiration from his mother, JoAnne Pritchard, and will include some of her breads, favorite farm garden vegetables and church cookbook recipes.
TRELLIS
909 Robert D. Ray Drive
515-323-6288
dmbotanicalgarden.com
Chef Lisa LaValle describes her cooking style as "creative cuisine from the plant world," and indeed, grains, legumes and veggies grace the menu in dishes such as Mayan corn salad and Moroccan red lentil pasta. But meaty entrees—from a Cuban sandwich to pasta with beef brisket and blue cheese—keep carnivores plenty satisfied, too. The lunch-only venue is located within the Greater Des Moines Botanical Garden. If it's a patio-perfect day, sit outside on the terrace, which overlooks the water garden, complete with lily ponds and a panorama of downtown Des Moines.
TROSTEL'S DISH
12851 University Ave., Suite 400, Clive
515-221-3474
dishtrostels.com/dinner
Once known primarily as a small-plates emporium, Trostel's now serves a full menu of familiar-yet-refined contemporary favorites. You can still make a meal out of a table full of appetizers such as the Boursin mushrooms, crab cakes, havarti shrimp, bruschetta and calamari. Or, keep it casual with sliders, tacos, salads, sandwiches and flatbreads. These days, however, those looking for a more complete, full-scale dining experience will be glad to spot some traditionally sized entrees on the menu, including prime rib, cedar-planked salmon and a gunpowder rib-eye. For Restaurant Week, look for a braised Iowa beef short rib (see page 6 of this section), among other delights.
TROSTEL'S GREENBRIAR RESTAURANT & BAR
5810 Merle Hay Road, Johnston
515-253-0124
greenbriartrostels.com
Trostel's Greenbriar has something few fine-dining restaurants in this town possess:  longevity. When it opened in 1987, it was mostly a special-occasion, white-tablecloth venue. Certainly, you can still head here for fine-dining classics such as prime rib, steak Oscar and chicken piccata. However, today's vibe and decor swing more good-natured than formal, and there's plenty on the menu that follows suit, including pizzas, burgers and sliders. Take a look at chef Troy Trostel's seasonal specials, such as sockeye salmon with asparagus and quinoa salad and tarragon-saffron cream sauce.
URBAN GRILL
3651 86th St.; Urbandale
515-278-1016
theurbangrilldm.com
Divided up into snug rooms that are tastefully lit and filled with handsome mahogany furnishings, Urban Grill is
an inviting spot to enjoy contemporary American favorites. While the menu brims with plenty of entree salads, pasta, fish, burgers and sandwiches, the steaks are especially enticing: You can choose to top them in six ways, from blue cheese or au poivre to Caroline—topped with crab and a Cajun cream sauce. Also of note: The family-run venue is staffed with many family members who strive to keep service standards high.
VIVIAN'S DINER + DRINKS
400 Walnut St.
515-282-8936
viviansdm.com
Located in downtown's historic Kirkwood Building, this year-old restaurant and lounge offers a thoroughly uplifting decor of reclaimed wood, beaded shimmer screens, pearlescent tile and sparkly pendant lamps and chandeliers. The menu's theme can best be described as "21st-century American diner," and while most dishes bring all the heartiness of classic diner food, many arrive with modern-gourmet twists—e.g., a short-rib grilled-cheese sandwich, a turkey burger with smoked-onion jam. For Restaurant Week, consider Vivian's take on a lobster roll (see page 2 of this section).
WASABI
9500 University Ave., West Des Moines
515-987-6080
wasabidsm.com
Those in the western reaches of our metro area appreciate the newest outpost of the locally owned Wasabi group of sushi/pan-Asian restaurants. Inside the spacious venue, natural light enhances a dashing atmosphere of soothing neutrals with splashes of autumn orange throughout. A pleasant patio snuggles between two buildings for alfresco dining. In addition to an extensive sushi and appetizer menu, plenty of full-meal entrees—such as a New York strip with balsamic-teriyaki sauce—will satisfy hearty appetites.
WASABI CHI
5418 Douglas Ave.; 515-528-8246
wasabichicuisine.com
The somewhat subdued older sibling of downtown's showy Wasabi Tao, this Pan-Asian eatery hits plenty of culinary high notes of its own. Look for more than a dozen original rolls, as well as sparklingly fresh entrees inspired by the sweep of Asia and beyond, from Mongolian beef to Grand Marnier shrimp with honeyed walnuts. Located in an inauspicious building, Wasabi Chi offers a harmonious setting of mindfully placed waterfalls, mirrors and lighting.
WASABI TAO
400 Walnut St.; 515-777-3635
wasabitao.com
The au-courant cocktails, sophisticated food and urban-cool setting all do their part to pull off a chic dining experience at this downtown sushi lounge. Diners sip jewel-toned signature cocktails and tuck into one-of-a-kind rolls featuring off-the-beaten-path combinations. Not feeling so bold? You can go traditional, too, with straight-on sushi and sashimi favorites.