Above: Golf pros and fans alike will descend upon Des Moines Golf and Country Club in August for the Solheim Cup.
Writer: Dave Elbert
Photographer: Duane Tinkey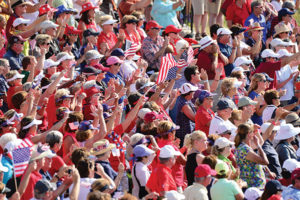 Five years ago, when members of Des Moines Golf and Country Club were brainstorming ideas for a major golf tournament to equal their hosting of the 1999 U.S. Senior Open, Suku Radia suggested looking at premier women's events. "Something like the U.S. Women's Open," he said.
"Have you ever heard of the Solheim Cup?" asked Dexter Bodin, a retired insurance executive.
Yes, Radia responded, noting that the Solheim Cup (Aug. 14-20 this year) pits the best U.S. golfers of the Ladies Professional Golf Association (LPGA) against professionals from the Ladies European Tour (LET).
"It's the Ryder Cup of women's golf," Radia told the assembled members, comparing it to the biennial tournament between U.S. and European male golfers.
But it's more than a golf tournament. Patriotic fans paint their faces, dress festively, cheer loudly and display more exuberance than is typically seen on a golf course.
It's a weeklong party for which the LPGA has budgeted more than $12.5 million this year, according to tournament director Chris Garrett.
But winning the right to host a Solheim Cup tournament would not be easy. Although the event is held every two years, sites alternate between the United States and Europe, meaning that it's held on U.S. soil only once every four years. The Solheim Cup in 2013 would be played in Colorado, then move to Germany in 2015. The earliest Des Moines Golf could hope for was 2017.
The West Des Moines club's recruiting efforts began in mid-2012 with a trip to Daytona Beach, Florida, home of the LPGA. There, Radia applied his aggressive style of charm to LPGA Commissioner Mike Whan.
During their first encounter, Radia asked if Whan would bring the Waterford Crystal Solheim trophy to the announcement ceremony in West Des Moines. When smiled and cautioned that Iowa was a dark horse candidate. The Solheim Cup is usually played on resorts or clubs near large cities, like Chicago and Denver, he told Radia.
Radia countered that the Senior Open had set an attendance record of more than 250,000 in 1999 and that Iowans are impeccable hosts. "We have no major league teams," he told Whan, "but we do very well with one-time events."
Des Moines Golf's early efforts included a video featuring Lt. Gov. Kim Reynolds, followed by an Iowa-nice luncheon for LPGA officials at Des Moines Golf and Country Club, where Radia arranged for Reynolds and her boss, Gov. Terry Branstad, "to drop by" unannounced.
LPGA officials were impressed. As the process continued, they learned that the layout of Des Moines Golf's 36-hole course was unchanged from the 1999 Senior Open Championship, but that several improvements had been made to increase interest and playability. Fewer trees allowed longer holes, while greens were smaller with more slope to make putting more challenging.
In the fall of 2012, the club hosted a reception for large employers to gauge sponsor support. The turnout pleased league officials, who knew that success depended on attracting scores of sponsors and more than 2,000 volunteers.
At Radia's suggestion, Des Moines Golf's governing board pledged half of its Solheim profits to charities that support women (the charities had not been identified as this issue went to press). The total won't be known until after the event, but Radia expects local charities will receive between $400,000 and $600,000.
In early 2013, the club submitted a detailed application and provided the LPGA with audited financial statements and letters of support from 20 local businesses and organizations, twice as many as required.
The Greater Des Moines Partnership and the Greater Des Moines Convention and Visitors Bureau jumped on board, providing information about the success of NCAA wrestling and basketball tournaments and other high-profile events, from the Iowa political caucuses to the Iowa State Fair.
Initially, Des Moines Golf was one of 17 clubs expressing interest in the 2017 Solheim Cup. By January of 2013, only three remained: Des Moines Golf and Country Club, Trump National Golf Club outside Washington, D.C., and Concession Golf Club near Sarasota, Florida.
Des Moines Golf was the only club to meet the application deadline, but the other two clubs remained in the race for months while LPGA officials weighed their options.
Once Des Moines Golf's application was on file, LPGA officials asked "if we could supply a global partner," Radia said. " 'Of course,' I said. Then I asked: 'What the heck is a global partner?' "
A global partner, he learned, was a multinational company that does business in Europe and was willing to commit $1 million to the tournament.
Radia immediately thought of DuPont Pioneer, the Johnston-based worldwide supplier of corn and soybean seeds. Radia had strong personal relationships at Pioneer going back decades to when he worked in the Des Moines office of the national accounting firm of KPMG and one of his claims to fame had been recruiting Pioneer as a client.
He called Paul Shickler, Pioneer's chief executive in 2013. Shickler said he thought it could be done, but he needed to check with Ellen Kullman, who was the CEO of DuPont, Pioneer's parent company.
Kullman liked the idea immediately.
DuPont Country Club in Wilmington, Delaware, had hosted the McDonald's LPGA Championship for several years during the 1980s and '90s, she says. "Our people in Wilmington loved the event," she recalls. "It was a really, really good experience" until the mid-1990s when McDonald's moved the tournament to Maryland.
"We liked having the tournament in a community where we had lots of employees and retirees," Kullman says.
In Des Moines, she adds, "we saw another opportunity to do something in a community where we have a lot of employees and retirees and do it with a powerful brand for women.
"I give Paul all the credit. His team did all the heavy lifting," says Kullman, who retired in 2015.
One final Solheim question, Radia says, involved network coverage. The last time a major network (NBC-TV) covered the Solheim Cup was in 2002 when it was held at Interlachen Country Club in Edina, Minnesota. Since then, U.S. coverage has been on the Golf Channel.
This year, NBC Sports had a window of opportunity and offered to broadcast live rounds on Saturday and Sunday, if they could be played on Aug. 19-20.
Those dates are the final two days of the Iowa State Fair, which means the entire tournament from Monday, Aug. 14, through Sunday, Aug. 20, takes place during the fair.
That's not an unworkable conflict, says Greg Edwards, president and CEO of the Greater Des Moines Convention and Visitors Bureau, and not a bad one to have, given the amount of hotel and restaurant spending that accompanies the Solheim Cup.
Besides, he says, the fair and golf tournament attract different crowds, although each event could benefit from spillover.
Edwards expects that many of the international visitors, who make up a significant portion of the 175,000 to 200,000 Solheim attendees, may decide to spend a day or an evening at the fair. Beyond that, he adds, he's been telling retailers to stock up on high-end clothing and other merchandise for our international guests.
One final note: When the LPGA came to West Des Moines on Sept. 23, 2013, to announce that the 2017 Solheim Cup tournament would be played here, Commissioner Whan did as Radia had asked. He brought the crystal Solheim Cup, which has been on display at Des Moines Golf and Country Club since that day. It will remain there until a new winner is determined Aug. 20.
---
What Is the Solheim Cup?
The Solheim Cup, Aug. 14-20 this year, is a biennial team competition between female golfers from the United States and Europe. Launched in 1990 by the LPGA (Ladies Professional Golf Association) and the LET (Ladies European Tour), it is a counterpart of the popular Ryder Cup competition between U.S. and European men's teams.
The event is named for golf club innovator Karsten Solheim, who created the Ping manufacturing company in the 1960s and was a driving force in the creation of the tournament. Along with Swiss watchmaker Rolex, Ping has been a global sponsor since the first tournament in 1990 at Lake Nona Golf and Country Club near Orlando. Although Karsten Solheim died at the age of 89 in 2000, his son John is expected to attend the 2017 event in West Des Moines.
The U.S. team has won nine of 14 Solheim Cups, capturing the 2015 event in Germany by a razor-thin margin of 14 1/2 to 13 1/2.
---
Tournament Format
The format of the Solheim Cup is match play where each round is scored on a hole-by-hole basis (a tie score on a hole results in each side being allocated one-half) with the side that tallies 9 1/2 holes or more prevailing. Once victory is achieved, the match is over; any remaining holes are not played. The tournament consists of 28 matches with one point awarded for each match and a half point for a tie. The team that won the last Solheim Cup (the United States) must score 14 points to retain it, while the challenging team (Europe) must score at least 14 1/2 points to win the cup.
There are four matches each on Friday and Saturday mornings with two-member teams alternating shots. Each afternoon four additional two-player matches occur with all players hitting their own balls and the low individual score winning each hole. On Sunday, 12 individual matches are played, again with one point for each win.
In addition to the Friday-Sunday tournament, a full week of activity is planned at Des Moines Golf and Country Club, beginning on Monday with practice rounds for the Ping Junior Solheim Cup, which features girls aged 13 to 17 from the U.S. and Europe. The 12-player teams compete in the same match play formats as the professionals, using the outer 18 holes of Des Moines Golf's 36-hole layout.
The professionals begin practice rounds on Wednesday on the inner 18 holes while the juniors are playing their final matches.
---
Solheim Cup Teams
Each team consists of 12 players. Team USA is expected to include Lexi Thompson, Stacy Lewis, Michelle Wie and Gerina Piller, who sank the deciding putt in the 2015 Solheim Cup. Piller is married to professional golfer Martin Piller, whose father, Dan Piller, is a retired Des Moines Register business writer. The U.S. captain is 57-year-old Julie Inkster, who has 31 LPGA wins, has played on nine Solheim teams and has more Solheim wins than any other American with 18.5 career points.
Team Europe includes Norway's Suzann Pettersen along with a field of younger competitors, including Klara Spilkova of the Czech Republic, England's Annabel Dimmock and Germany's Karolin Lampert. Europe's captain is 46-year-old Annika Sorenstam of Sweden, who has 72 LPGA wins and has played on eight Solheim teams, accumulating 24 career points.
---
If You Go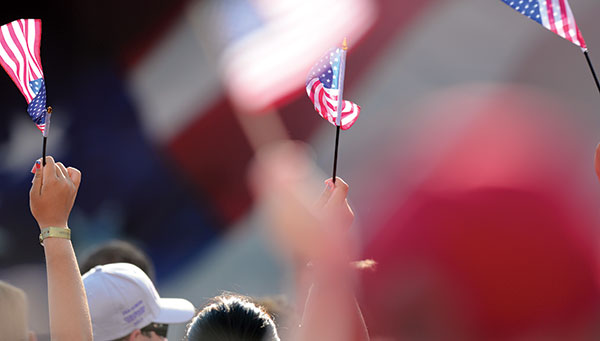 What: The Solheim Cup is a biennial competition between teams consisting of the best professional women's golfers in the United States and Europe.
Where: Des Moines Golf and Country Club, West Des Moines
When: Aug. 14-20. Junior Solheim Cup matches are played Aug. 15-16. Solheim matches are Aug. 18-20. For a complete schedule, go to SolheimCupUSA.com/2017-event-info.
Tickets: $30 per day Tuesday through Thursday; $60 per day Friday through Sunday; weekly pass, $165; Wells Fargo Pavilion, $395; Country Club Grill, $1,200. Free passes are available to all active duty and retired military members by visiting verify.sheerid.com/solheim2017.
Parking: For a list of on-site and off-site parking, go to solheimcupusa.com/event-tickets.