Photographer: Karla Conrad
Writer: Christine Riccelli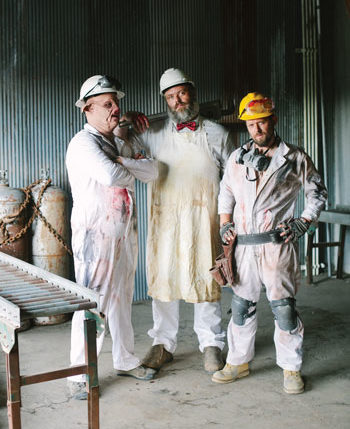 While most boys his age were trading baseball cards or riding bikes, Ian Miller was making ghosts with
cut-up sheets and creating severed hands with special-effects makeup.
"When I was 6 or 7, I created my first haunted experience with the kids in the neighborhood," the now-36-year-old Miller recalls.
Prior to that, he says, he was terrified by the idea of ghosts and the supernatural. "My parents were super religious and steered me away from the occult," he says. "My neighbors' parents were just the opposite … and those friends helped me get over my fear."
He not only overcame the fear but quickly learned to embrace illusions of the paranormal: "I spent half my chore money on theatrical makeup; by age 9, I had a makeup kit that would rival any middle-aged woman's. I would constantly get in trouble at summer camp and at school for creating fake wounds or severed limbs. … There's just something about the thrill of the startle that really gets me going."
Over time, what Miller calls his "intrinsic passion" kept growing, and today it is coming to life through his current project: the Slaughterhouse, which he claims will be "Iowa's largest and most innovative haunted attraction" when it opens in late September. The Slaughterhouse will occupy 15,000 square feet of the 50,000-square-foot Barnum Factory at 97 Indiana Ave., just north of downtown. Breanne and Aaron Barnum are renovating the former Iowa Paint factory to also house artist studios and offices for small businesses.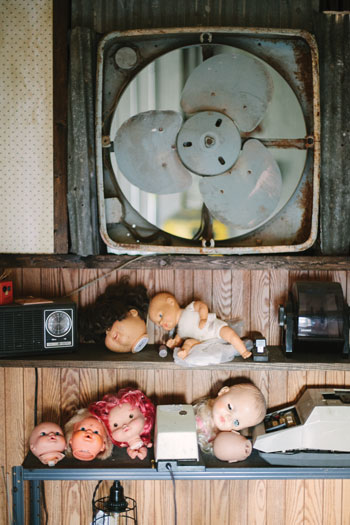 More than at a typical Halloween "haunted house," visitors will be immersed in a theatrical theme—"a slaughterhouse gone wrong," explains Miller, who's developing the project with his business partner,Dave Hukill. "It's not an over-the-top gore fest," Miller says, "but rather a highly detailed environment offering an immersive narrative experience that's frightening and shocking."
The narrative revolves around the Biggs clan, "a hog slaughtering family who turned their blades to humans in the fall season due to the waning revenue of their hog farm business," Miller says. "We weave that fictional story with history, starting in the 1850s."
To create the experience, Miller and Hukill have hired 26 actors and engaged volunteers. "We have more actors per square foot than any other Central Iowa haunt," says Miller, who previously ran a haunted attraction at pop-up locations in Des Moines and has researched and visited haunts throughout the Midwest.
In addition to the unique narrative, the Slaughterhouse will be distinguished by its Hollywood-style sets and props, as well as "funhouse-type elements," Miller says. "The goal is to give people a fright but at the same time leave them laughing. You can't have slaughter without the laughter. We want to use scare tactics to get people there, but we want them to go away having had a great time."
Miller and Hukill hope the attraction, which will be open weekends from Sept. 29 through Oct. 29, will draw about 10,000 people, double the attendance of Miller's previous haunts. Zombie Burger and Monster Energy Drinks are sponsoring the attraction; tickets are $20 each.
"I'm extremely excited to finally bring this longtime dream to Des Moines," Miller says. "The fact that it's happening—I'm pinching myself every day."