Writer: Jane Burns
Photographer: Duane Tinkey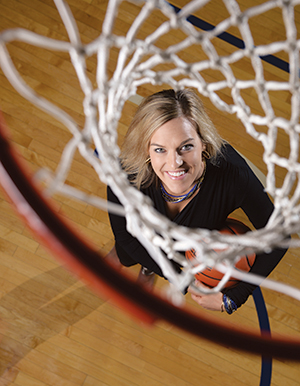 Every coach and athlete loves a home advantage.
There are the crowds that cheer your every move, the chance to sleep in your own bed, surroundings so familiar they can offer that extra edge and motivation.
For Jennie Baranczyk, the home advantage as the women's basketball coach at Drake University goes even deeper. That home crowd includes Mom and Dad, Joyce and Terry Lillis, watching as they have since she was playing in grade school. The city is filled with people who would probably recognize her if she were a dentist and not a coach. And she knows which 35th Street will take her to Drake's campus and which will take her to a mall.
That's because beyond anything relating to basketball or Bulldogs, Jennie Baranczyk—Dowling Catholic grad, University of Iowa alum and member of the Iowa Girls High School Athletic Union's Basketball Hall of Fame—is home. As she begins her sixth season at Drake, Baranczyk has brought the Bulldog women's program to a new era of glory days and fulfilled a dream to coach the team she grew up watching.
"There probably aren't any statistics for this, but how many people get to coach in the town where they are from?" asks Baranczyk (pronounced ba-RAHN-chek). "Nobody. Nobody gets to do this."
Winning Record
Baranczyk, 35, is doing it, and doing it well. Last season, the Bulldogs had a 28-6 record and were 18-0 in the Missouri Valley Conference, the first team in league history to go through the regular season undefeated. They earned a spot in the NCAA tournament, where they lost to Kansas State. They were ranked in the Associated Press Top 25. Off the court, the Bulldogs had the ninth-best grade-point average (3.6) of 349 women's teams playing NCAA Division I basketball.
"I think she is the absolutely perfect person for this job," says Laura Leonard, a Des Moines native and former Drake player who has worked Bulldog radio and TV broadcasts for more than 25 years. "I think she saw what Drake could be, that she could take it back to being as big as it was and then make it even bigger."
That's the plan, says Baranczyk, who says she would never have to worry about money if she got a dime for every time she is asked why she's staying at a smaller school like Drake instead of seeking seemingly greener (and larger) pastures.
"We were a Top 25 team this year, but how do we get to be a Top 25 program?" she says. "I don't want to go anywhere else. I think, 'Why not?' Why not do it here?' "
A Basketball Family
Jennie Lillis Baranczyk was born in March of 1982, just weeks before Drake reached its greatest height in women's basketball—coming one game from the Final Four. Her father, Terry Lillis, played basketball at Simpson College and retired as Principal Financial Group's chief financial officer earlier this year. Her mom, Joyce, recently retired as director of Mercy Home Care.
Baranczyk started playing basketball in grade school, first for her dad and then for high school coaching legends Bob and Sharon Hanson at Dowling. She helped the Maroons win two state championships and went on to star at the University of Iowa.
At Iowa, she played for Lisa Bluder, who had a successful 10-year run at Drake before leaving to become the Hawkeyes' coach in 2000. Bluder always liked Baranczyk's competitive spirit, and saw something else that telegraphed a future career.
"She would hold her teammates accountable," says Bluder, who led Drake to four NCAA tournament appearances. "Some players are afraid of that, but if a teammate was out of bounds, she would help bring them back in. I admired that."
After graduation, Baranczyk took an assistant job at Kansas State and immediately became a sponge for information. On a plane trip to the Final Four, she randomly sat next to Hall of Fame coach Billie Moore, who had been a mentor to the legendary Pat Summitt, and started asking questions.
"I was that annoying person saying, 'I know who you are!' But she was so gracious and so kind and I said, 'Do you mind if I take notes?' " Baranczyk says. "And I sat on the plane taking notes."
New Opportunity
Other assistant jobs followed, at Marquette, where she met her husband, Scott, then Colorado. In 2012 Amy Stephens resigned as Drake's coach and Baranczyk knew her opportunity had arrived. In some ways, the timing couldn't have been worse—she was about to give birth to her first child—but the chance to move back home with her growing family also made the timing perfect. Her son, Eli, was born two weeks after she joined Drake. Daughter Jordi followed two years later and daughter Hope was born in June.
Drake was her dream job, Baranczyk insists. Part of it is its location in her hometown, but another part is the kind of school it is. The emphasis on academics fits with how Baranczyk flourished in college, earning as many academic honors as athletic ones. The kind of player she would likely get would mirror the kind of player she was—well-rounded, competitive and hardworking.
"More than anything, I've learned that fit matters," she says. "I have one rule, and that's 'Be a good person.' That's it. If we have to have a policy for things, what's the point? If you aren't going to go to class, don't come here. If you don't want to do extra work in the gym, don't come here."
She installed an up-tempo, crowd-pleasing style of basketball that emphasizes teamwork and balance. Her players give 1,000 hours of community service a year, and Baranczyk cements that personal connection by having the team walk into the stands to greet fans after every game—win or lose. Eleven victories became 17, then 20, then 23, then last year's 28.
What also makes Drake a dream gig for Baranczyk is the feeling that the program is treated with respect. While more fans are jumping on the Bulldog bandwagon, the women's team has had a core loyal fan base since the school's first coach, Carole Baumgarten, worked hard to establish the program in the community and with business leaders. Baumgarten began at Drake in 1974 and left in 1986 for a successful business career that included leadership roles at the YWCA and Prairie Meadows.
Today, Drake and Des Moines are a perfect fit for Baranczyk, who enjoys living close to her family. In addition to her parents being nearby, there are also her sister and brother-in-law, Renee and Kerry McGuire, who have five children to create cousin fun for the Baranczyk kids.
Unique Position
Even so, Baranczyk's job carries a little more weight than most jobs would for people who work where they grew up. "Being the women's coach at Drake is an important position in the community," Bluder says. "You are the face of women's sports in the largest city in Iowa. That's a unique situation."
That spotlight shines even brighter on Baranczyk with the departure of her boss and mentor, Sandy Hatfield Clubb, who resigned as Drake's athletic director in August. Most days Baranczyk welcomes that responsibility. Some days, not so much.
"There are days I'm at Hy-Vee and one of my kids is having a meltdown," she says. "Of course that's when someone recognizes me and I think, 'Oh, of all days for someone to see me.' "
It's likely people understand that. They'll give her the benefit of the doubt and maybe even like her all the more for it.
That's why they call it a home advantage.