Chef Zach Gutweiler's creativity is evident in the delightful agnolotti: The homemade pasta squares are filled with a shitake bisque, while the shitake mushrooms and vegetables sit atop the ravioli. That's the opposite of how stuffed pasta is typically served—with the heartier ingredients on the inside, the sauce on the outside.
Reviewer: Wini Moranville
Photographer: Duane Tinkey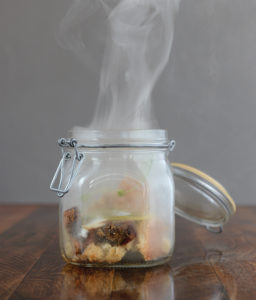 During the Christmas season of 1984, I traveled to Paris, Brussels and Strasbourg with my friend Richard Vachon, a Québécois who had been my French conversation teacher when I studied in Quebec. We ate well at nearly every turn, but at one meal in particular, in the presence of a beautiful partridge terrine at the Reynard Préchant restaurant in Strasbourg, Richard exclaimed, "Ah, mais c'est si relevé."
I had never heard the word relevé in the context of food, but I immediately had an intuitive sense of what he meant. Relevé literally means "elevated," but in cooking, it's something even more engaging. The French philosopher Jacques Derrida described the verb relever as adding flavors that alter an ingredient's original taste, but (paradoxically) give the original ingredient "still more of its own taste, its own natural flavor."
"This," he writes, "is what we call 'relever.' "
Cerebral as this might be, I recalled (and intuitively sensed) this word again and again as I enjoyed the food at Reed's Hollow. Chef Zach Gutweiler has a knack for cuisine relevée—for building flavors in a way that enhances the essence of each dish.
Gutweiler calls on both ingredients and techniques to do this. Take, for example, a brisket entree I tried recently. The brisket was smoked for six hours, then cooked eight hours sous vide (vacuum sealed in a temperature-controlled liquid bath) until rich, bold and spoon-tender. Then, the meat was grilled; the burnt ends were clipped and used to make a rich broth, which when combined with adobo chiles and brown sugar brought that sweet-meaty-vinegary-smoky appeal of barbecue sauce, but heightened and enhanced. Relevé.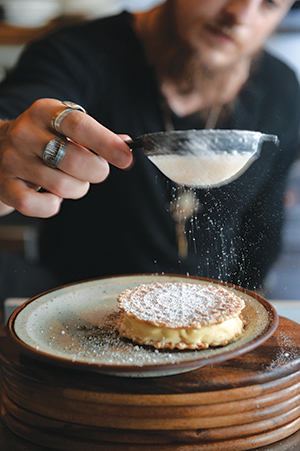 Consider his shishito peppers, stuffed with a house pimento cheese, seared and ever-so-lightly brushed with a glaze made of salt-fermented Fresno peppers, brown sugar and wood-chip broth, all cooked until reduced to a lightly sticky, salty-sweet-spicy glaze. Strips of a fried tempura batter made with Budweiser dotted the dish, bringing this fresh, modern and playful take on a jalapeño popper into focus.
Garnishes of coriander blossoms and cipollini onions are added, Gutweiler explained, because they're "right now." Indeed, such fresh and right-now ingredients underscore the newness of an updated classic. But why the Budweiser? I don't think it's an instance of tongue-in-cheek slumming it; rather a craft beer might detract from the colloquial appeal of jalapeño poppers. In this kitchen, every detail serves to enhance a dish's essence.
Certainly, not every plate brought a postmodern twist patterned on a classic; however, much of what we enjoyed across three visits came together with equal coherence and delight.
Another favorite was the agnolotti, soft homemade pasta squares filled with a fascinating sauce made of a shiitake bisque slightly thickened with gelatin. Atop the ravioli, a tangle of shiitake mushrooms and in-season vegetables brightened the dish. It all came together for a lovely "inside-out" play on what you expect from a stuffed pasta (normally, the heartier ingredients like mushrooms and vegetables are stuffed inside, the sauce pooled outside). The effect was relevé in yet another way: The dish's overall surprise and "aha" elements served to elevate the spirits.
We also admired the Bison Made Right—a loose interpretation of a loose-meat (Maid-Rite) sandwich, with ground bison flavor-charged, larb-style (larb is a Laotian specialty of ground meat with a variety of herbs and spices). The accompanying curlicues of beet fries were astoundingly good.
A few missteps came our way, but the satisfying outweighed the so-so by volumes. The corn and crab custard on a seared black bass had curdled once it hit the dish's broth; my dining companion admired the flavors of her smoked chicken, and the clever way it came in a jar, smoke and all, but wished for something beyond chicken (veggies, perhaps) in this entree.
While I feel that anyone interested in colorful, playful, flavorful and joyful food should experience Reed's Hollow, I must add that you should be prepared for a few quirks: The decor, with cement floors, cinderblock and corrugated-tin walls, heating ducts, local artwork that rotates in and out, and (in the bar) mounted taxidermy, has a somewhat slipshod randomness to it. Casual environs, I do not mind; I get that fine-tuned food in a relaxed atmosphere is now trending. Still, given the precise nature of this chef's cooking, I wish the ambiance here felt more thought-out than make-do.
Servers across three visits were thoroughly enthused about the food in ways that were mostly exciting, but now and then felt intrusive. Sometimes you're in the mood for drawn-out descriptions of each dish; other times the data overload can feel interminable, especially when what you really want is to get back to the conversation at the table. The best servers can read the signals and know when we're hanging on every word—and when we're not.
We also longed for more finesse overall. For example, I didn't expect a keep-your-fork kind of place. Do we really want to set our cutlery back down on a table that gets a little messier after every course?
But if you're willing to tolerate such quirks—or, better yet, view them generously as part of an overall ethos—you could well have some of the most imaginative and elevated food in town.
---
Meet the Chef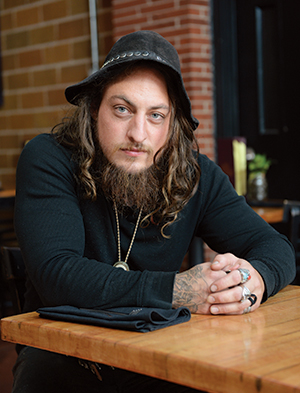 Earlier in his career, Louisiana-born, Austin-reared Zach Gutweiler was a professional Rollerblader, with sponsors that sent him far and wide. The experience first exposed him to a broader food culture than he had experienced while growing up. Later he trained in Austin as an emergency medical technician, but at the end of his clinical trials, he realized the career wasn't for him.
After a few weeks of staging at a local restaurant, he shipped off to the Denver campus of Johnson and Wales University's College of Culinary Arts. Upon graduation, he enjoyed stints in numerous kitchens throughout Denver, eventually becoming the chef at Crema, a coffeehouse serving high-end food. Working within the same restaurant group, he later helped launch the acclaimed cocktail and beer-focused venue the Populist.
In 2013, Gutweiler moved to Iowa to be with his son, Wilder Jude (now 4 years old). After a few months staging at Alba with chef Joe Tripp, Gutweiler landed at the Hole in the Wall at Gas Lamp. During his 3 1/2 years there, the chef developed a faithful following for presenting surprisingly refined food on paper plates in the decidedly low-key atmosphere of this live music venue. He and partners Ryan Flattery and James Wilson opened Reed's Hollow in 2016.