Above: The Hoyt Sherman Place theater, built in 1923, was renovated in 2003. Further improvements are planned for 2019, including restrooms, offices and a backstage addition.
We love the culture of Des Moines—the appreciation residents have for public art and cultural sites. It's part of the city's spirit, and we're proud to be supporters and patrons of the city's public and private galleries. Events like the Des Moines Arts Festival, Winefest and ethnic festivals add to the city's flavor. Perhaps we'll see you at one of these favored sites.
Writer: Michael Morain
Central Library
You can't really see it from the sidewalk, but search Google Maps and you'll see that architect David Chipperfield's copper-clad Central Library is shaped like an airplane and covered with rooftop plants. We recommend watching the world go by from the comfy chairs on the second floor, in the plane's pointy tail. 1000 Grand Ave.; dmpl.org.
The Des Moines Arts Festival
There's a reason the International Festivals & Events Association has honored this annual juried show with its coveted Gold Grand Pinnacle Award for Best Festival in the World: After more than two decades, the Des Moines Arts Festival remains fresh, offering exceptional art and innovative programming. You won't get bored at the three-day event in Western Gateway Park, which draws more than 200,000 people each year. You can browse and buy work by about 180 top professional artists from around the country, plus enjoy live music, interactive art activities, a film festival, artist demonstrations and workshops, plenty of food and drink, and more. This year's fest will be June 28-30. desmoinesartsfestival.org.
Des Moines Community Playhouse
This 100-year-old institution is holding up remarkably well. A recent face-lift updated the lobby and replaced all 400 seats in the auditorium. A full slate of shows parades across the main stage and downstairs in the Kate Goldman Children's Theater. Classes and programs for all ages, including the Final Act Ensemble's classic radio plays, keep the old playhouse alive and high-kicking. 831 42nd St.; dmplayhouse.com.
Des Moines Performing Arts 
DMPA often brings Broadway tours to the
Des Moines Civic Center months and even years before they visit bigger cities. (See: "Hamilton," June 2018. See also: "Dear Evan Hansen," February 2019.) Plus, DMPA oversees the black-box Stoner Theater, the Temple Theater and Cowles Commons, where kids and uninhibited grown-ups like to run through the fountain. 221 Walnut St.; dmpa.org.  
Greater Des Moines Botanical Gardens 
A stroll through the gardens can perk up your senses any time of the year. Breathe in fresh oxygen under the glass dome. Taste the plant-based menu at the Trellis Cafe. Listen to the blues on winter Sunday afternoons and outdoor concerts on summer Thursday evenings. And of course, see the banana trees, the bonsai garden and the tiny green frogs that hang out on lily pads near the outdoor boardwalk. $7-$10, free for kids 3 and under. 909 Robert D. Ray Drive; dmbotanicalgarden.com.
Hoyt Sherman Place 
For decades, this seen-but-not-heard mansion built by one of the city's founders stood quietly on the southeast corner of Sherman Hill. But recent leadership has revived the opulent 1,250-seat theater with hot-ticket concerts and events. (True story: We bought tickets to see Amos Lee immediately after writing the previous sentence.) You can tour the home and visit the art gallery, too. Be sure to check out "Apollo and Venus," the 16th-century Dutch painting that was recently rediscovered in an upstairs storeroom. Gallery admission is free. 1501 Woodland Ave.; hoytsherman.org.
Living History Farms
When was the last time you churned butter? Or forged a horseshoe? Or had a doctor heal you with leeches? Well then, it's high time for a visit to this 500-acre, open-air museum where you can wander through 300 years of Iowa history. Most folks visit in the summer, but holiday programs and authentic gravy-slathered dinners draw crowds year-round. $9-$15.75, free for active-duty military families and kids 1 and under. 11121 Hickman Road, Clive; lhf.org.
Salisbury House & Gardens
The grandest of the South of Grand homes, Salisbury House was built in the 1920s by cosmetics baron Carl Weeks and his wife, Edith. They filled the mansion with rare books, artwork and other treasures from their worldwide travels. Both the house and its gardens are modeled after the 15th-century King's House in Salisbury, England, which makes the Des Moines version an ideal setting for the summer Shakespeare shows on the lawn. $2-$8, free for kids 5 and under.
4025 Tonawanda Drive; salisburyhouse.org.
Polk County Heritage Gallery 
This gallery almost hides in plain sight in the 1908 former post office on the north side of the Polk County Administration Building. It's not flashy, but the lofty space with its thoughtful exhibitions, big windows and vaulted ceiling offers a quiet place to reflect and recharge during the work week. Free Admission.
111 Court Ave.; polkcountyheritagegallery.org.
Iowa State Capitol
We might be biased, but Iowa has the stateliest state Capitol in the country. You can explore it yourself or arrange a free tour to learn more about the building's architecture, artwork, history and quirky showcase of dolls that represent all of Iowa's first ladies, plus one first gentleman. Free admission. 1007 E. Grand Ave.; legis.iowa.gov.
State Historical Museum of Iowa 
Iowans tend to think that all the important stuff in history happened somewhere else, but this museum houses 80,000 artifacts that prove otherwise. At any given time, about 1,500 of those objects are on display in exhibits that tell the story of Iowans who first settled the prairie, fought in the Civil War, found fame in Hollywood or pedaled RAGBRAI, the Register's Annual Great Bicycle Ride Across Iowa. Bonus: the "Hands-On History" gallery lets kids play with model trains, make etchings of state symbols and sit on an antique tractor. Free admission. 600 E. Locust St.; iowaculture.gov.
Wells Fargo Arena
Rock concerts? Check. Disney on Ice? Check. Iowa Wolves basketball and Iowa Wild hockey? Check and check. The 17,000-seat Wells Fargo Arena has it all. If the weather is decent, park across the river and walk across the arched Iowa Women of Achievement Bridge. 730 Third St.; iowaeventscenter.com.
World Food Prize Hall of Laureates
After a $30 million renovation, the city's beloved 1903 public library reopened in 2012 as the home of the World Food Prize. It's filled with paintings, sculptures, mosaics and stained glass that tell the history of agriculture and honor all the laureates who have won the so-called "Nobel Prize for Food." The formal garden is especially lovely, a half-block oasis almost hidden by a wraparound hedge. Free admission and tours. 100 Locust St.; halloflaureates.org.
Movie Theaters
Suburban cinemas keep outdoing each other with cushier chairs, bigger menus, craftier brews and such, but we're fans of the Varsity Theatre, a single-screen throwback near Drake University, and the south-side Fleur Cinema and Café, the best place to see indie and foreign movies.
1207 25th St., varsitydesmoines.com; and 4545 Fleur Drive, fleurcinema.com. +
---
Take 5: Art Spots We love to visit time and again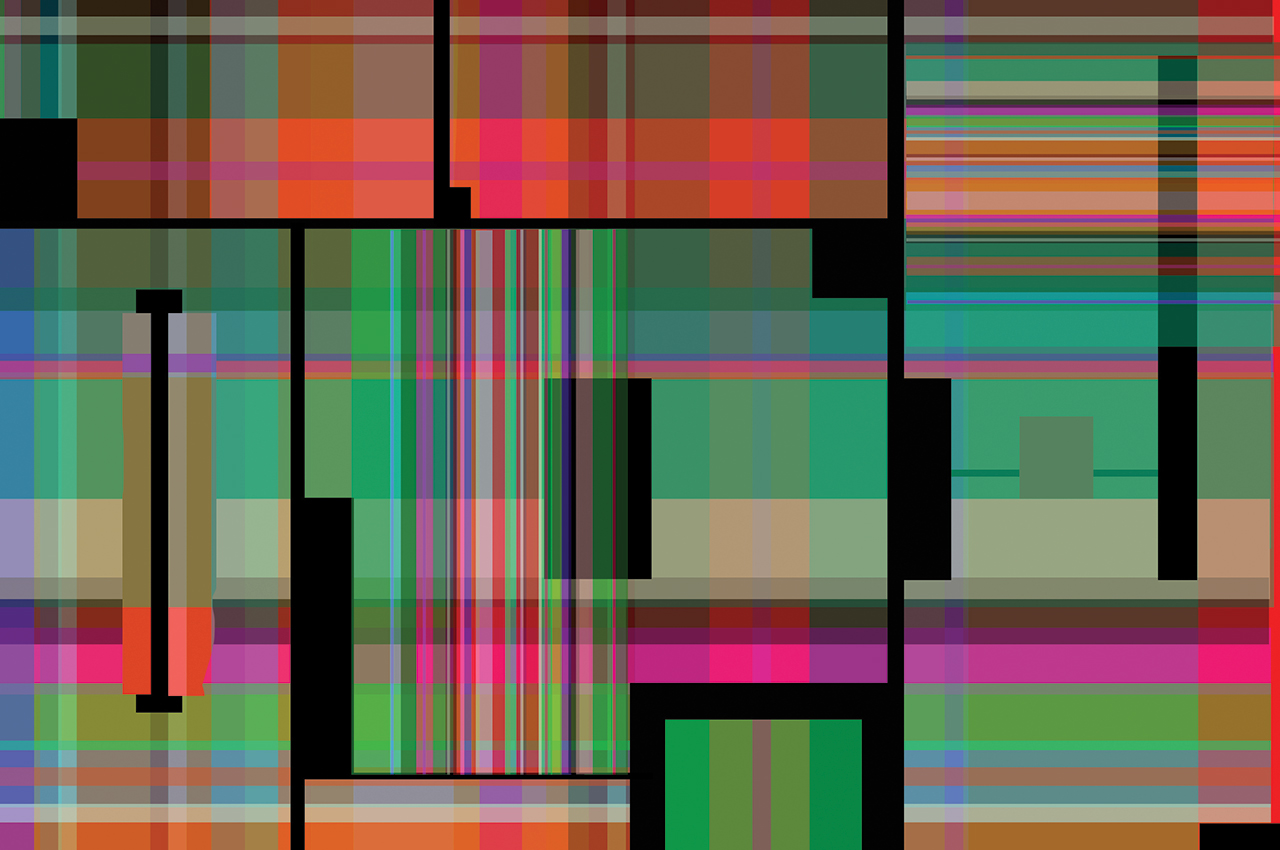 Artist Jay Vigon created this as part of his "Cityscape" series. Find his work at Moberg Gallery.
Des Moines Art Center: With its three iconic wings designed by Eliel Saarinen (1948), I.M. Pei (1965) and Richard Meier (1984), this place would reward repeat visits even if it were empty. Fortunately, several new exhibitions pass through the galleries each year, with plenty of tours, lectures and special events to offer an endless supply of inspiration. (Over the years, we've interviewed dozens of local artists and other creative folks whose formative experiences at the Art Center shaped their lives and careers.) The bonus: Admission is free, so you can pop in for a quick visit without any pressure to cover everything at once. 4700 Grand Ave.; desmoinesartcenter.org.
Des Moines Social Club: Over the past decade, we've watched the Social Club evolve from its scrappy origins in a run-down warehouse on Locust Street to its permanent home in the 1937 art deco firehouse – without losing its community spirit or creative edge. On any given day, you can walk into the Social Club and find concerts, art exhibits, cooking demos, trivia games, radio broadcasts, live theater, film screenings, aerial acrobatics
and a few surprises. 900 Mulberry St.; desmoinessocialclub.org.
Mainframe Studios: There are lots of reasons to support the massive renovated office building that now houses 65 artist studios, five nonprofit offices and, in the basement, a glass-blowing operation. The buzzing hive of creativity is one of the country's largest artist-studio buildings, where artists don't have to worry about rising rents and gentrification. But it's also just a fun place to explore. Go on a First Friday, when the gallery shows run the gamut from ceramics to video games. 900 Keosauqua Way; mainframestudios.org.
Moberg Gallery and Olson-Larsen Galleries: A handful of retail art galleries have opened and closed around town, but Moberg and Olson-Larsen have navigated thick and thin economic currents long enough to anchor their respective neighborhoods. Both represent an impressive array of artists. Both place artwork in corporate offices, hospitals and private homes. Both hang smart new shows every few months and open them with receptions that are both fun and unpretentious (i.e., "funpretentious"). So go ahead and stop in, soon and often, even if you're just browsing. Moberg Gallery: 2921 Ingersoll Ave.; moberggallery.com. Olson-Larsen Galleries: 203 Fifth St., West Des Moines; olsonlarsen.com.
John and Mary Pappajohn Sculpture Park: Few things have changed downtown as dramatically as the cluster of sculptures that landed in 2009 like a fleet of alien spaceships on 4.4 grassy acres in the Western Gateway. With recent additions, the Des Moines Art Center-owned collection now features 30 primo works by 23 of the world's most famous artists, including Louise Bourgeois, Willem de Kooning, Ai Wei Wei and Martin Puryear. Most visitors have a few favorites and at least one they despise, which makes for good conversation, and you can back up your opinions with insights from the handy audio tour, available online or at 515-657-8264. Free admission. Framed by 13th, 15th and Locust streets and Grand Avenue; desmoinesartcenter.org.
---
The Big Three Home Teams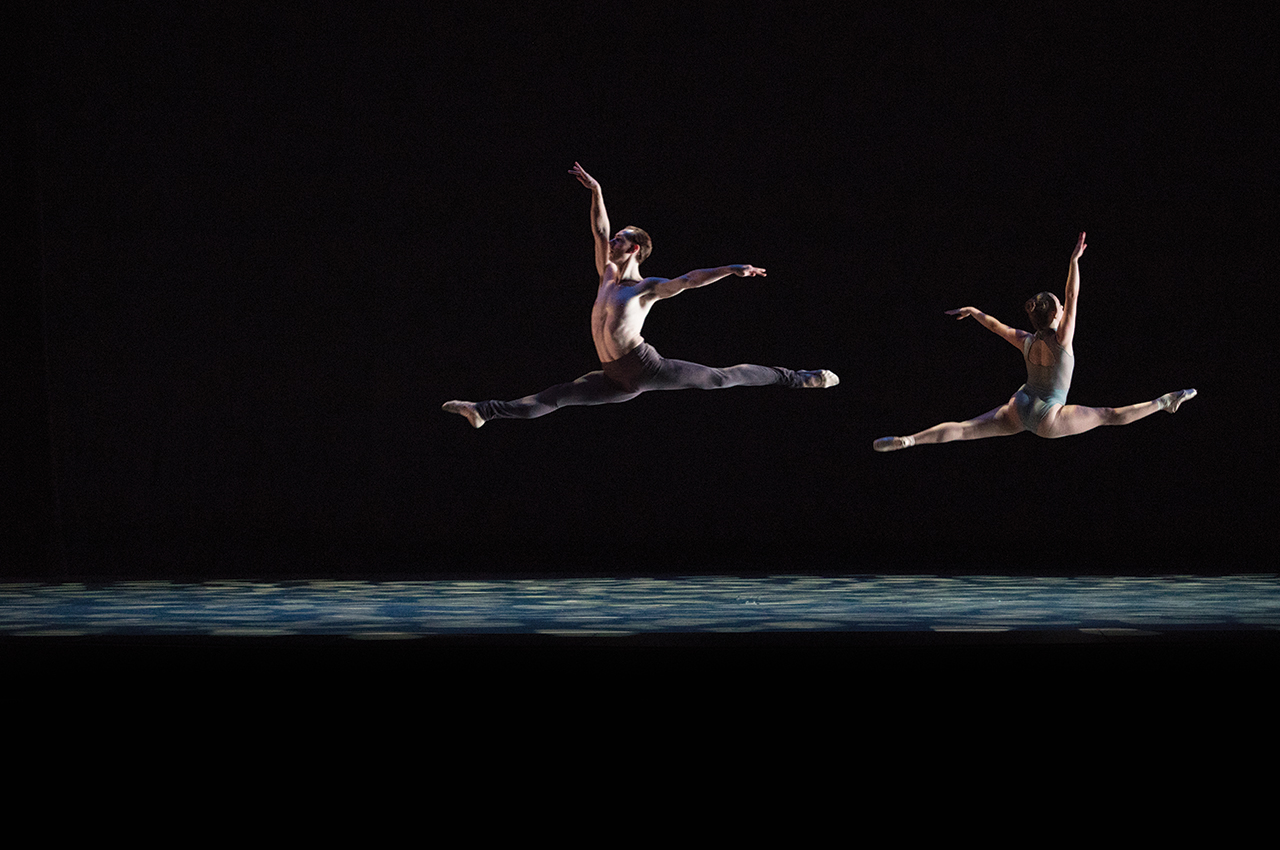 Ballet Des Moines
The company that hired its first team of professional dancers in 2012 usually stages three big shows each year, including the inevitable "Nutcracker" every December and another lavish fairy tale every spring. But if you ask us, the real highlight is the October show at Hoyt Sherman Place, which features short, ineffable new works by the company's leaders (Serkan Usta and Lori Grooters) and a guest choreographer (often Ma Cong, from Tulsa Ballet). It's amazing how they can tell a whole story without a single word. balletdesmoines.org
Des Moines Symphony
It's hard to compare one orchestra with the next, but we have a hunch the Des Moines Symphony could one-up any orchestra from any other midsize city in the country. For the past 30 years, music director and conductor Joseph Giunta has steadily built the ensemble into a powerhouse, attracting both regular members and guest stars from coast to coast. They are mighty enough for Mahler, nimble enough for Mozart and, for the pops series, loose enough for Motown. dmsymphony.org
Des Moines Metro Opera
Opera fans from more than 40 states and a few foreign countries flock to Indianola every June and July to see some of opera's brightest stars in the 467-seat theater in the Blank Center for the Performing Arts at Simpson College. The company produces three main-stage operas during the summer festival—popular and rare fare alike—plus outreach performances throughout the year. They've won plenty of kudos, including a 2017 shout-out from the Chicago Tribune. That critic praised the company's "shrewd programming, thoughtful casting and top-flight production values," adding that "big-city opera snobs who would equate regional opera with provincial opera haven't reckoned with DMMO." So take that, snobs.dmmo.org
---
SINGULAR SENSATION
Robert D. Ray Asian Gardens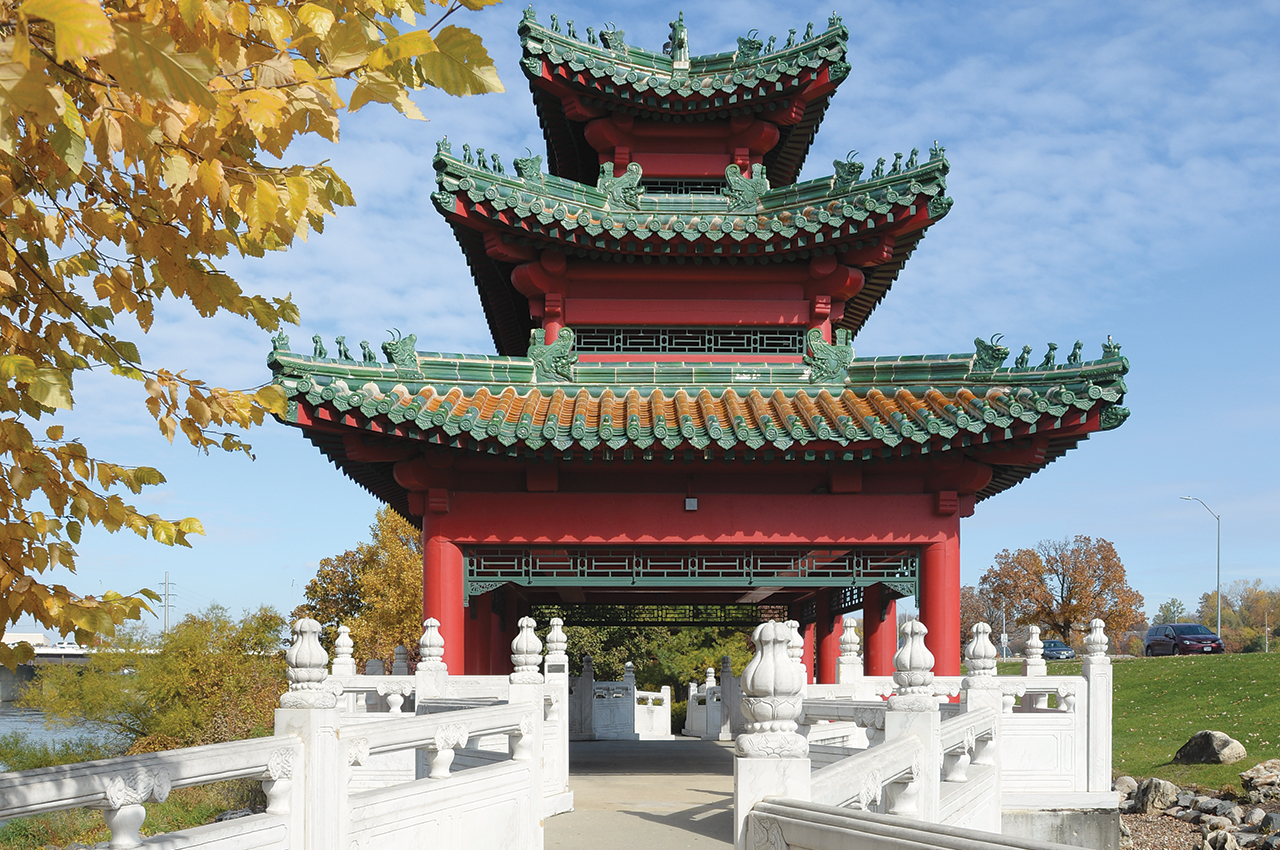 Perched on the east bank of the Des Moines River, the triple-decker red pagoda on a white cloud bridge offers a peaceful, contemplative spot in the heart of downtown. It was built to honor the late Gov. Ray, whose moral leadership inspired Iowans to welcome thousands of Asian refugees in the late 1970s and '80s. A path from the pagoda leads to a small grove of trees and six boulders carved with the Chinese characters for trustworthiness, respect, responsibility, fairness, caring and citizenship.
Shattering Silence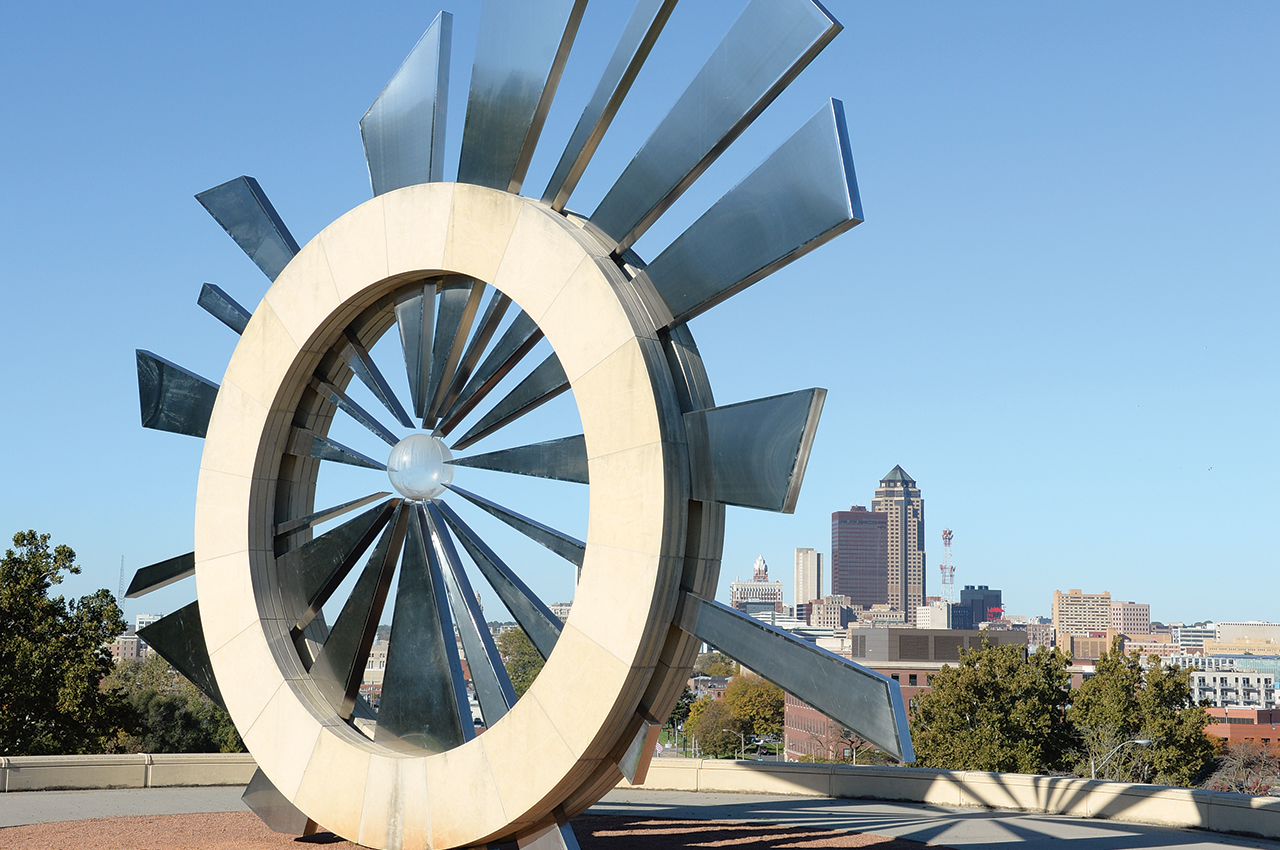 Local sculptor James Ellwanger's modern monument, on the (popular sledding) hill near the Iowa Judicial Branch Building, became an instant landmark when it was installed in 2009. But it commemorates a much older, more metaphorical landmark: the 1839 Iowa Territorial Supreme Court ruling that prohibited an African-American man named Ralph Montgomery from being sent back to slavery in Missouri after he had failed to raise $550 to buy his freedom. It was the territorial court's first decision and the first of many that have put Iowa at the forefront of the national struggle toward equality and civil rights.
A Monumental Journey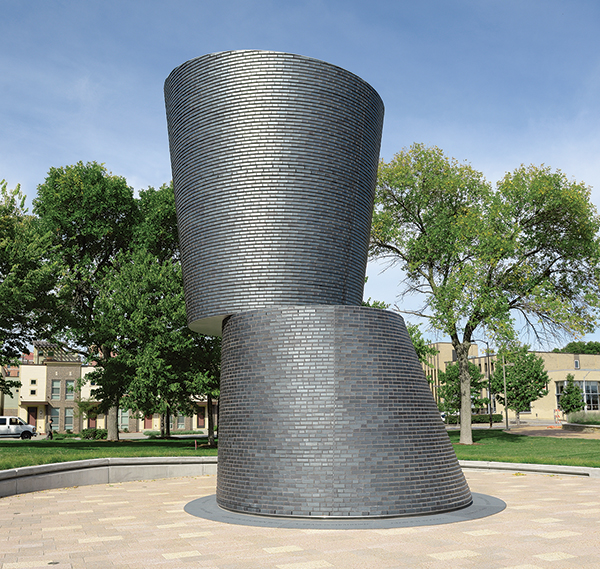 Completed last July, this 30-foot-tall sculpture at Second and Grand avenues honors the dozen African-American lawyers who gathered in Des Moines in 1925 to establish the National Bar Association, which was founded as an alternative to the almost exclusively white American Bar Association. The sculpture's hourglass form, built from 25 tons of shiny black brick, reflects a West African "talking drum." Globally renowned artist Kerry James Marshall said he created the work as a way to "pull something out of the past and push it into the future."