Writer: Wini Moranville
Photographer: Duane Tinkey
Smack-dab in the middle of soup and stew season, I start to crave a little brightness in my recipe rotation. And yet, light and tender summery greens just won't do. That's when kale's the ticket: Hearty, chock-full of nutrients and sparkly green (when prepped the right way), the cruciferous vegetable satisfies like no other salad leaves. 
I've long admired the way Katy Nelson, executive chef and owner of Scenic Route Bakery, turns the rough, sturdy green into a luscious and colorful main dish. She massages the greens until tender and bright, then combines them with garbanzo beans, roasted red peppers, sunflower seeds, a sprightly lemon vinaigrette and goat cheese. That last touch is the clincher: As you fork into the salad, the crumbles of goat cheese soften and meld onto the kale leaves for a rich and creamy angle.
I'm not alone in loving this dish. According to Nelson, it's been on her menu since opening day in December 2014 and has emerged as her best-selling salad. 
While the lunch menu brims with other equally well-crafted salads as well as sandwiches, the East Village venue offers another major attraction: The mighty bakers create my favorite pastries in town. Look for a rotating selection of baked treats made in-house from scratch. Specialties range from down-home to European-inspired—from thickly white-iced cinnamon rolls to ultra-flaky croissants and custardy canelés. 
Although this inspired salad is straightforward enough to make at home, I'll leave the pastries to the pros.
---
Scenic Route Bakery's Kale Salad
For the Vinaigrette Dressing:
1/4 cup red wine vinegar
1/3 cup canola oil
1 tablespoon extra virgin olive oil
1/4 cup honey
Zest of 1/4 of a lemon
1 tablespoon fresh lemon juice
Salt and freshly ground black pepper to taste
Whisk all ingredients together in a medium bowl, using an immersion blender if you have one, or a wire whisk. Transfer to a screw-top jar and store in refrigerator for up to three weeks. Makes about 1 cup (enough to dress around eight salads).
For each one-serving salad:
3 cups loosely packed de-stemmed, washed and dried torn kale leaves
(See chef's tips, page 51.)
1 1/2 to 2 tablespoons vinaigrette dressing
1 pinch salt
1 tablespoon sunflower seeds
1 tablespoon chopped roasted red peppers
1/2 cup garbanzo beans, rinsed and drained
2 heaping tablespoons crumbled fresh
goat cheese
Place the kale in a large bowl. Add the dressing, salt, sunflower seeds, roasted red peppers and garbanzo beans. Using kitchen-gloved hands, massage the kale with the dressing by rolling the kale leaves between your fingers and palm until the kale has brightened, softened and reduced in volume. Transfer the kale to a large bowl and top with the other ingredients in the bowl, plus the goat cheese.
---
Tips From the Chef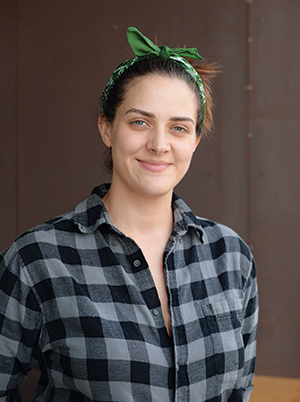 The success of this salad hinges particularly on the way the kale is prepped and rubbed. Here's how to do it right:
Tear kale leaves away from stems; discard stems. Tear the leaves into bite-size pieces. Fully submerge the kale leaves in a large bowl of cold water. Let them soak a few minutes, then rinse the leaves.
Place washed kale leaves in a colander and shake off the excess water. Let stand 15 to 20 minutes to drip dry. Place kale in a paper-towel-lined pan. Cover and refrigerate for 1 day. This step allows the kale to become crisp and cold.
Massage the kale as directed in the recipe. While a professional salad maker can do this in a few moments, it can take the home cook up to five minutes to achieve the right texture. The kale is ready to serve when it is tender, bright in color and reduced in mass.