The upcoming 2019-2020 Ballet Des Moines season will fuse a little of the traditional and plenty of the new and exciting.
Performances are still rife with classic ballet themes and stories — including the annual performance of "The Nutcracker" on Dec. 13-15, a consistent sellout every year — but new productions are roping in contemporary twists.
"Connections: A Triple Bill," Ballet Des Moines' fall production, will feature three small ballets designed by three different choreographers. The spring production, "A Wonderful Wizard of Oz," is combining the triumphant and wonderful sounds of the Des Moines Community Orchestra with the beauty and grace of Ballet Des Moines performers.
The mix means Ballet Des Moines is poised for an impressive 2019-2020 season, which includes productions at Hoyt Sherman Place in the fall and winter, with the spring ballet taking place at the Des Moines Civic Center. Performers come to Central Iowa from places all over the country and even internationally.
For audiences new to ballet, the upcoming season provides a perfect opportunity to dive in.
"Ballet is just one of the many arts that allows a community to claim it's rich in the diversity of arts," says Jami Milne, vice chair of the board of directors with Ballet Des Moines. "There is a beauty and athleticism dancers possess that is unmatched. For those who have never attended the ballet, it's an opportunity to suspend time and witness the magic of an unknown art form. When we support the arts, we create the opportunity for so many to enjoy it."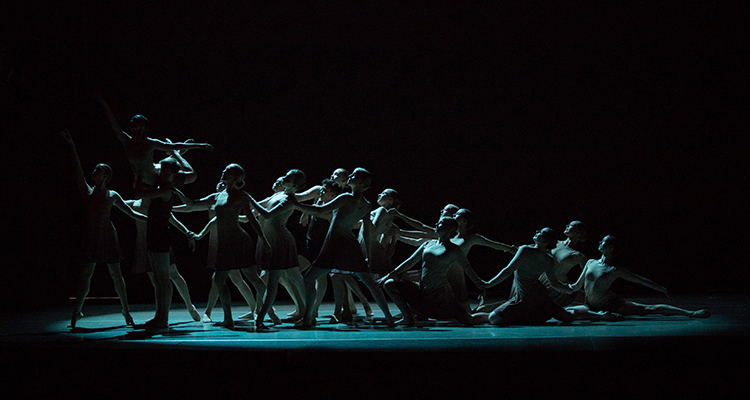 A Triple Bill
The special 2019-2020 season kicks off on Oct. 18 and 19 at Hoyt Sherman Place with a show that casual and longtime ballet enthusiasts will enjoy.
"Connections: A Triple Bill" is really three shows in one. Three separate ballets spanning about 15 to 20 minutes each tell three stories designed by separate choreographers. Two of the ballets will be world premieres, created specifically for the Ballet Des Moines audience.
" 'A Triple Bill' is great if you have no experience with ballet because it's not your traditional show — it's contemporary dance with three bite-sized ballets," Milne says. "The music is engaging and dynamic, and the imagery is breathtaking."
One of the choreographers for "Connections" is Ma Cong, the Resident choreographer for the world-renowned Tulsa Ballet. Cong is well respected as a rising star choreographer in the ballet community. He was chosen to choreograph the Broadway revival of " M. Butterfly" — an opportunity few Midwest ballet professionals receive. Cong connected with Ballet Des Moines through Artistic Director Serkan Usta, who used to dance with him at Tulsa Ballet.
More information on "Connections" and the rest of the 2019-2020 Ballet Des Moines season can be found here.
East Coast to the Midwest
Ballet Des Moines is celebrating new off the stage as well. Blaire Massa, who became executive director in September, comes to the area via Washington, D.C., and brings a uniquely blended background that will serve her and Ballet Des Moines well for future growth.
Massa, who holds a degree in economics and geography from the London School of Economics, most recently held leadership roles in independent schools in D.C. and Maryland, leading fundraising, outreach and marketing efforts as well as serving on various nonprofit boards.
She previously worked at the Washington Ballet, overseeing a $3 million fundraising budget and managing donor relationships in the dynamic D.C. arts community. In addition to being a classically trained ballet dancer and teacher, having worked all over the globe, Massa co-founded a nonprofit community summer musical theater company for children.
Having a mixture of experience and knowledge in the arts, business and community outreach will be a huge boost for Ballet Des Moines.
"It's not often that you get someone with both art and science backgrounds," Milne says. "She comes with a strategic mindset. What she is most concerned about is ensuring that Ballet Des Moines has the best outreach it possibly can. I think this year she is aiming to pave the way for strengthening community relationships."
Going forward, Massa is striving to find new ways to collaborate with the community and other art organizations in Central Iowa while showcasing Ballet Des Moines' unique fit within the Des Moines metro.
"I am delighted to work in a company with such energy and potential as Ballet Des Moines," Massa says. "I look forward to partnering with the board and artistic leadership, talking with the community and sharing my passion and experience to help lead the company to a strong future."