Above: Food at Harbinger looks amazing, including these happy-hour-priced tapioca and pecorino fritters with tomato and cucumber.
Writer: Karla Walsh
Photographer: Duane Tinkey
Small Plates, Even Smaller Price
The place: Harbinger 
The value meal: $6 happy hour small plates and drink specials, Tuesday through Saturday, 4-6 p.m.
While the chef's tasting menu is the ultimate way to get the vibe of this Asian-inspired small-plate hot spot, you can enjoy an amuse bouche of the kitchen's current inspiration on their happy hour menu. House wine and the featured cocktail are $6, as are select small plates such as Vietnamese chicken wings and fan-favorite tapioca-pecorino fritters with spicy tomato sauce. (2724 Ingersoll Ave., harbingerdsm.com)
Lunch for Less
The place: Gusto Pizza Co. 
The value meal: $10.95 for a 7-inch pizza, side and drink weekdays,
11 a.m.-2 p.m.
Warm up those pizza-devouring muscles over the lunch hour at any of the three locations (Ingersoll, Clocktower Square, Johnston) of this fast-casual pizza place. From 11 a.m. to 2 p.m., any personal-size signature pie, a drink, and a side salad or soup clocks in at less than $11. Vegetarian and even vegan options are available (as are popular pies like the Spartacus, similar to a fancy supreme, and the Duke with brisket and barbecue sauce). For $1 more, the crust can be gluten-free. (Three locations; gustopizzaco.com)
Best Burger Deal
The place: Alba 
The value meal: $6 for a burger and fries in the bar Mondays, 5 p.m.-close
One of the best burgers in town is hiding behind the chef's table at this East Village restaurant. While you can savor them on the regular lunch and dinner menus any Monday through Saturday, Monday nights in the restaurant's bar section are your chance to score a sandwich and a side for almost $10 off. Garnished with pickled jalapeño and pineapple (Hawaiian) or blue cheese and caramelized onions (Albatross) and served with fries, these burgers might persuade you to block Monday nights on your calendar so nothing stands between you and this deal.
(524 E. Sixth St.; albadsm.com)
Cheese on the Cheap
The place: The Cheese Bar
The value meal: $5 select glasses of sparkling wine and snacks, Tuesday through Saturday, 2-5 p.m.
As part of the "Bubbles and Bites" special at this casual-yet-stylish Ingersoll restaurant, a five-spot will secure you a glass of Champagne or sparkling wine. For another $5, dig in to one of their ever-changing bites that feature fromage, naturally, plus local and seasonal ingredients. Tables are communal, so if conversation trails off with your dining companion, you can bring another friend or two into the mix.
(2925 Ingersoll Ave., cheesebardsm.com)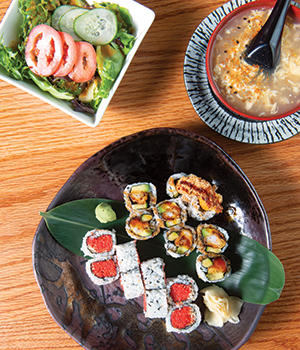 Wasabi's Maki lunch special comes in various combinations, such as this one featuring a shrimp tempura roll and spicy tuna. 
Sushi for a Steal
The place: Wasabi 
The value meal: $10-$12 for two select sushi rolls, plus salad and miso soup, weekdays, 11 a.m.- 2:30 p.m. 
Reel in the Maki Lunch Special at Wasabi Chi, Wasabi Waukee, Wasabi Johnston or Wasabi Ankeny over the lunch hour on weekdays. For $10 to $12, depending on the location, you can catch two of their classic rolls (think California, spicy crab, seared tuna-avocado, and yellowtail-jalapeño) plus a fresh salad and warm bowl of soup. If you prefer teriyaki or tempura to tuna, try one of the lunch bentos that also come with soup and salad, plus a side of rice.
(Four locations; wasabidsm.com)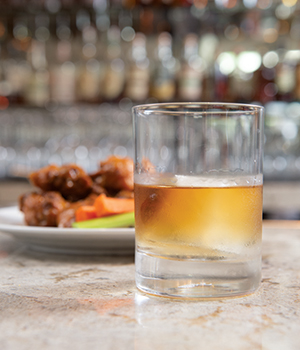 Bubba serves a simple formula for success: Bulleit rye whiskey and wings, presented with your choice of sauces, glazes and other magic.
Wings and Whiskey
The place: Bubba—Southern Comforts 
The value meal: $6 brown liquors and chicken wings Mondays, 4 p.m. to close
How's this for a prescription to cure the symptoms of "Ugh, still four days till the weekend?" Monday evenings at this polished downtown Southern restaurant mean $6 platters of chicken wings sauced with your choice of bacon-onion-whiskey jam, classic Buffalo, Cajun glaze, Carolina gold, Tennessee Hot or Alabama White sauce. Then, instead of a spoonful of sugar, help the medicine go down with a $6 glass of any of the 16 whiskeys on special, such as Bulleit bourbon or rye, Buffalo Trace or Maker's Mark.
(200 10th St.; bubbadsm.com)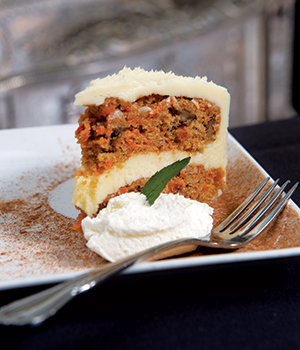 Aposto's cakes are legendary, and if you're lucky, your evening can end on a particularly high note with this blissfully crafted carrot cake.
Date Night Deal
The place: Aposto 
The value meal: 3 for $30 Wednesdays, 5-9 p.m.
Located in a cozy Sherman Hill Victorian house, this Italian restaurant provides the perfect ambiance for a romantic midweek dinner. For the $30 Wednesday deal, choose from several appetizers, fresh-made pasta and meat entrees, and desserts. While Italian cuisine is the specialty here, you'll also find dishes with French and Latin influences.
Pro tip: If cake's on the menu, you simply must order it. (644 18th St.; apostodm.com)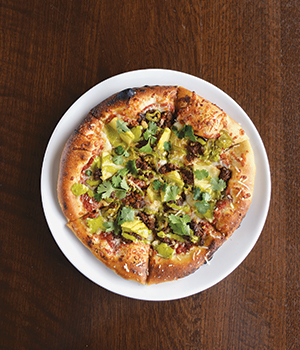 Eatery A's wood-fired pizzas are always satisfying, but never more than when offered at half-price, 3-6 p.m. daily.
Primo Pizza, Paltry Price
The place: Eatery A
The value meal: Half-price pizza, wine and beer every day, 3-6 p.m. 
Yes, it's still available! The wood-fired pizzas (great for sharing!), plus beers and glasses and bottles of wine are half-off every single day for three hours at this Ingersoll Mediterranean fusion restaurant. From safe (the No. 2, tomato, mozzarella, basil, balsamic) to spicy (the No. 14, chorizo, pineapple, jalapeño jam) to seasonal (check out the No. 4 for the flavor of the moment), you can't go wrong when you pick a pie from this crowd-pleasing spot.
(2932 Ingersoll Ave.; eateryadsm.com) 
Great Graze-All-Evening Option
The place: Django 
The value meal: All-night happy hour Tuesdays, 4 p.m.-close
Essentially everything on the happy hour menu is half off its normal price on Tuesday nights at this sculpture park-adjacent French bistro. That means you can hang all evening and devour mountains of onion rings, duck frites or Brussels sprouts for $5, and oysters for $1.50. Wash it all down with a $5 martini, select draft beers or glasses of house wine. Cheese and charcuterie plates and three-cheese flights are also discounted if you get peckish as you linger over your next round of drinks.
(1420 Locust St.; djangodesmoines.com)
Chichi Sunday Spot
The place: 801 Chophouse
The value meal: Sunday prix fixe three-course meal for $36
Think you can't afford 801? Think again. Wrap up the weekend in style at this upscale surf and turf spot. The environment is just as polished and the service is just as attentive as it would be if you spent three times as much, but on Sundays, $36 per person scores you a salad, your choice of steak, salmon or prime rib, and dessert.
(801 Grand Ave., Suite. 200; 801chophouse.com/des-moines)
---
Cut the Corkage
Prefer to bring your own vino? Consider these restaurants that waive their corkage fees on certain, or all, nights. Just remember to tip generously—think of your total bill price as if you'd purchased the bottle from the restaurant and do the math accordingly. (We often toss in a few extra dollars as a thank you.)
Django:
No corkage fee ever
Splash:
No corkage fee ever
Malo:
No corkage fee ever
Aposto:
No corkage fee on Thursday nights
Centro:
No corkage fee on Sunday nights