Above: Jon Kimura Parker in his natural environment. 
1. Keyed In
Canadian piano virtuoso Jon Kimura Parker joins the Des Moines Symphony— 7:30 p.m. Nov. 9 and 2:30 p.m. Nov. 10 at the Des Moines Civic Center—for this season's third Masterworks concert program, highlighting the work of Edvard Grieg and Antonin Dvorak, giants of classical music in the late 19th century.
First on the program is the high-flying orchestral piece "Javelin," created for the 1996 Atlanta Olympics by American composer Michael Torke. Grieg's "Piano Concerto" follows, featuring Parker on the keyboard. The program closes with Dvorak's "Symphony No. 8," written following the composer's time in eastern Iowa in 1893. We're always delighted when his music brings him back to us.
Tickets are $15-$70 in advance, available through dmpa.org or at the Civic Center box office.
2. Cantus Performs
This show promises to be a new experience with just the right amount of nostalgia: The men's vocal ensemble Cantus will perform "Three Tales of Christmas" Dec. 6 at Valley High School's Staplin Performing Arts Center. The program's narrated passages will bring new perspectives to familiar carols and holiday classics such as "A Christmas Carol." Based in Minnesota, the eight singers of Cantus are highly regarded for their precise vocal harmony and innovative programming.
Presented by Civic Music Association, the performance begins at 7:30 p.m. Staplin is located at 3650 Woodland Ave. in West Des Moines. Tickets range from $30 to $75, available through civicmusic.org.
3. Gallery Hopping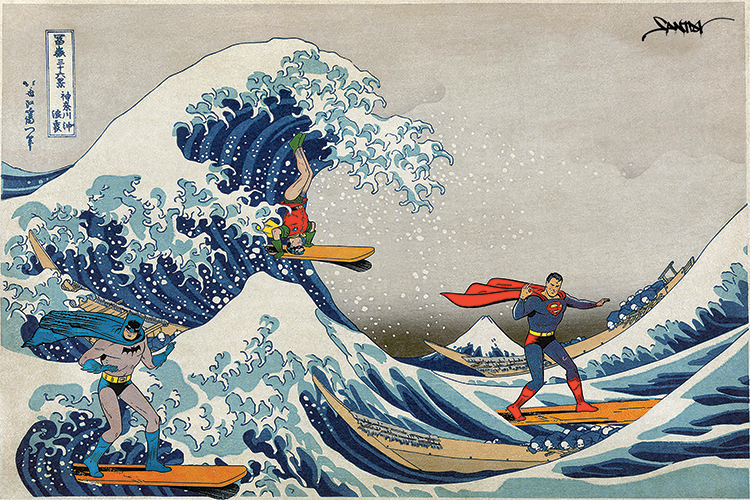 Superman, Batman and Robin ride epic surf in "My Wave," by Santlov; C-Print, 12 x 18 inches.
If you've never attended a local gallery opening, you now have no excuse not to: Three of the city's top galleries will host opening receptions for new shows Dec. 6; coordinate your schedule and transportation route to hit all three.
At Liz Lidgett Gallery and Design in the East Village, artist Andrea Ferrigno will be in the spotlight. A native of Des Moines who now lives in Galesburg, Illinois, Ferrigno creates bright, engaging abstractions that she says are "inspired and informed by the systems of science and mathematics and how those systems describe natural phenomena." (Opening reception 4-7 p.m.; lizlidgett.com.)
Moberg Gallery's annual winter group show features the work of Miami photographer and graphic artist Santlov. He has gained a following through his use of toys and images of toys, and cartoon and movie characters from his childhood, placing them in eerie yet captivating scenarios that we're eager to see in person. (Opening reception 5-8 p.m.; moberggallery.com.)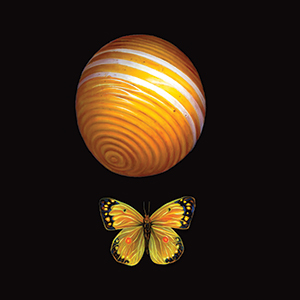 Tilly Woodward, "Mothball Yellow;" oil on archival mat board, 11 x 19 inches. The artist's hyper-realistic paintings will be part of Olson-Larsen Galleries' small works show.
The annual and intriguing small works show at Olson-Larsen Galleries showcases compact works, ideal for holiday gifts. For that reason, says gallery owner Susan Watts, "it's one of our more popular shows." Among those featured this year is Tilly Woodward, whose hyper-realistic oil paintings are photo-like, even on a small scale. (Opening reception 5-7 p.m.;  olsonlarsen.com.)
4. Voices Rise
Two local choral groups have a common goal in December: to celebrate the season in song. 
Now in the midst of its 40th season, the Des Moines Choral Society will present its annual Christmas concert Dec. 14 at 7:30 p.m. at St. Ambrose Cathedral. Together with a chamber orchestra, piano and soloists, the choir will fill the cathedral with seasonal favorites and other great works. Ticket information was unavailable at press time. 
We never miss Des Moines Vocal Arts Ensemble's Christmas concert; always an inspiration, it knocks us out of whatever Grinch-like mood we may be harboring. This year's concert will be Dec. 15 at 4 p.m. at St. Augustin Catholic Church. The ensemble, directed by Timothy McMillin, will perform choral treasures from throughout history. Tickets are $18 in advance, available through dmvae.org/tickets, and $20 at the door (a reduced rate is available for students).