Above: To commemorate the centennial of the ratification of the 19th amendment, well-known Cedar Falls artist Gary Kelley and his daughter, Cydney Kelley, created a calendar depicting milestones in women's fight for equality  in Iowa. Pictured above: Known as "Iowa's Rosa Parks," Edna Griffin was a civil rights leader who sued Katz Drug Store for refusing to serve her.

Writer: Laurel Lund
My paternal grandmother, Bertha Bodholdt Lund, felt herself a feminist in an era when the term barely moved the needle on the societal Richter Scale. Born in 1890 in Waterloo, this curious woman with a brilliant mind attended college in an age when even a majority of her male peers did not. She was among the few women of her time who attended, and then graduated from, a university. 
And yet my grandmother's male peers, educated or not, could vote. She could not.  
She was not alone, of course. Before 1920, when the 19th Amendment granting full voting rights to all women was signed into law by President Woodrow Wilson, American women were considered relatively voiceless in government affairs. That began to change in 1840 when American suffragists Elizabeth Cady Stanton and Lucretia Mott were barred from attending the World Anti-Slavery Convention in London due to their gender. In protest, the duo held a public meeting in Seneca Falls, N.Y., in 1848 to fight for the social, civil and religious rights of women. Thus began the suffragist movement.
The suffragists' fight for justice continued for another 72 years. Opposition was intense. The women, along with some brave men, endured arrests, harassment, torture and imprisonment in order to win the right to vote.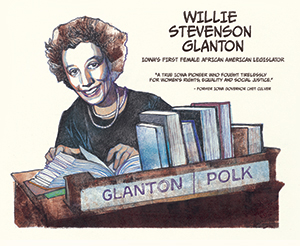 To commemorate the 100-year anniversary of ratification, communities, schools, cultural organizations, businesses and other institutions across Iowa will host a wide range of activities and events throughout the year (see accompanying story, page 81). While the efforts are decentralized, two women are spearheading the overall effort: Doris J. Kelley, commemoration chair and a former member of the Iowa House of Representatives, representing the Iowa League of Women Voters, and Mary Ellen Miller, fundraising chair, representing 50-50 in 2020, a group dedicated to ensuring that women have at least a 50% equity in political parity and voice by 2020.
In June 2017, Kelley and Miller met at the Carrie Chapman Catt Center for Women and Politics on Iowa State University's campus to plan the statewide celebration. Currently, 15 organizations are involved.
The duo's enthusiasm drew in Kelley's husband, Steven B. Corbin, professor emeritus of marketing at the University of Northern Iowa. He has since developed an online curriculum focused on women's suffrage for Iowa's high schools and 543 public and private libraries. He also has launched a female sports initiative for Iowa universities in which they dedicate one game during the 2020 sports season to honor women's fight for the right to vote. 
"Helping the cause of gender equality has been a healthy awakening for me," Corbin says. "We can't rest on our laurels. Men now need to be the ones to lead the cause."
The goal of the commemoration committee is to raise $400,000. The money will help fund more than two dozen activities planned throughout the state in 2020, with about half earmarked for promoting and advertising these activities. Donations will also help pay for two replicas of the original Suffrage Wagon, which is housed in the National Museum of American History. The replicas will be made available for parades and for displays at libraries and museums. 
The overall theme of Iowa's 19th Amendment Centennial Commemoration is "Hard Won. Not Done." 
"The first presidential election was held in 1789, and only white men who owned property were allowed to vote. Women did not gain the voting privilege until 1920—132 years later," Kelley explains. "Yet there is still work to be done, including what we are witnessing today: issues such as voter suppression, gerrymandering and women's continuing struggle for full equality in the workforce and in public policy. We are 'Not Done.' "
---
Iowa Leads the Way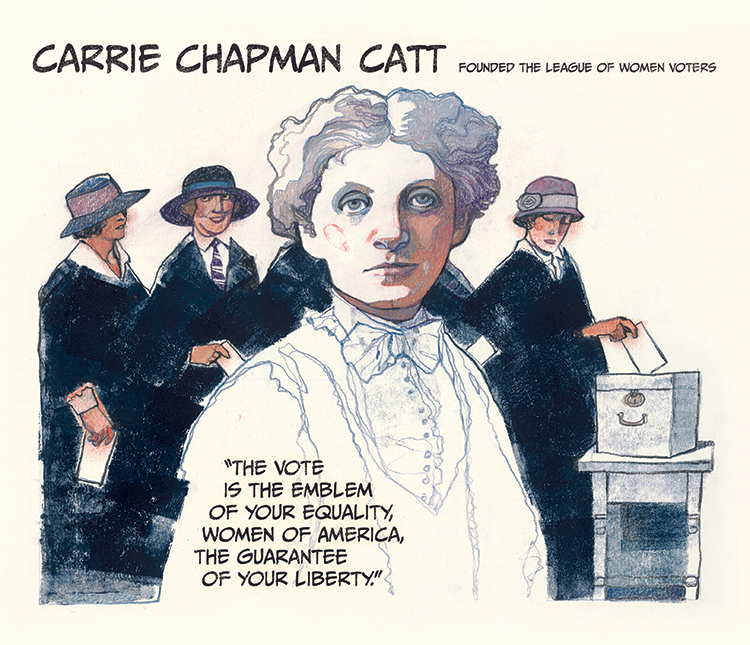 This portrait of prominent suffragist Carrie Chapman Catt is included artist Gary Kelley's commemorative calendar.

Iowa played a prominent leadership role in the electoral emancipation of women. Among national suffrage leaders like Susan B. Anthony and Elizabeth Cady Stanton was Iowan Carrie Chapman Catt. An Indiana native who grew up in Charles City, Iowa, she was the founder of the nation's League of Women Voters and the International Alliance of Women. She also served as president of the National American Women Suffrage Association (NAWSA), succeeding Susan B. Anthony. 
At the peak of her influence, Catt was one of the best-known women in the country, and her "Winning Plan" in 1916 helped gain the support of state and federal legislators crucial to voting the 19th Amendment into law.
According to Catt, "That vote is the emblem of your equality, women of America, the guarantee of your liberty. … That vote has cost millions of dollars and the lives of thousands of women. … That vote has been costly. Prize it!"
For her historically significant efforts, Catt was one of the first four women to be recognized on Des Moines' Iowa Women of Achievement Bridge in 2013. She was also the inspiration for the Carrie Chapman Catt Center for Women and Politics (Catt Center) established in her honor at Iowa State University in 1992.
Also pivotal to the suffrage movement was Des Moines' Mary Jane Coggeshall, whom Catt dubbed "the mother of women suffrage in Iowa" and her "greatest inspiration." A noted wit, orator and writer, Coggeshall was elected to the board of NAWSA in 1895, the first woman so honored from west of the Mississippi River. 
These two suffrage leaders, and others like them, made an effective case for women's right to vote. Success finally came on July 2, 1919, when Iowa's Gov. William L. Harding called the all-male 38th General Assembly into special session for the sole purpose of ratifying the 19th Amendment to the U.S. Constitution. Iowa was the 10th of 36 states to ratify the amendment.
Shortly thereafter, on Aug. 26, 1920, President Woodrow Wilson made the law official.
---
On the Docket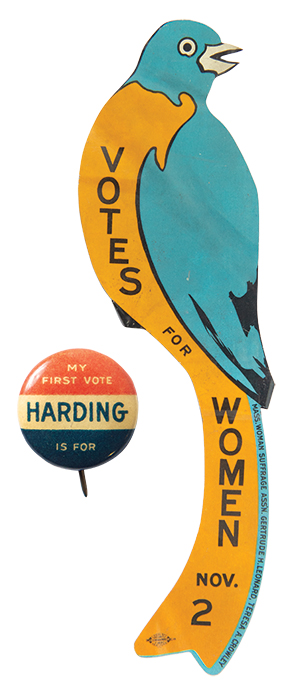 The official commemoration kicks off Feb. 14 from 1 to 5 p.m. at Iowa State University's Memorial Union in Ames. Hosted by the Carrie Chapman Catt Center for Women and Politics, the event will include music, a performance of a one-woman show called "The Yellow Rose of Suffrage," food and drink, and discussions about the historical moment.
Other planned activities around the state include the following:
*Exhibits at history museums. At the State Historical Museum in Des Moines, no specific exhibit plans had been made by press time, due to the museum's renovation, according to Michael Morain, communications manager of the Iowa Department of Cultural Affairs, which oversees the museum. However, he is hoping the museum will display some of its women's suffrage artifacts. "We support banging the drums and sounding the trumpets to elevate this milestone event," he says.
*Memorial to be placed on the Iowa Women of Achievement Bridge in Des Moines. Women Lead Change will recognize an Iowa woman who helped lead the efforts for voting rights. As of press time, the honoree had not been selected.
*A commemorative calendar by award-winning Cedar Falls-based artist Gary Kelley and writer Cydney Kelley, Gary's daughter. The free calendars are available at Veridian Credit Union branches across the state; you don't need to be a customer to obtain one. About 15,000 calendars have been printed.
*Two replicas of the original suffragist wagon that was used by Lucy Stone from 1913 to 1920 for rallies to support women's right to vote. The replicas will be made available for city, county and Iowa State Fair parades and to display at libraries and museums.
*An exhibit by well-regarded Des Moines artist Mary Kline-Misol at Artisan Gallery 218 in West Des Moines. Opening on April 17, the exhibit will showcase 19 portraits of suffrage leaders. In November, the project will be installed at Iowa State University. For details on these and additional exhibit locales: gallerymkm.com.
*Premiere of "The Suffragist," a musical highlighting some of the most vivid moments in the struggle for voting rights, at the Gallagher Bluedorn Performing Arts Center in Cedar Falls. 
*Speaker programs, forums, discussions and special projects at Iowa's universities and colleges as well as at libraries across the state, which also plan to host book exhibits and readings for children and adults focused on women's suffrage.
*A documentary on Carrie Chapman Catt to be produced by Iowa Public Television. 
The commemoration will conclude with a celebration at the Iowa Women's Foundation's 24th annual luncheon at the Coralville Marriott and Convention Center on Oct. 9.
The calendar of events celebrating the commemoration will continue to be updated throughout 2020 as more programs and activities are added. For information on events in your area, go to 19th-amendment-centennial.org.