Constructed in 1913, the Midland Building has always housed Des Moines businesses (it was the tallest building in the state when constructed). Today, thanks to a $40 million renovation, it's home to the new upscale Surety Hotel, part of the Chicago-based Aparium Hotel Group.
Writer: Beth Eslinger
Photographer: Jason Thomas Crocker
A neon sign announcing "City of Certainties" illuminates the new enclosed patio at Hotel Surety, downtown's latest new upscale retreat.
Created by Charley Conn of Neon Specialties, the 1920s description of Des Moines holds true today, especially when it comes to lodging options for winter weekend getaways.
Opened in November, the Surety is designed to become "Des Moines' living room," says Staci Patton of Minneapolis-based DLR Group (the firm's local office helped create the relaxed vibe). Walk into the doors of the 1913 Midland Building at 206 Sixth Ave. and you're greeted with walnut-clad Mulberry Street Tavern to the left. Chicago-based chef Marque Collins has prepped a menu of elevated pub fare—oysters on the half shell, local tomahawk ribeye with horseradish cream, upscale mac and cheese, and a "killer" pub burger. The restaurant is open for dinner and Saturday brunch.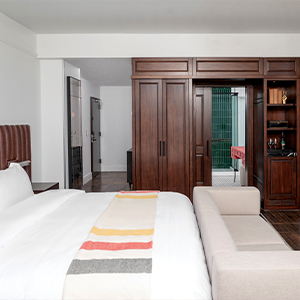 To the right of the entrance, find a clubby environment with lush leather sofas and chairs. An open coffee bar serves Des Moines-based BLK & Bold coffee by day and wine and cocktails at night. The lobby is designed to be a comfortable hangout, with a pool table and open workspace (yes, they welcome remote workers).
The Surety embraces local collaborations. Ames' Alfar Pottery produced 500 ceramic coffee cups for lobby guests' use; they're also for sale. Other Des Moines brands such as Fontanelle, Indie House, Preservation, Monarch Pottery and Blond Genius fill the modern metal shelves (designed by Liz Lidgett) behind the check-in desks, so there's no need to leave the hotel to shop local.
There's also no need to leave for activities. In the sunny atrium (already booked as a wedding venue), find yoga and art classes. There's also a gym to get your workout in.
The 126 hotel rooms offer a perfect weekend getaway from the stress of the past year. Original wood floors and vintage-look bathroom tile give a nod to the historic building. But modern touches—luxurious linens, leather headboards and sleek seating—provide the amenities of big-city accommodations. Rooms start at $159 a night. (suretyhotel.com)