St. Kilda Collective's Restaurant Week menu will include a wood-grilled New York strip with dijon-herb butter, served with parmesan-truffle fries.
Writer: Karla Walsh
Photographer: Duane Tinkey
If you missed dining out over the past year, we have exciting news for you! Restaurant Week is back, and you can score some remarkable deals and new, seasonal dishes at 27 of our metro area's best eateries. The cost is $30–$45 per person for a three-course dinner and $15–$25 per person for lunch. Some restaurants offer both meals and some just offer lunch or dinner, but all are eager to host you and share their latest and greatest.
This taste bud tour is so big that we couldn't contain Restaurant Week to just seven days. To give you enough of a chance to try all of those on your "why haven't I been here yet?" list, we've designed it as 10 days of dining, Aug. 20–29.
For more details, visit DSMRestaurantWeek.com. Participating restaurants are listed on the website, where the complete Restaurant Week menus will be added early in August.
---
On the Menu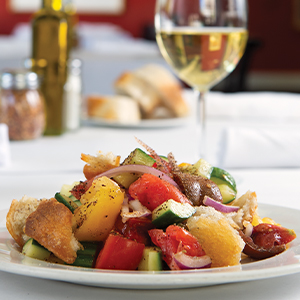 Centro
Panzanella salad
You know this downtown Italian bistro is part of George Formaro and team's Orchestrate Hospitality group. But did you know Centro has had a new executive chef running the show since February? Troy Deaton isn't new to the Formaro team, however. He's worked his way up in the kitchens at Django, Gateway Market and Malo, all great experience, but Centro is a natural fit, Deaton says: "Before my time at Orchestrate, the majority of my career was based in Italian cuisine. My love for Italian food has always remained."
Deaton promises that Centro's 2021 Restaurant Week menu will showcase "a new side of Centro, especially for those curious about vegan cuisine." Look forward to bold flavor profiles with a modern twist, such as panzanella salad (pictured) with Za'atar (an earthy North African spice blend), and South Union bakery focaccia; and cauliflower risotto with mushrooms, pesto and cashew cream sauce.
---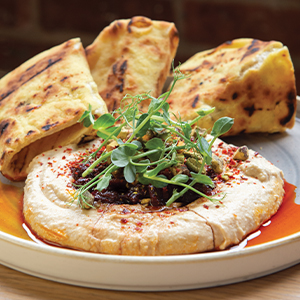 St. Kilda Collective
Hummus
Although this year-old restaurant is housed inside a renovated 1916 automobile showroom in Valley Junction, it feels (and tastes) thoroughly modern. Swing by for lunch during Restaurant Week for a pickle-brined hot chicken sandwich with charred jalapeño ranch and vinegar slaw. Or visit for dinner to snack on silky hummus topped with pistachios and spicy pickled cherries, or an heirloom tomato, stone fruit and burrata salad that "screams summer," says St. Kilda Collective co-owner Whitney Hall. Then dive into steak frites, milk-braised lamb shank with butternut squash risotto (a weekend feature that earned raves), or pea and mushroom pasta carbonara.
For dessert? Oh-so-Iowa house-made sweet corn ice cream atop a slice of chocolate cake. All of the above use as many products from as many local farms as possible.
---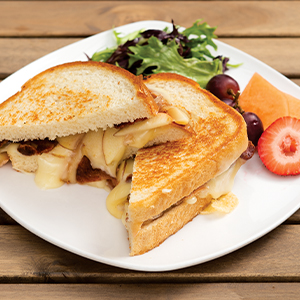 Trellis
Apple, bacon and taleggio grilled cheese on sourdough
Chefs Lisa LaValle and Rebekah Kohl collaborate to create many of the menu masterpieces at this lunch-only cafe at the Greater Des Moines Botanical Garden, and Kohl took the lead on this luscious grown-up grilled cheese. "Italian taleggio is a soft cheese that's like a fruity, funky sister of Brie. The sweet-tart apple and meaty Berkwood apple-smoked bacon complement the taleggio perfectly," Kohl says.
Cap off your meal with a sweet treat courtesy of Nik Pugmire, the pastry chef at Trellis' sister brand Dor Bakery: Ginger Panna Cotta with Blackberry and Apricot Coulis. It's "light, fresh and seasonal," Pugmire says.
---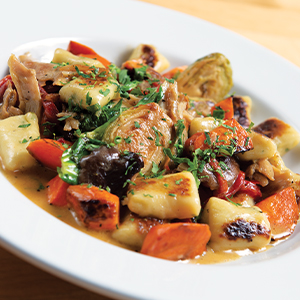 Alba
Gnocchi
Something old and something new—that's what you'll find on Alba's Restaurant Week menu, thanks to recently promoted executive chef Matt Small. This year's lineup includes a couple of fan favorites—the gnocchi (pictured) and molten chocolate lava cake. "The gnocchi are little seared pillows of soft, caramelized, cloud-like potatoes and cheese coated in a rich but bright crème fraîche sauce," says general manager Garrett Dotsch. "And the buttermilk ice cream-topped lava cake is overly rich and indulgent with a super gooey filling and crisp edges."
New to the scene: Small's corn and roasted beet tostada made with an heirloom variety of corn called conico azul sourced from Oaxaca, Mexico. They make the tortilla from kernel to masa, "which has unfortunately become something of a lost art," Small says.