Suit, Express; crew neck T-shirt, Banana Republic; cuff bracelet, Jaxxon; messenger bag and sneakers, Aldo. Model: Erick Jay Charley, the Peak Agency. Location: Surety Hotel
Photographer: Joelle Blanchard
Stylist: Courtney Conlin
Models: The Peak Agency
After a year-plus of remote work when sweats and slippers dominated workwear, many of us are ready for more polished and complete outfits—beyond the waist-up demands of those endless Zoom meetings.
That doesn't mean, however, that we're willing to give up comfort and return to sky-high heels. "Everyone is reevaluating their wardrobe right now," says personal style consultant Courtney Conlin. "As you ease back into reality, you don't have to trade comfort for style."
For example, both men and women can juxtapose an elevated sneaker with a skirt or suit pant, she says. You can wear a T-shirt under a blazer or choose a dressier denim that can seamlessly transition from the office to cocktails.
Whether you're shopping for something new or reviving pre-pandemic pieces, Conlin advises to keep versatility top of mind, as she did in creating the looks featured in this story. "Attainable, versatile pieces play an important role in creating a stress-free wardrobe," she says. "The more versatility you have within your wardrobe, the easier it is to create new outfits. Begin building your wardrobe with staple pieces and work from there."
---
Conlin offers a few additional tips on reentering the real world:
Don't overthink your clothing and accessory choices. "When you do that, you stress yourself out and associate a negative feeling with your wardrobe," Conlin points out, adding that you should feel good in whatever you're wearing.
If you're buying clothes at a store and you "find yourself hemming and hawing and trying to force something to work, don't get it," she says. "When in doubt, walk out. Otherwise, it'll end up sitting around collecting dust. That creates a negative space in your closet."
When you do wear an outfit you love, "take a selfie or lay it out, shoes and accessories included, and photograph it," Conlin suggests. "Create a folder on your phone and add your outfits to the folder."
No matter what you wear, "be true to yourself and your personal style," she says. "The truer you are, the happier and more confident you will be."
Oh, and in case you're wondering: "Yes," she assures us, "you can wear white after Labor Day!"
---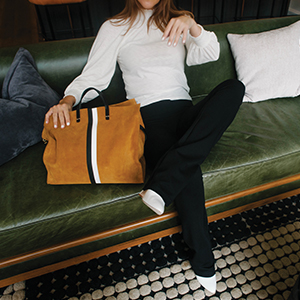 Ivory top, stretch pants and bag: Blond Genius
Booties: Dillard's (Antonio Melani)
Model: Kristin Gredys, the Peak Agency
Location: Surety Hotel
---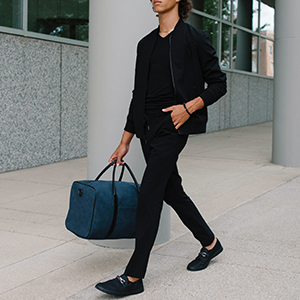 Bomber jacket, V-neck T-shirt, beaded bracelets, jogger pant, duffel bag: Express
Shoes: Aldo
Model: Paxton Morgan, the Peak Agency
---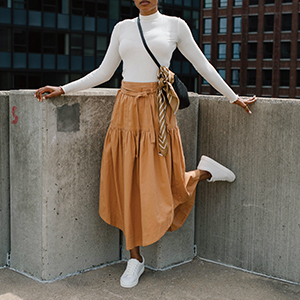 Ivory top, handbag, scarf, skirt: Blond Genius
Sneakers: Dillard's (Sam Edelman)
Model: Emeri Sams, the Peak Agency