Downtown Kansas City's skyline turns on the charm at night, when buildings such as Union Station (shown in the foreground) take on a warm glow. Photographer: Bob Osias
Writer: Beth Eslinger
Photography courtesy of Visit KC
You know Kansas City for shopping and sports. But there's so much more to explore, including downtown districts brimming with independent eateries, galleries, shops and museums. 
Our trip focuses on downtown's Crossroads Arts and Power & Light districts with a detour or two. While Interstate 670 divides the two areas, numerous overhead walkways mean traveling between the two is easy. This trip is completely walkable, so be sure to pack good shoes and lots of layers. 
To the south, Crossroads is anchored by 104-year-old Union Station. The former warehouses and brick buildings in the area house galleries, restaurants and select shops (including Raygun). The first Friday of the month is a top time to visit, as galleries stay open late, street performers such as aerialists showcase their craft, and artists display their latest creations outside on the sidewalks. The area is a center for the arts—the symphony, opera and ballet are all located here. 
To the north, Power & Light and the surrounding area house the public  library, clothing boutiques, and two more businesses with Des Moines roots: Protein House and Power Life Yoga. Later at night, the area becomes party central (think Court Avenue on steroids), so we suggest dining early or walking south for a more laid-back experience.
---
Friday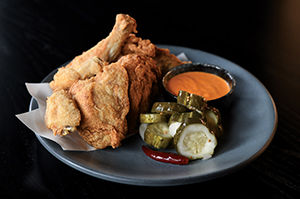 Park It Downtown
Numerous hotels are available, but the Loews, which opened in June 2020, is our perfect weekend pick. It has all the amenities you'd expect in a four-and-a-half-star hotel, including terrace seating overlooking downtown, a rooftop patio and bar (on the seventh story), drinks in a sparkly bar, and fine dining in a swanky space. But perhaps the best perk is the location. About a block from the Kauffman Center for the Performing Arts and a short stroll to distilleries, restaurants, breweries, coffee shops and more, the hotel is in the heart of the action. No car required to explore (tip: there's an attached parking garage so there's no need to valet).
Stroll South 
To get the lay of the land, head toward Union Station, located about a mile away. If it's First Friday, hop among the galleries to see works by area artists. Baltimore Avenue and 18th Street are a hub of action. A must-visit is the Leedy-Voulkos Art Center, which includes a gift shop and several gallery spaces. A late summer Friday night, for example, showcased evocative portraits of youths with Down syndrome. Beginning Dec. 3, the Society for Contemporary Photography will showcase a juried exhibit. After the gallery, keep heading south to Union Station—enjoy a glass of wine under the architectural wonder that is the 108-foot ornamental ceiling. 
Dine Your Way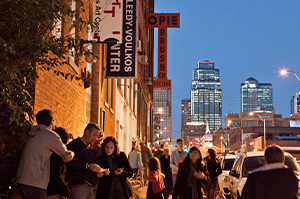 Wander back up through the Crossroads District to find your ideal Friday night restaurant. German fare, Thai (Lulu's Thai Noodle Shop was our pick), Italian and barbecue are among the offerings. If you're lucky enough to book early, Farina and Extra Virgin by James Beard chef Michael Smith (they're located next to each other on Main Street) both offer small plates. Farina is Smith's interpretation of fresh Italian cuisine, while Extra Virgin is all about tapas. Bonus: Happy hour at Extra Virgin runs until 6, with half-price tapas and drink specials. Another walkable James Beard option is Corvino Supper Club & Tasting Room. The restaurant led by chef Michael Corvino (nominated for best chef Midwest last year) focuses on seasonal ingredients and an ever-changing menu. 
Back for the Night
Stop by the lobby bar when you return to the Loews hotel for a beverage to enjoy outside on the terrace, weather permitting. In the evening, bars, restaurants and theaters in the nearby Power & Light District illuminate in neon and overhead string lights. Area murals look particularly dramatic and moody after the sun starts to set.
---
Saturday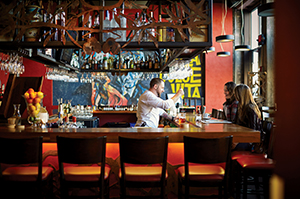 Explore on Two Feet
Start your day by walking north into the Power & Light District to study the art deco architecture, including the 1930 building for which the district is named. Head north to 10th Street to see the oversize book spines that clad one of the public library buildings. Pick your favorite author for a photo opp: Mark Twain, Rachel Carson and Willa Cather are some of the icons highlighted here. 
Fuel Up
Stop by one of the area breakfast institutions—Mildred's Food + Drink or Meshuggah Bagels. Both eateries have locations in both districts. Mildred's is known for scratch-made baked goods—try the Standard Sandwich with steamed eggs, bacon and Swiss. And if you're looking to load up on veggies, order a super-tasty Bloody Milly, which is packed with celery, pickles and olives plus their special spicy mix. At Meshuggah, try a bagel with smoked lox (stop by Sunday for a half-dozen to go, plus a schmear of your choice).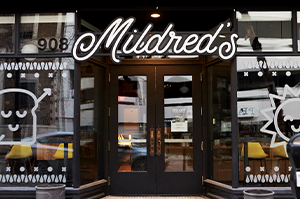 Stop by Shops
While the selection of stores is somewhat limited (the Country Club Plaza is still the place for that), you'll find small pockets of boutiques. At 18th and Wyandotte (just a few blocks from the Loews), shop for the latest plant trends at Verdant, denim and T-shirts at Daisy Lee Vintage, more vintage and modern apparel at Dear Society, and curiosities at Oracle Natural Science. The alley beside the shop has indie jewelry (Coki Bijoux), fragrance (For Strange Women), and modern home decor (Kanso).
Afternoon at the Museum
Fuel up on the city's cultural offerings. For centuries of world-class art, the Nelson-Atkins is one of the Midwest's premier institutions (it's about a 10-minute drive south from downtown). Plus, admission is free, and there's just a small parking fee. Start the tour with a quick bite at the Rozzelle Court Restaurant before exploring the extensive collection of European and American art, including masters such as Claude Monet, Camille Pisarro, Henri Matisse, Georgia O'Keeffe and more. In the modern Bloch annex, the current "Testimony" exhibit, which runs through March 2022, explores the Black experience through a mix of media including painting, photography, quilts and sculpture.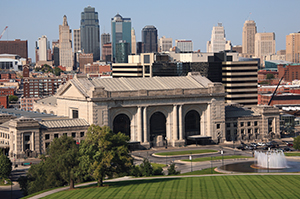 Outside, marvel at the 34 sculptures, including the famed shuttlecocks dotting the grass at the front and back of the museum as well as the glass labyrinth. The sculpture park remains open year-round from dawn to dusk. 
For families, Union Station offers several entertaining options, including Science City and the planetarium. There's also a movie theater. 
Now through January 2022, Union Station presents "Auschwitz," an exhibit from New York's Museum of Jewish Heritage. The exhibit includes more than 700 artifacts, 400 photographs and testimonials; it's the largest collection on display in North America. 
Night Out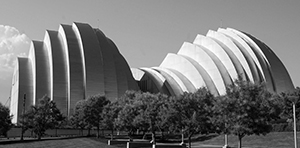 Kick back at the hotel before heading back out on the town for dinner and a show. In the Power & Light District, find steaks and seafood, pub cuisine, sushi and more. For famous Kansas City barbecue, walk to Joe's for brisket, ribs or pulled pork with sides of dirty rice, spicy slaw or barbecue beans. 
For an evening of the arts, see the Kansas City Symphony, "The Nutracker," or famous artists such as Renee Fleming, Canadian Brass and David Sedaris at the modern Kauffman Center (see the complete lineup at kauffmancenter.org). 
---
Sunday
Relax Over Brunch 
After sleeping in (yes, you'll be tired after all the walking), head out one more time on foot. At Streetcar Grille & Tavern, order a traditional or burnt ends Benedict or powder sugar-covered pancakes. BLVD Tavern's menu features chilaquiles, shrimp and grits, quiche of the day, and more. 
Finish Your Way 
After leaving downtown, decide how to spend your last few hours before venturing home. Shops at the Spanish-inspired Country Club Plaza open at noon. More than 25 local shops are in the district, including Made in KC for souvenirs.