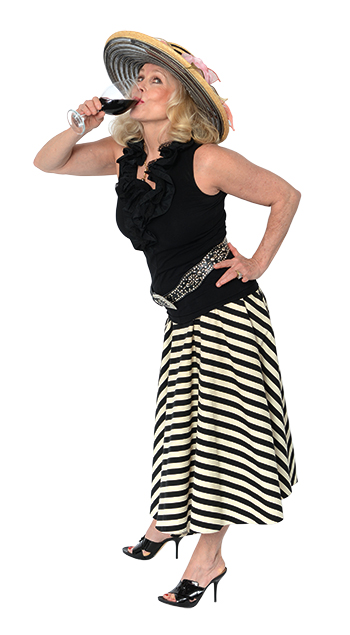 Written by Wicker Van Orsdel
Look at the time! Spring and early summer were chock-full of concerts, events and wine-soaked gala-capades. Here are some of Wick's Dish's favorites:
If you've always wanted to get a feel for urban living, Sip, Savor, Switch was the place to start. The event, the brainchild of Chris Diebel, benefited the Des Moines Community Playhouse. Guests traveled (via Majestic Limo) among four downtown condos to sample the creations of chefs from Luna, Centro, Metro Specialty Products and Splash Seafood Bar & Grill. Check out the photos on page 180.
Beautiful gowns, pageantry, and arias highlighted Des Moines Metro Opera's (DMMO) "Written in the Stars" ball at The Temple for Performing Arts. Creating the sights and sounds of Verona, DMMO, led by artistic director Michael Egel, re-created the world of Romeo and Juliet. Guests received an opening fanfare upon arrival: Couples were waltzing, and fencers were clashing their épées in the background. For a donation, you could even request an aria or ensemble to serenade your table. I recommend the comedic song "Glitter and Be Gay" from "Candide."
Volunteering at The Principal Charity Classic is a great way to get hang out with world champion golfers. This year's event teed off in the heart of the city at the gorgeous and challenging Wakonda Club. On Pro Am day, I enjoyed watching our local talents, such as Suku Radia, Stanley W. Reynolds, Rich Willis and scores of others, play alongside golf greats like Fuzzy Zoeller, Hale Irwin and Jay Haas. The event had a super turnout despite the soggy weather. The Prairie Meadows Skybox (16th green) and Goose Island 312 Party Deck (14th green) were great places to get out of the rain and sip vino.
Want to entertain 40 or so guests for dinner? Host a Winefest Prima Dinner! Chez moi in our new East Village loft, chef Dominic Ianerelli from Splash Seafood Bar & Grill outdid himself with courses of salmon, shrimp, lamb, prime rib … all perfection! David Langford of Chalk Hill Estate Vineyards and Winery, located in California's Russian River valley, impressed us all with his wine pairings; we saved room for refills. Many thanks to Winefest Des Moines, sponsor Julie Stewart of Prairie Meadows Racetrack and Casino, pianist Michael Pfaff and to the grapes that made it all possible.
You don't need to host or even attend events to enjoy our burg. Check out these delights I've recently discovered:
Americana Restaurant and Lounge's "Winner Winner Chicken Dinner" $13 special on Monday nights. Mashed potatoes … check. All-you-can-eat white meat … check. Seat with a view of the sculpture park … check. And cornbread!
You'll be tempted to fill up on the fries and the delicious deviled eggs at Louie's Wine Dive, but save room for the mussels. Paired with the
Ferrari-Carano fume blanc, it's a perfect light dinner. The bartenders—Nick, Corey and John—are incredibly good at making sure you are happy. Plus, Sunday brunch on the patio is to dive for!
Who needs "Dancing With the Stars"? We have dancing under the stars with the new summer social dance series at Gray's Lake Park called "Dancing at the Lake." Shake your groove thing as you learn salsa, swing and line dancing. The event takes place every Thursday night at 7:30 on the Overlook Terrace all summer long. And it's free!
Next up: The Salisbury House & Gardens Gatsby Gala, with a theme this year of "Gentlemen Prefer Blondes" (from the 1925 book of the same name). But for now, summer is sizzling, pools are filled with sun-lotioned shiny people, and the refreshing zing of a pinot grigio is calling. What better way to savor what's left of summer?
Read more of Wicker's doings around town on her "Wick's Dish" blog on the dsm website: dsmMagazine.com.