Written by Wini Moranville
Photos by Duane Tinkey
Who doesn't love the grace and exuberance of a Champagne flute? After all, few glasses say "let's celebrate" quite like these tall beauties. And by now, aren't we all hip to the way the narrow shape preserves the wine's hallmark fizz?
And yet, sparkling wine isn't just about the sparkle. Here, we showcase three glassware styles that will have you getting more out of your bubblies—and hopefully enjoying them more often.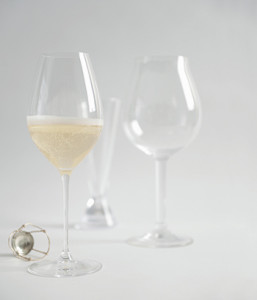 The Riedel Veritas Champagne Glass
Riedel Crystal certainly has crafted some sleek and elegant Champagne flutes in its day; however, under the helm of 11th-generation glassmaker Maximilian Riedel, the company recently unveiled its first-ever Champagne glass—a vessel that more resembles a wine glass than a classic flute or coupe.
Riedel believes that Champagne is, above all, a wine—and should be treated as such.
"The Riedel Veritas Champagne wine glass allows the wide range of aromas of Champagne to unfold," explains Riedel, president and CEO of Riedel Crystal, which is headquartered in Austria. "The larger rim diameter enables the aromas of the Champagne to be released, in a way which is not possible with a narrow flute."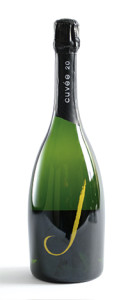 Riedel adds that the glass also includes a point mousse, or "sparkling point," a tiny groove in the base of the bowl that aids the formation of the wine's bubbles. After all, a fine but persistent effervescence is key to the Champagne experience.
This glass is especially well suited for blanc-de-blancs—Champagnes made from chardonnay grapes—or other sparkling wines with a significant percentage of chardonnay in the blend. Look for: Taittinger Brut La Française (Champagne, France), Schramsberg Brut Blanc de Blancs (North Coast), J Cuvée 20 (Sonoma County) and Roederer Estate Brut (Anderson Valley).
J Cuvée 20 from Sonoma: Anchored by chardonnay, with pinot noir and pinot meunier in the blend, this delicately frothy pick brings notes of bright citrus and ripe orchard fruits. Pour it with a first course of seafood or salad, or pair it with a cheese course.
---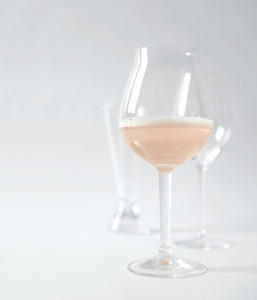 The Riedel Vinum XL Pinot Noir Glass
For most pinot noir lovers, not just any red wine glass will do; the characteristically delicate and refined wine calls for a roomier vessel that allows its sensory delights to emerge.
That's why certified sommelier Ben Nelson always offers pinot noir glasses to guests at Splash Seafood Bar & Grill who order blanc-de-noir Champagnes and sparkling wines. Blanc de noir literally means "white from black" and refers to a light-colored Champagne made from dark (i.e. red) grapes, specifically pinot noir and pinot meunier.
Nelson points out that when drinking blanc de noirs from a flute, it's easy to detect the wine's bright berry aromas and fresh, citrusy side. Sip it from a pinot noir glass, however, and the wine's more unique Champagne qualities, such as the brioche and biscuit-like angles, will also readily reveal themselves.

It's true that you might lose bubbles more quickly in these larger glasses than you would in a flute. If that's the case, Nelson says, you might just be drinking your wine a little too slowly. Why postpone joy?
While pink-colored sparkling wines can be crafted from a variety of red grapes (and also from blends of red and white grapes), this glass especially flatters wines made or anchored by pinot noir. Try Chandon Blanc de Noirs, Mumm Napa Brut Rosé and Lucien Albrect Crémant d'Alsace Brut Rosé.
Domaine Chandon California Blanc de Noirs: Jazzy red fruit and soft, creamy vanilla tones combine with fresh, lively bubbles for an exuberant bottle. This versatile pick can take you from savory appetizers through dessert; it even pairs well with steak.
---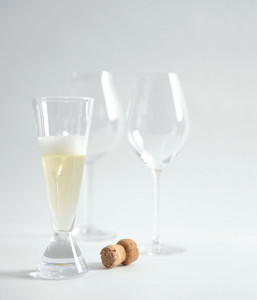 The Geo Flute by Simon Pearce
Although the Geo flute possesses the brilliance, clarity and elegance of fine glassware, its shape gives a wink to the Pilsner glass; as such, it hints at the everyday possibilities of sparkling wine. After all, we don't think twice about cracking open a beer on a Tuesday night, so why do we wait for red-letter days to open a sparkler?
Available at Josephs Jewelers, the glass hails from Vermont's Simon Pearce studios; Pearce began making glassware in Kilkenny, Ireland, but moved his operations to the United States in the early 1980s. According to James Murray, executive director of product development and design, the Geo line of glassware was inspired by the 1920s Bauhaus movement, utilizing the most basic geometric forms: circles, triangles and squares.

"By altering the relative scale and proportion of these simple shapes, a modern, sophisticated design emerged," Murray says.
Casual, moderately priced bubblies, such as those from Spain, California, France's Loire Valley, and Italy, will be right at home in these playful glasses. For spring and summer sipping, pop open a lightly fruity and immensely refreshing Prosecco from Italy; labels to look for include La Marca, Mionetto and Nino Franco.
Mionetto Prosecco DOC Trevisio: With its light body and fragrant golden-apple appeal, this bottle is an especially fresh-forward pick for spring and summer. With just 11 percent alcohol by volume, it's also a good choice for drinking during the day.