Above: Bishnu Rai, originally from Bhutan, farms through Lutheran Services in Iowa's Global Greens program based in Des Moines. She's photographed here in her kitchen.
Writer: Jody Gifford
Photographer: Kathryn Gamble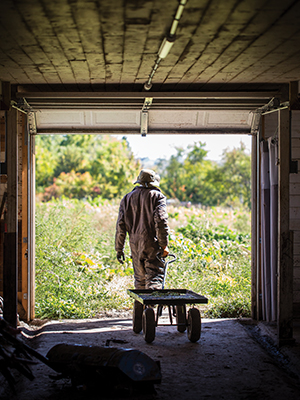 Leya Neema remembers a time, not long after she and her family settled in the United States in 1998 as refugees from Burundi, when they would sit down to a dinner of raw ramen noodles.
"We didn't know how to make ramen noodles … so for a long time we'd eat them uncooked. And crunch on them," recalls Neema, now a case manager in the Refugee Resettlement Program with the Catherine McAuley Center in Cedar Rapids, which serves refugees from more than 50 countries. "We would dip it in tea and then eat it.
"The problem isn't that we were not getting food," she says. Instead, "we didn't know how to eat it. A lot of the food available at food pantries are things in boxes, cans or precooked."
There were times, Neema adds, when this type of food insecurity would lead to health challenges. "A lot of families didn't have a lot of food in Africa and ate simple with fufu (a common staple in West Africa) and vegetables, which are not in a lot of food banks," she explains. "Here, we'd get boxed foods and canned foods, but when you're being introduced to a new culture and new foods, it can be upsetting to your stomach. It's a new thing introduced to your body and can make you sick, which can scare you from trying other things."
Neema and her family's experience with the U.S. food system is one shared by other immigrant and refugee families. It's estimated that more than 24% of immigrants experience food insecurity, about twice the rate of the general population, according to Bread for the World, a national organization that advocates for policy changes to end hunger. They are often forced out of their home countries because of war and persecution, only to face food insecurity here.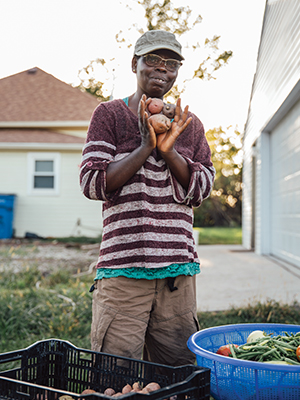 Roadblocks to food insecurity 
Discrimination, language barriers, mistrust of the government, and cultural differences can hinder immigrants' ability to put food on the table. The fear of contracting COVID-19 has amplified the problem, experts say, keeping refugees and immigrants home and away from the resources they need to provide for their families.
"When we get a call from an Iowan, it's usually someone who has gone down all kinds of avenues to solve a problem," says Monica Stone, deputy director of the Iowa Department of Human Rights and administrator of the Division of Community Advocacy and Services, which connects underserved populations in all 99 Iowa counties with government resources. "There might be a language barrier, or the government process is too complicated, or they don't know the right organizations to go to get their needs met.
"It's like a layer cake," she adds. "We only hear about the frosting, but … the real need is in the layers underneath. I say, 'Tell me what your needs are,' and they say, 'I don't have food to feed my family this weekend.' We can build a package of services that can help solve the problem long-term."
Stone understands that some individuals may be reluctant to contact a government agency, fearing that sharing their information could result in harassment from immigration officials or deportation.
"People in the refugee and immigrant communities want to go to the local organizations that are better trusted," she says. "They meet people who speak their language and they develop strong relationships with others in a closer community. … In that case, we'll work hard with those organizations to lift people up."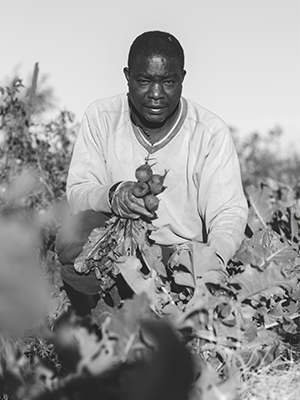 Matt Unger, CEO of the Des Moines Area Religious Council, a multifaith collaboration of 200 congregations from five different faiths, says visitors to DMARC's network of 14 food pantries can present any form of identification to receive food, and employees and volunteers do not ask for a visitor's immigration status.
Expanded food options
Unger adds that providing culturally appropriate food for different ethnicities can be difficult to navigate, but it's something DMARC is actively trying to remedy. "Ethnic foods are different from the typical kinds of food you'd get from a pantry, which can cause issues for us, too," he says. "We [try to] get the most bang out of our food purchasing buck so we are able to offer food at low or no cost. We buy a good portion of the food we're providing. The specialty cultural foods are harder to buy in bulk and can cost more than we can spend."
Likewise, one of the Iowa Food Bank Association's goals is to provide more ethnic food options for the underserved, according to Linda Gorkow, executive director of the association, which works statewide through six Feeding America-affiliated food banks to distribute food to 1,100 food pantries across Iowa.
"In Iowa, there's a variety of need," she says, including for food that is both healthy and culturally appropriate.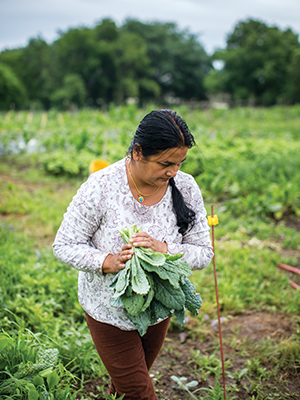 For example, in the Latino community, people "don't eat a lot of canned food," says Zuli Garcia, who, when the pandemic hit, founded a mobile food pantry called Knock and Drop in Des Moines. "It just goes to waste. They mostly stick to food with chicken or egg, vegetables, rice, beans—things that are culturally specific to the community."
Lutheran Services in Iowa's Global Greens program provides refugees not only with a place to grow culturally appropriate food for their families but also a path to self-reliance: The farmers learn the skills to start their own business, selling their produce at a weekly farmers market, through a community-supported agriculture outlet and online.
Nick Wuertz, director of refugee services at LSI, says Global Greens goes beyond the usual methods of addressing hunger and food insecurity by providing more personal solutions for immigrants and refugees in central Iowa.
"There are many refugees and immigrants who want to grow fruits and vegetables for themselves, whether they're wanting to explore their skills and utilize their farming experience from their home countries or just reduce the expense of buying from a store," Wuertz says. "It's really important that they have access to culturally appropriate food for their families."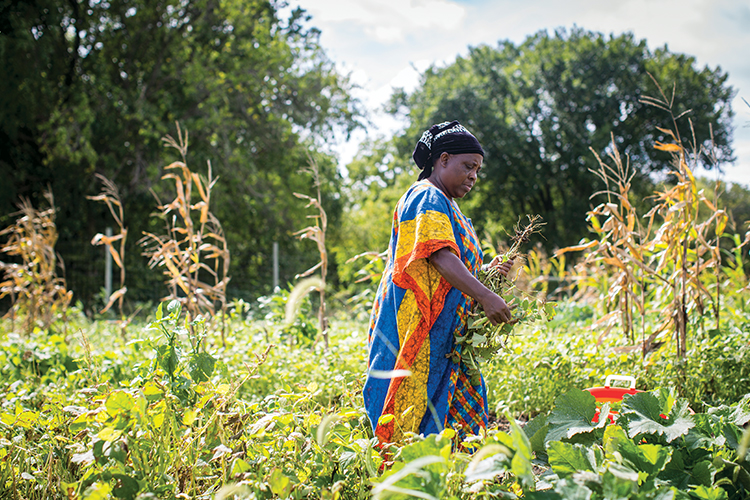 A refugee from Burundi, Beuline Bucumi spent time in Zaire, Congo and Tanzania before emigrating to the United States. She's part of LSI Global Greens and works out of West Des Moines.
Label confusion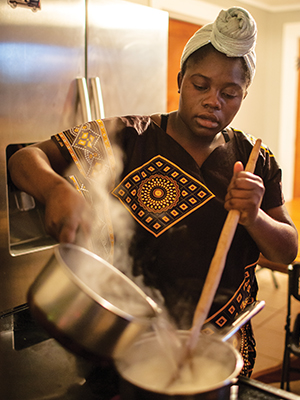 The Department of Human Rights' Stone says families often face challenges not only in terms of what they'll eat, but how they shop for it and how it's prepared. As with Neema's family, many refugees and immigrants don't know how to navigate a grocery store and don't understand labeling. Stone recalls when she helped a refugee family settle in Iowa a few years ago, the matriarch of the family decided after a few months that she'd like to do the grocery shopping on her own.
"They had been trying all these different foods and figured out that they loved fried chicken," Stone says. "At the store, there was this can of Crisco and on the label was a pile of fried chicken. She couldn't read English and didn't understand what the product was for, but that's what she bought because it had a picture of fried chicken on it."
Dawn Oropeza, executive director of Al Exito in Des Moines, which focuses on academic and leadership programming for Latino youths, says such language barriers can prevent food-insecure immigrants from getting the help they need.
"Iowa being an English-only state puts a lot of people in a tough spot," she says. "Most places you call don't have people who speak Spanish, so it's a barrier to begin with. A lot of our kids end up being the translator for the family."
Knock and Drop's Garcia adds that younger children may not fully understand what they're interpreting. "Using a young child to interpret an already stressful situation isn't a burden they should carry," she says. "They don't always know what they are they saying. It should be our responsibility."
Garcia suggests organizations work toward having someone on staff who can translate the information they offer into languages other than English. Additionally, sharing information through various media outlets that serve ethnic communities is important, she says.
Accessing markets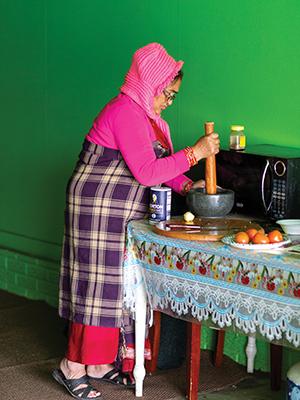 The language barrier has also been an added challenge for Global Greens farmers since the pandemic began, notes Dan Bowser, food hub and markets supervisor for LSI. Demand for fresh food has grown, but as many consumers are still concerned about going out, they're shopping online. English-speaking, computer-literate farmers can take advantage of this expanded market, but for immigrant farmers who are still learning language and technology, "this has been devastating. They can't access this new market," he says.
On the consumer end, he adds, those "who are fluent can find produce easily. Customers who don't speak English are finding it harder to get what they need."
Those who work with immigrants and refugees say that overall, Iowa can be a welcoming place, but that more can and should be done to address food insecurity among that population.
"Iowa is decent," says Neema of the Catherine McAuley Center. "There are a lot of people, agencies and employers that have a heart and want to help people. We've gotten better at accepting new people and cultures, but there's still a lot of work to do."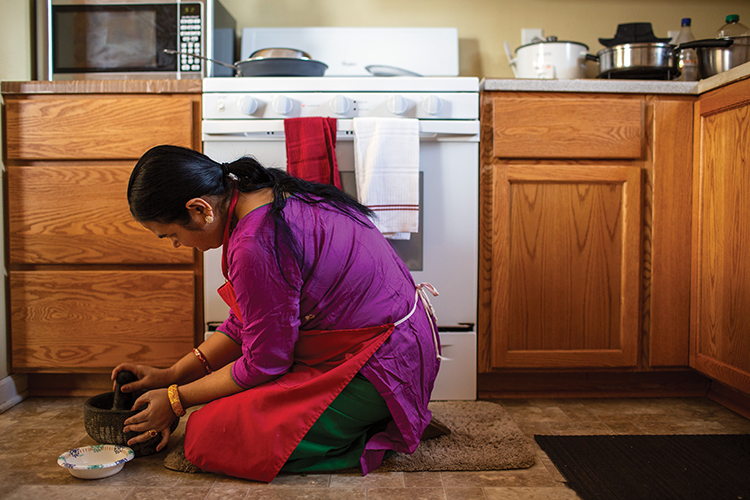 Tika Bhandari in her home.
The photos featured in this story will be part of a book on the Global Greens program, which Lutheran Services in Iowa expects to publish next spring. Edited by Barbara Hall and photographed by Kathryn Gamble, the book, which as of press time didn't have a title, will include stories about and recipes from Global Greens farmers. For more information, contact LSI's community refugee services department at 515.271.7443.