Numerous exterior home renovations are boosting the curb appeal of homes in the Drake neighborhood. Invest DSM helps with funding for building materials and labor. 
Writer: Beth Eslinger
Photographer: Duane Tinkey
Drive through the Drake and Franklin area neighborhoods between 25th and 48th streets around University Avenue, and the crisp white yard signs touting Invest DSM stand out even amid the clutter of last fall's election. 
Look a little further at the properties, and you might see scaffolding signaling an exterior makeover on a story-and-a-half brick or a 125-year-old Victorian perched on a new foundation, showing off its recent move from another part of the city. 
These two neighborhoods are both target areas of Invest DSM, a nonprofit working to boost home values and commercial spaces in four historic neighborhoods in Des Moines proper. 
Started in July 2019, Invest DSM was created with help from city and county funding to revitalize four special investment districts, one in each city ward—Columbus Park and Highland Park/Oak Park are the other two areas. 
All four are within a few miles of the city center, meaning short commutes to downtown. And all have established trees, schools, parks, shopping and more to attract young professionals and families. Plus, some of the city's beloved dining spots and new shopping and entertainment zones are within walking, biking or driving distance. 
"Most of the homes [in the four neighborhoods] were not keeping up with inflation over a 20-year period of time," says Christopher Civitate, neighborhood development manager with Invest DSM. To help boost values—and keep the neighborhoods attractive—the program provides matching grants to assist in home repairs that make a meaningful difference. The program's target is to reach 20% of homes in each neighborhood within a decade with funding help for improvements such as curb appeal updates, kitchen and bath remodels, and even primary suite additions. 
The focus will help homes in these central neighborhoods survive and thrive for another century. As Sierra Rose, operations manager of Invest DSM, says, "We don't just want to slap a coat of paint on the house and ignore that the foundation is crumbling." 
Realtor and investor Eric Quiner recently renovated his second Franklin-area home through the program as part of his family business Q Enterprises. His recent project, a bungalow on 41st Street north of University Avenue, is just seven houses from Louie's Wine Dive, Campbell's Nutrition, Hy-Vee Drugstore and the other locally owned shops and restaurants at Uptown Shopping Center. 
While the house dates to 1918, the amenities are decidedly modern—quartz countertops, an open living room and kitchen, a primary bedroom with an en suite bath, high-efficiency furnace, and a new driveway, garage and roof. Mature trees and shrubs and the classic bungalow retain the character and charm of the century-old neighborhood. 
Working with Invest DSM allows Quiner to follow his passion for remaking old homes. "I save the planet one home at a time," he says. "It's part business, part creative, part civic duty."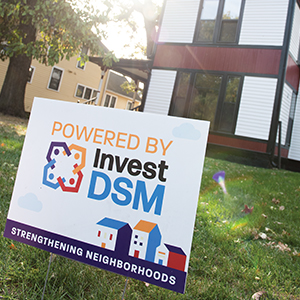 Modern white signs pop in front yards around Drake, signaling improvements both large and small. This sign touts the Block Grant Challenge focused on affordable exterior updates like paint and landscaping.
How It Works
Two programs are available to homeowners. The first to roll out in 2019, the Block Grant Challenge, focuses on affordable curb appeal updates by a group of five or more homeowners within sight of one another. Each homeowner can apply for matching funds—up to $2,500—for updates that make a big impact on an old home and boost the look of a block, such as new paint and shutters, foundation plantings and storm doors. 
"The whole goal was to get people to know each other … to have more of a sense of community and place of where they live," Rose says.
Look for the "Invest DSM" signs in the Drake and Franklin areas, and it's evident the program is popular. Just east of Glenwood Cemetery at 46th and 47th streets north of University Avenue, numerous clusters of homes feature fresh facades and landscaping, thanks to the funding help. 
The second part of the program (these are the "I'm Invested in My Community" signs) provides matching grants for larger renovations that bring homes into the current century—projects like removing walls to open up floor plans, carving out space for closets, crafting new storage-filled kitchens, and bumping into backyards with home additions. 
"We help people stay in the communities they love, that they already have roots in," Rose says. "They don't have to look to the suburbs to have amenities and modern touches." 
Working with planners through Invest DSM, homeowners are encouraged to select higher-level finishes and materials. "It allows the homeowners to think bigger than they might have done previously," Rose says. 
For street appeal throughout the four neighborhoods, there's a focus on trees. Through a program with Trees Forever, more than 700 trees have been planted so far, with another 150 in the works this winter. Drive around and see an abundance of green 5-gallon buckets throughout all four neighborhoods—another sign of the growth to come. 
---
Below: Ryan Francois with Rally Cap Properties renovated this 1922 Craftsman bungalow on 47th Street. The original hardwood floors throughout complement the bright, airy space, complete with a new kitchen. Photography: Golden Photos.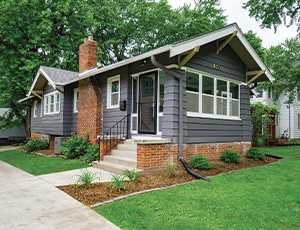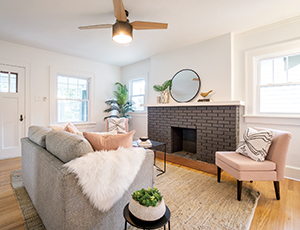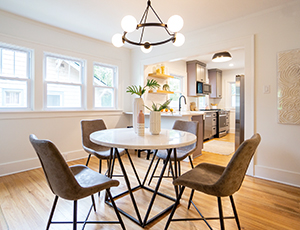 Below: Realtor and renovator Eric Quiner transformed this Franklin home. It was "an eyesore on the block since the 1980s," he says. Working with Invest DSM "ensures you deliver a higher-quality product." Photographer: VHT Studios.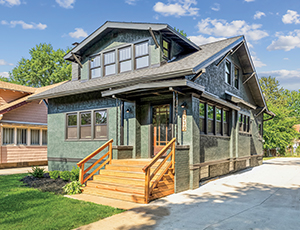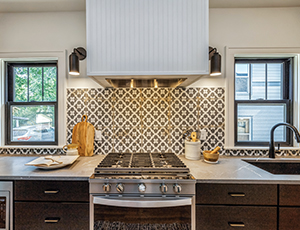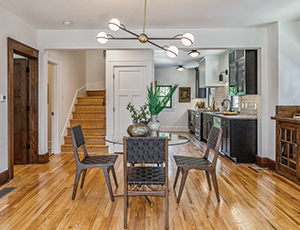 ---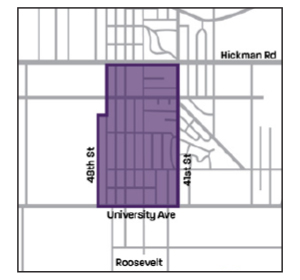 Franklin Area
Walkable Reality
Even in winter, sidewalks in the cozy neighborhood bustle with residents walking their dogs, young parents pushing strollers, and joggers getting in workouts. Diners dressed in weekend casual line up at their favorite local eatery, whether it's for a fresh roast at Friedrichs Coffee, everything hashbrowns at Waveland Cafe, or soft-serve ice cream and a treat for the pup at Snookies Malt Shop. 
Located just north of University Avenue and south of Hickman Road, and between 41st and 48th streets, the Franklin area is filled with well-built homes from the early 1900s. All are within easy access to local businesses providing a little of everything: organic vegetables, house-painting and grilling supplies, prescription drugs, even designer eyeglasses. 
The bungalows, cottages, Cape Cods and Colonials each have a distinct look and color palette in the established area. Invest DSM signs in front yards of the popular neighborhood tout new exterior paint, landscaping, interior work and more. 
Homes here attract young professionals and families with kids—and dogs. To date, nearly 200 homes have been improved through the renovation program, with another 100-plus in the pipeline. Many participate in the block program—340 have used the funding thus far.
Area businesses are also seeing a beauty boost. Thanks to grants through Invest DSM, new public art livens up several of the area's brick buildings, including this inclusive message from Malcolm X at Universal Kutz barbershop at the corner of University Avenue and 48th Street: "Education is the passport to the future, for tomorrow belongs to those who prepare for today." 
Across the street at Taste! To Go Catering, a vibrant mosaic of a bike and winding trails colors the building's gray facade. Two other mosaics accentuate popular businesses Snookies Malt Shop and Campbell's Nutrition. Local public art is part of the program's transformational process. 
"Public art adds a lot to the aesthetics, culture and vitality of the neighborhood," Invest DSM's Christopher Civitate says.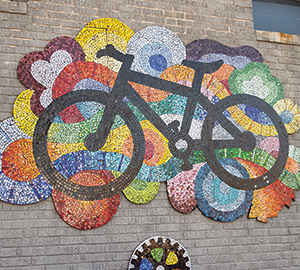 A glass mosaic by Beaverdale artist Nicole K. James enlivens the east side of Taste! To Go Catering and Events at 4700 University Ave. James created three additional works with funding help from Invest DSM.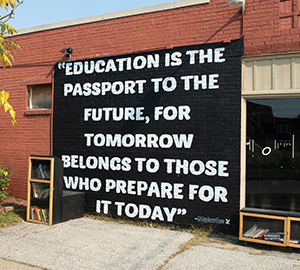 Des Moines artist Jordan Weber created this mural on the wall of Universal Kutz barbershop. Lending libraries flank the murals and double as seating.
---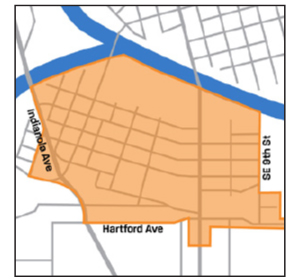 Columbus Park
At the Confluence of New and Old
The city's original Italian neighborhood still exudes the classic flavors of these settlers. But a Latino wave of homeowners and businesses is spicing things up, as are young residents in sleek apartment buildings and new homes. 
Tucked just south of the confluence of the Raccoon and Des Moines rivers, the neighborhood boasts quick access to recreation—bike trails, family-friendly Columbus Park and Principal Park. And then there are the classic restaurants such as Tumea & Sons and grocery stores Graziano Brothers and B&B Meat & Deli easily reached on foot, bike or four wheels.
The original homes here are smaller (under 1,000 square feet) and were built to be temporary for the Italian immigrant workers. Many of the residences were added onto throughout the years, resulting in foundation and footing issues. Invest DSM is focusing on new homes and renovations, with the goal of 60 new construction and 100 improvements within the next decade. 
Currently new homes are going in by Columbus Park, and several hundred new apartments offer a variety of floor plans—some even come furnished. 
Latino immigrants have also influenced the dining scene, including La Baja Cocina Mexicana, which boasts a new mural with funding help from Invest DSM, as well as Usuluteco Salvadoran Restaurant.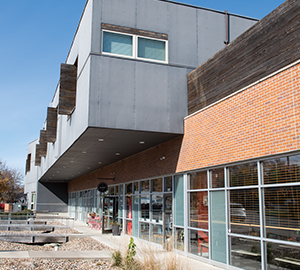 A new building at the corner of Southeast Sixth Street and Hartford Avenue houses the Grateful Chef and La Baja Cocina Mexicana. Affordable loft-style apartments are also located in the building (called Sevastopol Station).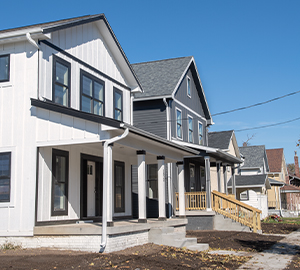 Two new houses on Southeast Second Street overlook Columbus Park. New builds and home renovations are in the works for the south side neighborhood.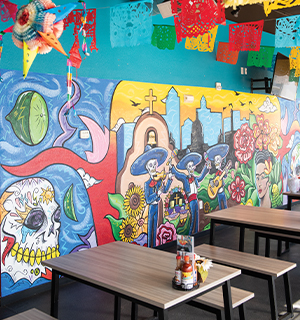 Enjoy Dia de los Muertos scenes every day of the year at La Baja Cocina Mexicana at 1938 S.E. Sixth St., Unit 101. Area artist Siriaco Garcia painted the vibrant work.
---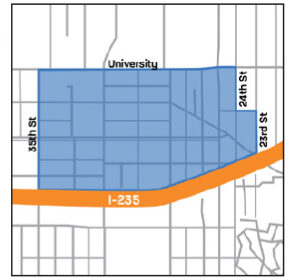 Drake
Pride and Perseverance
The Drake area hasn't always had a great rap, but it's obvious from construction at the corner of 31st Street and Cottage Grove Avenue that progress is prolific and here to stay. 
Currently, four houses within the block are undergoing major renovations. While the view now might be an eyesore—there's a mountain of gravel, a giant canary-yellow dumpster, white house wrap sealing several exteriors, and window openings sheathed with plywood—the potential and future are obvious. 
Sandwiched between the interstate and University and 24th and 35th streets, Drake's investment district is focused on the stately homes lining Kingman Boulevard and Cottage Grove Avenue, with additional pockets throughout the neighborhood. 
Projects here tend to be larger in scale and to attract homeowners who aren't afraid of big remodels and renovations. These are historic homes, many over a century old, so there are new windows, siding, shingles, plus plenty of paint schemes coloring the painted ladies and four-squares.
Within a short stroll are on-campus attractions and restaurants, music venues and more in Dogtown and beyond. 
Anchoring the east side of the district, Drake Park attracts families with a wading pool, basketball court and accessible playground. Just a few minutes away is another family favorite, Black Cat Ice Cream, which serves an ever-changing menu of gourmet flavors. 
Several businesses in Dogtown are seeing a boost, thanks to Invest DSM, including xBk, which has a new patio out back that's flanked by two dynamic murals. There are also new windows and lighting at Mars Cafe and a bright yellow sunrise mural at the heart of Campustown.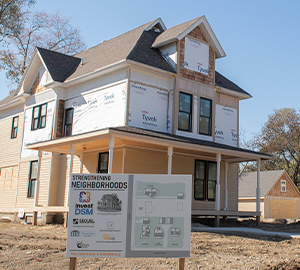 Four homes at 31st Street and Cottage Grove Avenue are being transformed. The sign out front highlights the community project and its partners.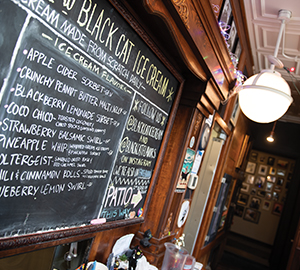 Black Cat Ice Cream on Cottage Grove is walkable from throughout the investment neighborhood. Their innovative flavors are made from scratch daily.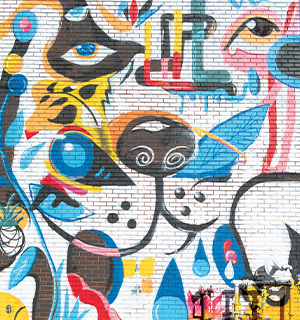 Artist Jacob Kuperman's "bark bark #9" enlivens a brick facade on University Avenue near Drake University. The work was part of 2022 Des Moines Art Week.
---
Highland/Oak Park
Back to Business
Sited on the city's north side, this neighborhood seeing a local business boom has perhaps one of the prettiest views of the Des Moines River at McHenry Park. Sit at the open shelter accessible from Oak Park Avenue and see the winding trail that leads to Riverview Park below and downtown's skyline in the distance. 
Restored about a decade ago with new shelters, a splash pad and a play stream, the park is a natural highlight of the area between Sixth and 12th streets and Euclid and Madison avenues. Cruise the curvy roads near the park and see stately brick Colonials, Tudors and Victorians mixed with small cottages. On the north near Madison, bungalows and more cottages attract young families and professionals—in fact, this area has the youngest population in the city, with 59% of residents age 35 or younger. 
In addition to helping homeowners, Invest DSM is also boosting local businesses with funding for structural improvements and startup costs. 
At Chuck's Restaurant, a commercial grant program helped stabilize the building and thus stabilize the business. "The structure was falling down around them," says Sierra Rose with Invest DSM. Now with improvements, the business is reopened with an expanded menu and a renewed fan base. 
Highland Park continues to be a business priority and area of growth, making it even more attractive as a walkable, family-friendly area. There's the new location for the Collective; yoga studio Ananda; ice cream Pints by Beth (opening later this spring); henna and tattoo shop Sundara; Divine Times Vintage; plus much more in the works, including the brew pub at the former French Way Cleaners opening later this year. 
"We're working through more plans to make it more walkable and easy to park," says Invest DSM's Christopher Civitate.
Hiland Bakery on Sixth Avenue is known for its doughnuts, cakes and pastries, including Dutch letters. The area is being revitalized with new businesses thanks to grants from Invest DSM.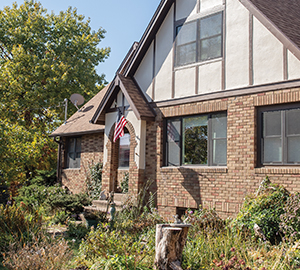 This Tudor near McHenry Park stands out with its classic curb appeal and showy gardens. It's a project funded through the nonprofit.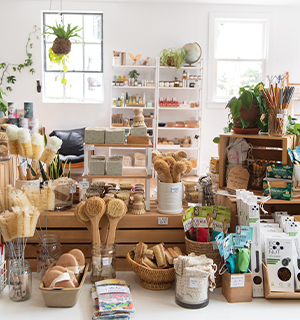 The Collective moved from downtown to Highland Park last summer. The bright, airy space is a new retail anchor in the neighborhood, drawing Gen Z and Millennial shoppers.