Over the years, LGBTQ Iowans have had a strong and welcome influence on our state. Representing a wide range of vocations and avocations, they have led with creativity, vigor and compassion, solving problems and helping build a state that we all can be proud to call home.
In tribute to such inspiring contributions, dsm magazine is working with One Iowa to present the second annual LGBTQ Legacy Leader Awards. We also will recognize an ally of the LGBTQ community, someone whose contributions to equality and justice have helped ensure that gender and sexual orientation must not be stigmatized or marginalized in the culture of Iowa.
Six honorees will be recognized for lifetime achievement at a special event in October, 2021. Event details will be announced in the spring.
We welcome your help in choosing those to be honored. Nominees for five LGBTQ Legacy Leader Awards should meet these criteria:
Demonstrate a record of public leadership in professional, civic or political roles, in addition to their dedication to LGBTQ causes.
Serve as role models and mentors to others over the years.
Contribute to the appreciation and recognition of cultural diversity in Iowa.
Additionally, one nominee from outside the LGBTQ category will be honored with an Ally Award, for unwavering commitment to civil rights and equality for all, regardless of gender identity or sexual orientation.
Nominations are due April 30. To nominate an individual, fill out the form here.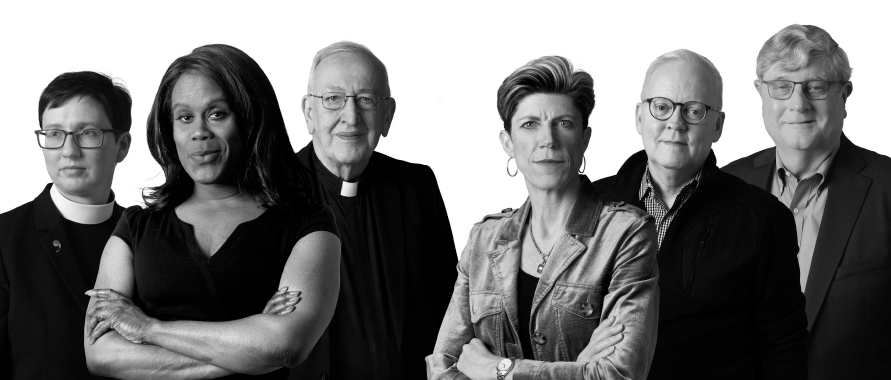 Pictured from left to right: Eileen Gebbie, Alexandra Gray, John Harper, Jan Jensen, Tracy Lewis, John Forsyth
Past honorees included: George Belitsos, Karen Mackey, Sharon Malheiro, Sonia Reyes-Snyder, Jeorgia Robison, Jonathan Wilson, Tracy Lewis, Alexandra Gray, Jan Jensen, Eileen Gebbie, John Harper, and allies Terri Hale and John Forsyth