Written by Chad Taylor
Photo by Duane Tinkey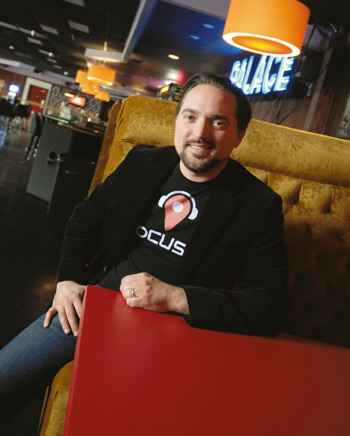 One thing Jake Kerber is sure of when he talks to a local band: Locusic is an easy sell.
"As long as I can get 60 seconds of their time," says the Locusic LLC founder, "I got 'em."
It's an easy idea for people to grasp because it's so familiar. The obvious parallel is the website Pandora, where users can type in the name of a band or a genre, and the site will create a "channel," giving the user a random stream of similar artists and songs. It's a great way to hear music you like and discover new artists, but Pandora's drawback is that it deals in musicians who have signed with one of the national labels and are already receiving regional—if not national—radio play.
But if you go out tonight and walk into the Gas Lamp, or Vaudeville Mews, or climb the stairs to People's Court, two things are equally likely to be true. The first is that the artist on the stage won't be Ke$ha. The second is that the music the band is playing won't be familiar to you. The former is a godsend; consider yourself lucky. As for the latter, well, that's where Locusic comes in.
"I remember one conversation where I was out at People's with my friend Mark, who's in a local band," Kerber says. "Somebody came up to us that knew Mark's band and (was) saying, 'I can't believe you guys don't sell out every show. You guys are so good,' and I kind of felt something similar."
From that feeling was birthed the mewling babe of Locusic. Launched in October 2011, Locusic caters to Des Moines' local music scene, providing a way to discover who's playing in our back yard. "There's so much great music being made out there. … I wanted to help make people aware of it," Kerber says.
Kerber, 38, was born just outside the Twin Cities and graduated from Iowa State University with degrees in mechanical engineering and computer science. From there, he settled in the Des Moines area and founded a software consulting company, Kerber Technology Solutions LLC (KerberTech), in 2004. Starting and running KerberTech provided him with the experience to launch Locusic, but almost every other aspect of the endeaver was new ground.
"My other business is primarily consulting," Kerber says, but "with a start-up like Locusic, it's all unknowns. You don't know who the client is or what they'll need. You don't know who the customer is, or how it's going to make money. You have to figure out the marketing. I can read references about how to run a software company—how you find the client or whatever. But Locusic is a true entrepreneurial endeavor."
So far, the endeavor is working, and it's not just the bands themselves that are noticing. When the Greater Des Moines Music Coalition was promoting April's Gross Domestic Product music festival, Kerber and Locusic worked with the coalition to create a special GDP station, streaming music exclusively from bands playing the festival. And in May, Locusic launched its second local music channel in Minneapolis.
"We've got about 350 songs from 50 or so Twin Cities artists," Kerber says. Further expansion, he adds, will be "organic. I don't want a halfway-done project to start spreading too far. … I'm using Des Moines and Minneapolis as a pilot market so I can continue to do all of the service and improve it and make sure it's what the bands and listeners want. Once we get to that point, then we'll roll it out."