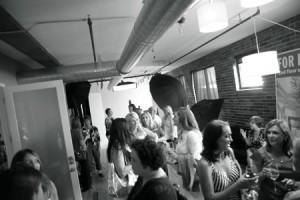 Written by Shawnna Stiver
Photos by Tom Woolery
[dropcap]T[/dropcap]he scene in Tom Woolery's IKONIX Studio in late July resembled a busy, lively fashion photo shoot. More than 50 glammed-up women piled in at various times to take advantage of a free head shot while enjoying wine and conversation with other women. Some of the women claimed they hadn't had a professional portrait taken in years. Some enthused about the impressive photography displayed, vowing to return to the studio for a future sitting.
On the other side of the room, groups of women struck a more casual and playful pose in the "photo booth" setup. Loud chatter and laughter made it difficult to hear the photographer's instructions. Others were content to maintain conversations rather than stand in line for the head shots.
The women had gathered at IKONIX as part of Women Who Wine DSM; some were attending for the first time, while others were regulars, excitedly returning for the monthy two-hour getaway.
Women Who Wine's only agenda is for women to get together to enjoy wine and one another's company; the presentation or activity is secondary. With wide-ranging backgrounds, ages and interests, the women assemble to build new relationships through conversation and wine.
The women's diversity is key to the group's magic, notes Women Who Wine founder Rachel Formaro. "It works because there isn't a barrier between the working mom and the stay-at-home mom," she says. "There's no barrier between older women and younger women."
Abbe Hendricks, the group's wine expert, agrees. The way women of different ages mix at the gatherings "contradicts the idea of not befriending people unless they're in your same age bracket," she says.
Formaro's vision for Women Who Wine started in San Francisco before she migrated to Des Moines, but she says it was surprisingly difficult to get such a group together in that city because there is too much going on there. "It's been much easier to succeed here in Des Moines because it's so friendly, welcoming and not so big," she says.
At the urging of her sister-in-law, Sheila Formaro, Rachel formed the group in Des Moines. With Sheila's restaurant connections (she works at Orchestrate Hospitality and is married to chef and restaurateur George Formaro), they had an automatic friend base. Hendricks, who knew Sheila, came to the table as a certified sommelier for Gateway Market.
The three women bonded instantly and held their first event in September 2011 at Django. As the group grew, Vicki Campos-Dimmer joined the organizing team to help run the social media and business side.
The events occur downtown; Hendricks chooses the wine and Sheila Formaro handles the food. Meetup, Facebook and Twitter announce the pertinent details. They strive to keep the events informative but lively. At a recent gathering at Salon Spa W, for example, members were treated to pampering stations, including color consultations and makeup demonstrations. Josephs Jewelers gave a presentation on diamonds and offered an item to raffle. There's been no shortage of area businesses to host the group (which pays special attention to businesses owned by women) because of the exposure the event provides. In fact, West Des Moines businesses keep requesting to host an event, but the founders believe meeting in the suburbs would change the dynamic.
"It's flattering to be asked, but we are Women Who Wine DSM and Des Moines is downtown, so that's where we stay," Rachel Formaro says.
Campos-Dimmer says the size of the group keeps growing. "Every day, we get another member," she says. The first event had about 15 attendees; now the gatherings average 25 to 30 or more, and the group's "membership" through various social media platforms totals anywhere from 125 to 180.
Kristen Smith, a stay-at-home mom, heard about Women Who Wine DSM through Twitter. Meeting new women and connecting over wine is a great combination, one that keeps Smith coming back each month. "I went to my first meeting in November and was hooked," she says. "Women and wine, how can I say no to that?"
Smith recalls one event at Café di Scala where the conversation lingered until after 9 p.m., much later than expected. "I was sitting with these women I met that night, and we all looked at the clock and said, 'Hold on; let's finish this story,' " she recalls. "We sipped our wine a little slower and ambled over to the door, not wanting to leave. I leave these events on such a high, and not just from the wine."
The group's founders plan to spread that cheer beyond just monthly events. The $20 cost to attend covers the wine and food, but anything left over will be donated on behalf of the group to a woman-focused charity of their choice.
Rachel Formaro, along with the other organizers, is proud of how the group has evolved. "At one of our early events, I remember looking around the room and seeing so much happiness among the women," she says. "The goal was to build a community of great women, and I thought, 'Wow, this is amazing. We really did this.' "
Shawnna Stiver, a Des Moines freelance writer, is a reverse wine snob. As a self-described beer aficionado, she refuses to drink any wine not poured from a box. For this issue, she threw caution to the wind (and the box to the side) to hang out with Women Who Wine.