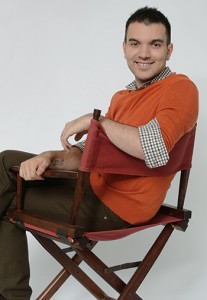 Theater director VanCleave is also a juggler, devout Christian and LGBT activist who likes to "embrace the silliness."
Written by Laura Billingsley
Five things to know about David A. VanCleave
1. The theater bug bit early. VanCleave's first audition was for "Charlie and the Chocolate Factory" at Des Moines Community Playhouse when he was 8. He'd tagged along with a friend on a lark, but the experience struck a chord. "From the minute I did my first show, I knew it was something I wanted to do," he says. He continued acting, and after graduating from Iowa Christian Academy, he headed to DePaul University, where he earned a Bachelor of Fine Arts in theater arts with concentrations in directing and theater for young audiences.
VanCleave moved back to Des Moines in 2012 and is focusing on directing, including working with the Playhouse and the Des Moines Social Club. "I realized I wanted to do more than just play one character; I wanted to help bring a story to life," he says.
2. Palmistry intrigues him. VanCleave developed the interest after picking up a $3 book and learning that reading palms is about more than measuring lifelines. "The actual shape of someone's palm can tell a lot about their personality," he says.
He also enjoys juggling and playing board games (though not at the same time). "My favorite right now is quelf," he says, in which players complete stunts or creatively answer questions. He says he likes games where friends can "embrace the silliness."
3. He once gave Britney Spears a hand massage. VanCleave has worked a number of retail jobs, but his favorite was at Lush Fresh Handmade Cosmetics in Chicago. Shoppers at the Michigan Avenue store included "a mix of tourists and celebrities," he says, including, in addition to Spears, members of Metallica and David Schwimmer.
4. The smartest actor he ever worked with was 6 years old. It was a production of "Little House on the Prairie," and, VanCleave says, "From the very beginning, she got it." As a director, he finds children just as capable as adults. "When we get to be adults, we have too many walls that we build up," he says. "But when you're at that young age, it's easier to be fearless."
5. He identifies as both a Christian and a gay man. Van Cleave grew up in what he calls a "very religious household" and wants people to understand that he is both an openly gay man and a Christian: "That's probably the most challenging thing I've ever had to deal with in my life—those are two very strong identities—to figure out how they can both be true without sacrificing one or the other."