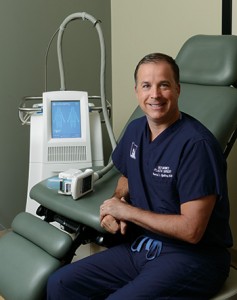 Written by Christine Riccelli
When Dr. David Robbins first heard about a technology called "CoolSculpting" that would freeze away fat in a noninvasive way, "I was skeptical," he says. That's because when it comes to medical methods to reduce fat, "nonsurgery doesn't work."
What's more, the device costs $100,000, representing a substantial business risk, says Robbins, a surgeon with Des Moines Plastic Surgery (DMPS) who is certified by both the American Board of Plastic Surgery and the American Board of Facial and Plastic Reconstructive Surgery.
Robbins' doubts, though, were immediately squashed once DMPS started providing the treatment last November. The first Central Iowa medical practice to offer CoolSculpting, DMPS was flooded with requests for the procedure and stayed open nights and weekends to accommodate the demand.
"The volume of the office tripled," Robbins says, and within two months, DMPS added a second CoolSculpting device. "It was crazy for us to buy another machine so quickly, but we needed it to manage the volume." Over the past year, his practice has handled about 1,000 cases, making it the top provider of CoolSculpting in the Midwest.
We at dsm have had our share of bothersome arm wattle, pesky bulges and muffin tops. Curious about this new technology—could it really get rid of stubborn fat with no needles, no anesthesia and no pain?—dsm sat down with Robbins, registered nurse Erin Selby and laser technician Cara Jordan to find out why cold is the new hot thing.
How does CoolSculpting work?
The science is based on "cryolipolysis," the idea that cold can selectively, painlessly and permanently destroy fat cells without damaging the skin or nerves. The treatment, which the U.S. Food and Drug Administration approved in 2010, targets and crystallizes fat cells without damaging the skin or nerves. These frozen cells then slowly die off and are naturally eliminated from the body. "The important thing is that it's effective," Robbins says. "It's the first nonsurgical method that works" to eliminate fat.
How is the procedure done?
A pinchable pocket of tissue—say, excess belly or thigh fat—is vacuumed up into the machine's hand applicator, which then delivers the controlled cooling that freezes the fat cells. During the treatment, you can listen to your iPod, watch TV, check email, read or even nap. Each treatment lasts about one hour.
Does it hurt?
No—for the most part. For about the first 10 minutes, when the applicator grabs and sucks up the fat and then freezes it, the procedure "can be uncomfortable; it's a little intense," Selby says. But then the tissue goes numb and the sensation ends.
What specific areas can CoolSculpting treat?
Arms, abdomen, waist, inner thighs, back, buttocks—take your pick. It's also been effective in treating men with fatty breast tissue.
Is there any downtime after the procedure?
No. After a treatment, you can go back to work or do any other kind of activity. At Des Moines Plastic Surgery, some patients have had the procedure done during their lunch hour.
Will I see immediate results?
No. You may start to see results in about three weeks, but the most dramatic change occurs two to four months after the treatment.
How much does it cost?
$1,980 for two treatments per area. Two treatments per area are needed to be effective.
Is CoolSculpting for everyone?
No. The procedure is not appropriate for those with obesity but is geared to people who are fit. "They exercise and eat well but just can't get rid of those pockets of stubborn fat," Robbins says. "We turn people down for CoolSculpting who are more suitable for other options," such as tummy tucks and liposuction.
"We have a huge clientele of women who are going through menopause," when metabolism slows and fat deposits increase for many women, adds Jordan. The treatment also has been popular among men for treating love handles and enlarged breasts.
How do I find out more?
Des Moines Plastic Surgery is hosting a CoolSculpting event 5:30-7:30 p.m. Jan. 14, when you can see the machine, ask questions and get more information. At the event, DMPS will give away $5,000 in prizes and offer special pricing on the procedure. The office is located at 5901 Westown Parkway, Suite 250, in West Des Moines; 221.9999; dsmplasticsurgery.com.
Popular Cosmetic Treatments
Written by Sara Judson Brown
CoolSculpting may be grabbing the most headlines right now, but it isn't the only cosmetic procedure popular among metro area residents.  We checked with local medical experts and skin care specialists to find out what else is trending in the cosmetic surgery and treatment field. If CoolSculpting leaves you … well … cold … read what these experts have to say.
Less is More
If you are looking for big results without the recovery time of an extreme makeover, less-invasive procedures such as the short incision, or S-lift, facelift may be a good option.
Dr. Brenton Koch, a board-certified facial plastic and reconstructive surgeon, performs three to five S-lifts every week at his West Des Moines practice. Koch describes the S-lift as a modified deep plane facelift that provides the most noticeable improvements to the front of the neck and in smoothing the contours of the face.
"You still look natural, but you're looking 10 years younger," Koch says.
Some people may call an S-lift a mini-facelift, but Koch stresses that the procedure delivers big results. The incision for the S-lift is limited to around the ears and can be performed safely as an in-office procedure. In most cases, patients can be treated without a general anesthetic. Recovery time typically lasts one to two weeks.
Head to Toe
Some people, however, prefer more dramatic, head-to-toe changes. Dr. Mark Reece, a board-certified plastic surgeon and senior member of The Iowa Clinic Plastic Surgery Department, says the big three surgical procedures in his practice are breast augmentation, tummy tucks and liposuction. Some patients, in fact, will choose to have all three procedures performed in what is commonly known as the "mommy makeover," says Reece, who specializes in comprehensive full-body aesthetic and reconstructive procedures for children and adults.
Among non-surgical procedures, the reigning champ is still Botox. "Botox has always been very popular," Reece says. "The second one would be fillers." Dermal fillers are cosmetic injections that are used to add volume and reduce the appearance of wrinkles.
Susan Schooler, a board-certified physician assistant at Skin Iowa P.C., agrees.
"We do a lot of Botox and fillers for facials, augmentation for cheeks and lips, and lost volume in the lower face, pre-jowl area," Schooler says.
Dermal fillers are also effective for rejuvenating hands, Schooler says. She explains that as we age, our hands will change in appearance just like the rest of our bodies.
"As women mature, their veins are very prominent," she says. "You can also see the tendons of the hands. We put filler in hands to enhance the volume."
Skin Iowa offers its clients a full range of dermatology and minimally invasive cosmetic procedures such as Botox, sclerotherapy for varicose veins in the legs, and permanent makeup—a trend that Schooler says is growing as women look for ways to enhance their eyes, eyebrows and lips without the hassle of makeup.
Changing Attitudes
The experts interviewed agree that the biggest change in the field of cosmetic procedures was the evolving attitudes of their patients. What used to be considered a luxury exclusive to the rich and famous is now increasingly considered a part of a routine beauty and skin care regimen.
Schooler says her clients have also learned the benefits of healthy skin and how sun-damaged skin can not only put you at a higher risk for skin cancer, but also speed up the aging process. She says the best way to improve your appearance and look younger is to reverse the effects of skin damage and protect your skin from the sun.
---
More Information
Koch Facial Plastic Surgery and Spa
4855 Mills Civic Parkway, Suite 100
West Des Moines
515.277.5555
kochmd.com
The Iowa Clinic Plastic Surgery Department
5950 University Ave., Suite 120
West Des Moines
515.875.9744
iowaclinicplasticsurgery.com
Skin Iowa P.C.
1045 76th St., Suite 1050
West Des Moines
515.223.0119
skiniowa.com