Written by Laura Billingsley
Photos by Duane Tinkey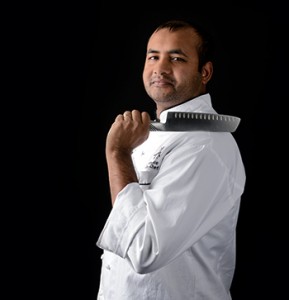 Suman Hoque
Chef Suman Hoque sometimes spends eight or nine hours a day preparing food at Hoq, his East Village restaurant. So his go-to knife is one he says feels lightweight and comfortable in his hand: a 7-inch fluted vegetable knife made by Global. "It's not too heavy," Hoque says. "When you slice and chop, it doesn't make your hands too tired."
Global knives are available at Williams-Sonoma and online at bedbathandbeyond.com.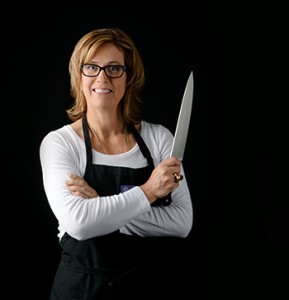 Teresa Adams-Tomka
As co-owner of Kitchen Collage, a specialty kitchen store in Des Moines' East Village, Teresa Adams-Tomka has access to many types and brands of knives. But for everyday cooking, she prefers a Wüsthof 10-inch chef's knife. A 10-inch blade—rather than an 8- or 9-inch blade—has a larger "sweet spot," the area of the knife that does the most work and helps the knife cut more smoothly. She says the motion of chopping "becomes … almost relaxing—if your tool is sharp and you're comfortable using it."
Wüsthof knives are available at Kitchen Collage, Williams-Sonoma and Bed Bath & Beyond.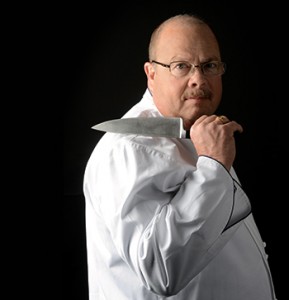 Robert Anderson
For more than four decades, chef Robert Anderson's favorite cutting tool has been an 8-inch chef's knife. His work as executive director of Des Moines Area Community College's culinary arts program requires a knife that can last, so he seeks out quality products. "In 40 years, I think I might be on my third (8-inch) knife," Anderson says. Currently, he's using a Mercer knife, made of high-carbon stainless steel. "What really makes the knife sharp is the high carbon content," he says. Anderson keeps his knives in top form by using a whetstone for sharpening. "That makes a big a difference compared to the electric sharpeners, which can tend to grind down the metal a little bit more," he says.
Mercer knives are available online at Wasserstrom.com.