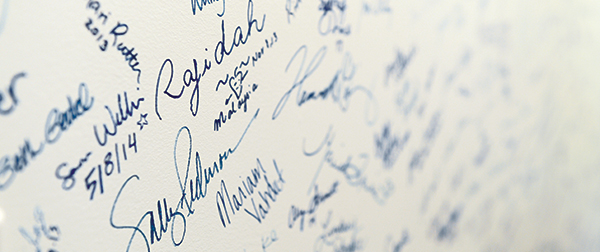 Written by Brianne Sanchez
Photos by Duane Tinkey
It's a tiny act of rebellion: inking your name on a desk, park bench or bathroom stall. That furtively executed signature may be just enough to intrigue the next visitor, or prove to an older version of yourself that, yes, your memory serves you right. You were there.
When it comes to tagging walls, "there" in Des Moines is more likely to be the Locust Tap than a manicured residence South of Grand. Yet for David and Madeleine "Maddy" Maxwell, who over the past 15 years have entertained an impressively eclectic and esteemed mix of visitors, writing on the wall isn't just condoned—it's encouraged.
"Even if they're internationally prominent people, they think if they're going into the president's house it's going to be staid and stuffy, which are two words that simply don't apply to Maddy," says David Maxwell, president of Drake University.
In her role as a university volunteer, Maddy Maxwell is hostess-in-chief. She works to infuse every event with the creative spirit that comes from her background in design and marketing. It's one of the reasons the Maxwells started inviting their guests to autograph their unconventional guest book: a wall adjacent to their entryway.
"The wallpaper came down and I didn't want to spend money on getting it re-wallpapered, so I thought, 'What about making it into a signature wall?' " Maddy says.
She and David took it upon themselves to sign first, and set out a few blue Sharpies for guests. They see the wall as an equalizer of sorts. "It makes you feel good about entertaining, that you're welcoming these people into your home," Maddy says. "It should be a place where people feel comfortable."
In a way, the wall is tangible evidence of the Maxwells' egalitarian entertaining philosophy. People ranging from Drake students and faculty to neighbors and guest lecturers to the refrigerator repairman have signed it.
Marsha Ternus, former chief justice of the Iowa Supreme Court who's now director of Drake's Harkin Institute for Public Policy and Citizen Engagement, has been a guest of the Maxwells many times. Ternus describes their entertaining style as relaxed, gracious and genuine. And yes, she's signed the wall. "I thought it was very novel and I loved the idea," she says. "I think over time it will take on historical significance. I hope the next president keeps it."
For Drake University seniors, signing the wall is becoming a rite of passage. "I was helping host the senior wine and cheese event with the Student Alumni Association, but I snuck away to sign the wall," says Annelise Tarnowski, a Drake senior. "I haven't written on a wall since I was a kid. As a part of the Student Alumni Association, being able to feel connected with past students in that way was really cool."
The effect of all the names on the wall is charming in the narrow hall, like the back flap of a larger-than-life yearbook, with stylized and sloping signatures. Of course, the Maxwells' guest list throughout the years has extended far beyond the Drake and Des Moines communities to include nationally and internationally known literati, politicians, scientists and artists. The Maxwells entertain some 800 to 1000 visitors a year, Maddy estimates.
Setting people at ease can be a challenge when the guest of honor might be a luminary like author Salman Rushdie, a 2004 Bucksbaum lecturer, or famous documentarian Ken Burns, who spoke on Drake's campus in 2002. That's the job of the Maxwells' goldendoodles, Moose and Gus. George the cat instantly warms up to anyone who crosses through the door.
"It's amazing what happens when you're meeting [celebrities] as individuals; you're not thinking about titles," David says.
When a big-name guest is in town, Drake students are almost always invited to participate alongside faculty and local leaders. In many instances, the most memorable moments of the evening come from interactions between undergraduates and the guest of honor, the Maxwells say, like when Jane Goodall screeched a chimp greeting in a shy student's ear, or when a longtime work-study student performed an impromptu duet of "Till There Was You" with Garrison Keillor in the living room.
"There's the Drake experience for you," David says.
Years of entertaining have taught Madeleine Maxwell what makes for a memorable party. A few of her tips:
Have a theme
Twice each year, the Maxwells host students for a book-inspired dinner. If the students are tackling Tolstoy, they serve Russian food. When students read "The Story of Edgar Sawtelle," it was 1950s Wisconsin farm food. The "Catch-22"-inspired dinner was served on Army ration plates.
Get help
A chef or caterer typically clears the way for the hostess. "I could not be as welcoming to people without wonderful support staff," Maxwell says. "I'm not cooking when guests arrive; I'm just editing or arranging the food."
Embrace do-it-yourself centerpieces
"Often we build a centerpiece from desperation, lack of time and what we have on hand," Maxwell says. In summer, that might mean garden-fresh blooms, but it can be almost anything that can be artfully arranged on the table, such as twigs and leaves, fruit, toys or books.
Serve a signature sweet
Maxwell loves to serve whoopie pies, an East Coast treat she grew up on. (There's actually a whoopie pie festival in Dover-Foxcroft, Maine.) She has several cookbooks with whoopie pie recipes but recommends the original that could be found on a can of Marshmallow Fluff or online at marshmallowfluff.com.