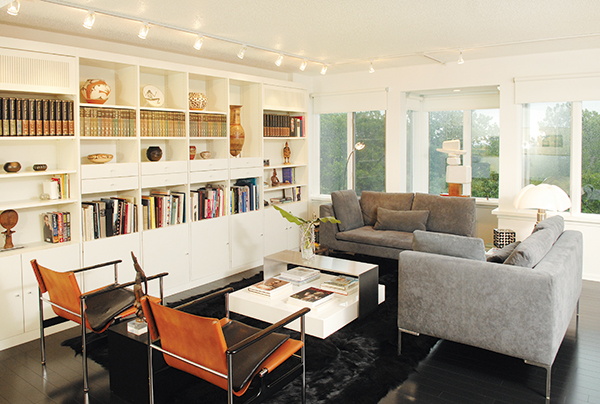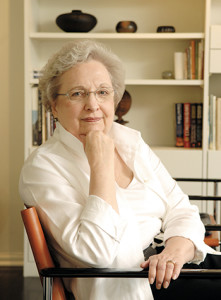 Written by Kelly Roberson
Photos by Duane Tinkey
When she was 7, Pat Donhowe's father built her a playhouse outside their home in Osceola. It wasn't just any playhouse, though; big enough for adults, the structure had a screened-in porch, furniture and pictures on the walls that Donhowe could, and did, rearrange at will.
Some people are born with fast legs, others with a knack for numbers. Donhowe, it seems, came equipped with an innate artistic sensibility, a quick wit and a hunger for knowledge, particularly about design and art. What was just a glimmer in that playhouse turned into a full-blown passion that she shared for 61 years with her husband, Bob. Now 84, Donhowe has taken her favorite items, chosen from a lifetime of knowledge, and put them on display in a tasteful condominium unit in Wesley Acres.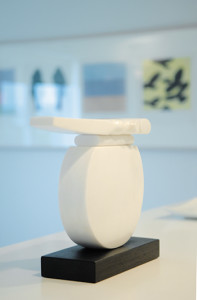 The Journey
In Donhowe's condo, the walls are white, the floor stained a deep ebony, the furniture spare, the art refined. But all those years ago, soon after Pat and Bob Donhowe, both fresh out of the University of Iowa, got married, their new home in Ogden didn't at all resemble the rarified interior of her condo. Instead, it was filled with traditional furniture—mostly handed-down family pieces—that reflected the life of a young couple with two little kids. "I dreamed a lot when the kids were little, because we didn't have that kind of money," Pat Donhowe says. "But I was always painting a wall, making drapes and rearranging furniture."
Donhowe had originally intended to pursue an interior design career, so she had an eye for art and palettes and was confident in her taste, even if it veered wildly from that of her parents or most of the people in her generation. Bob Donhowe—who wanted to be a musician but was practical enough to realize he couldn't support a family that way and so pursued a banking career—understood and supported his wife's passion, just as she supported his love of music. At first, they didn't have much discretionary income and didn't travel extensively, but they both had sharp minds and a willingness to consider both the new and the unusual. So they read and met people who would help them on their journey.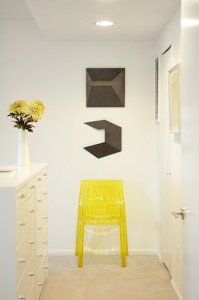 At Des Moines' former Plunkett Gallery, owner Bill Plunkett pushed the couple to buy original prints that no one else had, and in time, Pat Donhowe would work there. Art dealers as well as people like Jim Demetrion, former director of the Des Moines Art Center, exposed the couple to the names and styles that were changing the art and design worlds. Later, Kelli Linnemeyer, owner of Projects Contemporary Furniture, became an influence as well, bringing Donhowe into the 21st century of design and architecture. "We had people around us that helped to cultivate our style, we read a lot, and we learned what people were doing," Donhowe says.
Donhowe, never afraid to be different, started assembling a few select pieces of furniture and art. "We moved from Beaverdale to a house on 56th Street and we started buying '50s furniture, and it was very new to most everybody," she says.
They were the first people to buy a piece by Des Moines artist Richard Kelley. They also purchased the works of such international stars as Andy Warhol, Francesco Clemente, Jasper Johns, Red Grooms and Howard Hodgkins. Donhowe says her husband always joked that she had to get rid of a piece before she bought another one, and she always did.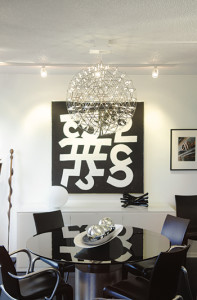 Perfect Partners, Disrupted
The duo were a team who played off each other—going to see Count Basie and jazz bands, learning about designers, soaking up art, raising their two children—and then in his 70s, Bob Donhowe became ill with dementia. Pat Donhowe decided to move to a condo at Wesley Acres to be closer to him, and undertook the renovation of the unit herself.
She began by getting rid of the second bedroom and opening up the main living space to include a dining area. Out went the beige finishes and in came coats of white paint and black stain for the white maple floor. Donhowe also began culling through her collection—furniture and art that would make any vintage or art dealer envious—and kept only what would fit, was useful and meant something to her.
Out went the Eames lounge chair (it didn't fit) and the Richard Schultz patio furniture. In came two Charles Pollock chairs from the 1960s and a 14-foot-long cabinet for her books and smaller art pieces. Donhowe, who began working at Projects Contemporary Furniture at the young age of 72, brought with her a newish couch from the store. A Poul Kjaerholm glass table, bought when everyone had a classic Mies table that "we couldn't afford," also came, Donhowe says. "Now I see this one I have in magazines all over."
Some of her more treasured possessions—the Saarinen pedestal table and NonStop sofa, to name two—went to her daughter, who lives in West Des Moines; were kept for her son, who is a missionary in Bolivia; or went to her granddaughters. And then, in 2008, six days before she was to move in, Bob Donhowe died.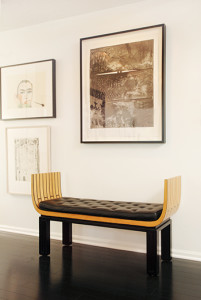 The Missing Piece
There's no sense in her finished condo that anything is missing; what's apparent is that this is a lovingly assembled collection of vintage cool and cutting-edge contemporary that seamlessly melds together. A maple-striped bench by Saarinen is a 1929 design; the couple picked it up two decades ago at a Chicago store. Over the dining room table is a new Moooi Raimond light fixture, all metal and airy and filled with LED lights. The same is true with her artwork: Donhowe kept an Albers, the Kelley piece, an African staff collection that was Bob's, Indian pots from the '70s and a marble piece by Ben Goo, among others. It's eclectic but not disconcerting.
In fact, what is missing is that which cannot be bought or replaced or added to: her partner in art and life, Bob. She did the condo just the way she wanted it, but still, she would like to be sharing it with Bob. In a way, it's a physical testament to the life they lived, the things they loved, the conversations they had.
"Our life together was great, and Bob and I did this together, we played against each other, it was a lot of fun when we'd do it together," Donhowe says. "I've completed this, and I can sit back and enjoy it. It's my last hurrah."
This slideshow requires JavaScript.