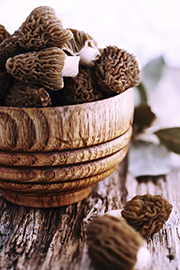 By Wini Moranville
When it comes to the Thanksgiving sauce, gravy's great. But if you're looking for something different–or plan to cook up beef or pork–give my mushroom fricassée a go. It has the moistening qualities of gravy, but it better matches the opulence of cuts like prime rib, beef tenderloin or standing pork rib roast. If you're sticking with tradition, this goes beautifully with turkey, too.
Mushroom Fricassée
Makes 4 servings. (This can easily doubled, tripled, quadrupled, etc.)
1 pound assorted fresh mushrooms, such as cremini, white, shiitake, chanterelle
or morel
3 tablespoons unsalted butter
1 large shallot, finely chopped (about 1/4 cup)
1/4 cup dry sherry or Madeira
1/4 cup heavy cream
1 to 2 tablespoons snipped fresh sage or 1/4 cup snipped fresh parsley
Salt and freshly ground black pepper to taste
1. Trim the stems from the mushrooms. Quarter the small mushrooms and slice the larger mushrooms into thick slices. Remove and discard the woody stems from the shiitakes before slicing; just slice the morels in half (irregular shapes and sizes are fine).
2. In a large skillet, melt the butter over medium-high heat. Add the mushrooms and shallot; sauté until the mushrooms are golden, 7 to 8 minutes. Add the sherry and simmer briefly, until the liquid is nearly gone. Stir in the cream and sage, and season with salt and pepper. (If you wish, you can make this in advance and refrigerate up to 2 days; reheat gently over medium-low heat, adding a little more cream if it seems dry.)
This recipe is from "The Bonne Femme Cookbook: Simple, Splendid Food That French Women Cook Every Day."