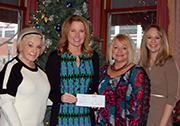 By Belle Du Chene
Last Thursday, Business Publications Chairman Connie Wimer and Magazine Manager Kris Maggard presented a $6,000 check to the Community Foundation of Greater Des Moines to support the Sages Over 70 Fund. The money was raised through the 2014 Sages Over 70 event and represented a 20 percent increase over last year.
"The Sages Over 70 Fund supports the current and future opportunities and needs in our community through the Community Foundation's annual grant-making programs," said Kristi Knous, president of the Community Foundation. "Gifts to the Sages Over 70 Fund are a lasting legacy to the Greater Des Moines community, just like the achievements of those honored as Sages Over 70."
This year's Sages Over 70 honorees are Chuck Betts, J.C. "Buz" Brenton, Don Brush, Judy Conlin, Patty Cownie and Stan Reynolds. dsm thanks everyone who helped make the event possible.
To learn more about this year's Sages, check out this video.