By Belle Du Chene
The experts at Pantone have spoken, and 2015's color of the year is … Marsala.
For those vaguely f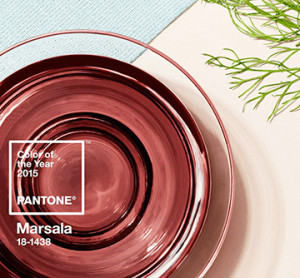 amiliar with the term, Marsala refers to the hue of a deep and earthy red-brown wine. Pantone describes the color like this: "Much like the fortified wine that gives Marsala its name, this tasteful hue embodies the satisfying richness of a fulfilling meal, while its grounding red-brown roots emanate a sophisticated, natural earthiness."
Expect to see the seductive color everywhere, from the runway to home décor to makeup. We're also thinking an accent wall painted in this color or some new accent pillows could punch up the drama in a room. And our wardrobe could use the sophisticated warmth this color has to offer, too!
The beauty industry has already responded to the new trend by offering products in the color. Sephora in Jordan Creek Town Center has already sold out of most of the limited-edition products. You can still purchase the layering lip collection ($28), lip liner ($18) and cheek highlighter ($20). For all other products, you can try your luck at Sephora.com/marsala.