Written by Wini Moranville
Photos by Duane Tinkey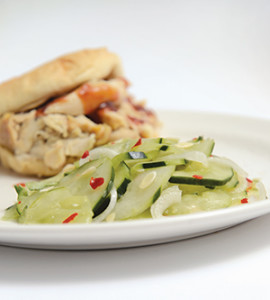 Woody's Smoke Shack
True, there are plenty of places you can find barbecue to go in Des Moines, but Woody's has an edge for several reasons.
Of course, the barbecue is great; you can't go wrong with the baby-back ribs, which arrive subtly smoked, wonderfully moist and cloaked in a fascinating rub, which melts into a shiny, lightly sweet sheen. The pulled pork is succulent, but even more notable is that the pulled chicken tastes as flavorful as the pork.
Where Woody's pulls out from the pack, however, is through its folksy homemade sides, such as cucumbers and onions, cheesy jalapeño grits, broccoli-rice casserole, hot sweet apples, collard greens, baked sweet potatoes with marshmallows and cinnamon, and the restaurant's all-time best-seller, the cheesy potatoes (they move about 25 pans of this church-basement favorite a day, according to co-owner Cheryl Wasson).
Woody's also will steal your heart with its grandmotherly fruit crisps and homemade pies, including double-crust beauties like cherry and rhubarb or creamy delights such as key lime, banana cream or coconut.
In short, if you're craving a home-cooked meal, this is about as homey as you'll find—without cooking at home.
2511 Cottage Grove Ave.
277.0005
woodyssmokeshack.com
---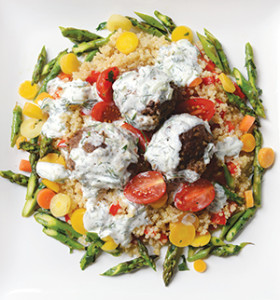 The Grateful Chef
I rarely know at lunch what I'll be eating that night for dinner, but on Wednesday nights, I'm always certain I'm going to enjoy something fresh, eye-catching, great-tasting—and effortless. That's because nearly every Wednesday night, I pick up my pre-ordered dinner from The Grateful Chef.
The chef behind The Grateful Chef is Brandy Lueders, who sells dinners every Wednesday night from the back door of the Wallace House in Sherman Hill. You order by Monday at noon and pick up between 4 and 6:30 p.m. on Wednesdays. Each week brings a rotating selection of two entrees, a salad and soup, and many options are (or can be made) vegetarian or vegan.
Most every dish evidences world-inspired, chef-driven qualities that you won't find in the average supermarket deli. My personal favorites include the turkey-spinach lasagna; chicken with Gorgonzola cream, dates and arugula; Mediterranean meatballs with tzatziki dipping sauce; and the cashew veggie korma.
Lueders takes great pride in the artful presentation of her food; everything always looks so lovingly wrought—not the usual takeout mishmash. Each dish has been prepared in advance and refrigerated. (Read: It hasn't been drying out on a buffet all day.) Most entrees take around 35 minutes to reheat in the oven; conveniently, that's just about enough time to enjoy a pre-dinner cocktail and ease into the evening.
756 16th St.
559.4952
thegratefulchefdsm.com
---
Gateway Market's Rotisserie Chicken
I always like the idea of a supermarket rotisserie chicken, but I rarely love the actual product. Too often its flavorlessness undermines the convenience and value.
An admirable exception: the rotisserie chicken at Gateway Market. The vegetarian-fed birds hail from Gerber Amish Farms in Ohio, a network of 125 farmers who raise great-tasting chickens that are minimally processed and free of artificial additives.
Gateway puts its own spin on the birds with a variety of options, including citrus soy, lemon oregano, or—my new favorite—Mexican street style. Pick up some sides, such as baked beans, mac and four cheeses, mashed potatoes, jalapeño creamed corn or the green beans amandine, and you've got a winner of a chicken dinner.
Another reason to choose Gateway Market: It's an all-in-one stop, where you can pick up your dinner, a bottle of wine and perhaps some flowers to apologize for cheating a bit when it was your turn to cook dinner.
2002 Woodland Ave.
243.1754
gatewaymarket.com
---
Aldi's Frozen Flatbreads
And then there are times when you just don't want to leave the house at all. That's when Aldi's "Specially Selected" frozen pizza-like flatbreads come to the rescue.
Can something so prefab actually be good? Yes! And if you don't believe me, listen to the chef—even Brandy Lueders (see page 144) is a fan of these. "We always keep a few of Aldi's flatbreads in the freezer for those nights when I have no desire to cook," she says. "We especially love the mushroom one. Paired with a salad, it makes a delicious, easy meal."
Indeed, the mushroom flatbread is one of my favorites too: An assortment of mushrooms tops the crisp, cracker-like crust, and crème fraîche adds a lightly tangy, irresistibly creamy quality.
Keep in mind, however, that the stores constantly switch up their inventory; something you fall in love with this week may be out of stock for a while (or for good). Yet in my experience, the West Des Moines Aldi generally always stocks at least one flatbread. I've also enjoyed the pepperoni and roasted garlic and the blue cheese and pear flatbreads.
Another tidbit I've gleaned: While Aldi carries quite a few brands that are unique to this chain, I've found that foods carrying the "Specially Selected" brand are best. Many items, such as their Specially Selected Medallion Noir Premium Swiss Biscuits, hail from Europe. These inexpensive, easy-to-enjoy delicacies can be surprisingly transporting at the end of "one of those days."
Various locations in Greater Des Moines
855.955.2534