Written by Jody Gifford
Photos by Duane Tinkey
When you think of the metro area's cultural landscape, something big probably comes to mind—the John and Mary Pappajohn Sculpture Park, say, or the Des Moines Symphony. But there will always be lesser-known—though equally compelling—artists, projects and programs that also are shaping the local arts scene. Here's a look at three of them.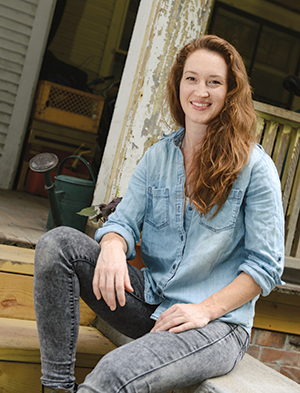 Chapman House
A few years ago, when Katelyn McBurney decided to make visual art and performance her full-time career, she figured it would be easy to find a live/work space that would allow her not only to practice her craft but also to live alongside other artists. But aside from a handful of artist-only apartment buildings, there was little that fit her vision.
"I just couldn't find the type of living environment that I desired for myself," says the 27-year-old artist. "I assumed that if it was this difficult for me to find something like that, it was probably happening for others, as well."
Enter Chapman House, a historic 3,000-square-foot Craftsman-style home nestled in the heart of Des Moines' River Bend neighborhood. Last spring, McBurney and business partners Chris Osore and Max Cardenas began renovating the single-family home into a community living space. Once it's completed, the 1912 three-story house will provide a basement workshop and an attic area where artists can work, gallery space on the main floor, and living quarters for four local artists.
"We're … not packing in as many people as we can," McBurney says. "It makes sense in a neighborhood with big historic houses like this. The end goal is to have four artists and keep it affordable for all of us. It's enough to give space to create and to network and give support in any way we can."
McBurney is overseeing the work on Chapman House and is living there while it is being completed. Repairs and renovations have included fixing the home's foundation and roof, replacing the plumbing and gas piping, and taking care of all the cosmetics that give a historic property its charm.
Brittney Marine, a fire performance artist in the Des Moines-based Professor Prometheus's Combustible Circus, has also been living in Chapman House during renovation. She said her new home has already proved to be an asset to her as a performer.
"Chapman House is a great live-in place to do what we do," Marine says. "I'm a fire performer, and the house has this wonderfully huge side yard. I coordinate a Fire Jam performance arts troupe in the area and (the yard) has just provided this wonderful space for us to practice."
McBurney says she expects Chapman House to be completed and at full capacity this fall. As for the possibility of taking on another similar project, McBurney says she's not ruling it out but is eager to get back to business as usual.
"This has been my art recently," McBurney says. "I've definitely put my own stuff on hold for a while. I'll be happy to get back at it once renovations are completed."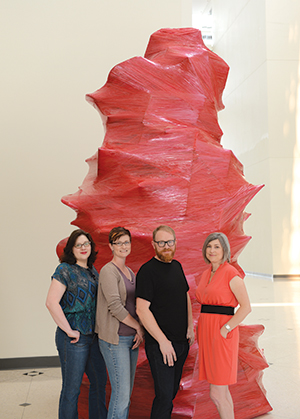 Chicken Tractor
Two years ago, after several moves around the Midwest, 40-year-old Mat Greiner decided it was time to return to Iowa. The artist and Drake alum had been away from Des Moines for 12 years, long enough that, upon his return, the arts community seemed larger and more supportive. Yet something still appeared to be missing.
"The Des Moines Arts Center and the sculpture garden have these great examples of the highest reaches of art, but there's no middle ground, nothing for people trying to get their toe in the water," Greiner says about a lack of opportunities for up-and-coming artists. "We want people working toward that. That's what needs to happen. It needs to change."
Greiner's agent for change is a project called Chicken Tractor, a sort of "pop-up" art exhibition that gives the city's artists an opportunity to get their work in front of an audience. The introduction provides networking opportunities and support for the artists.
Greiner cofounded Chicken Tractor with Des Moines artists Larassa Kabel, Staci Nevinski and Laura Burkhalter. The organization gets its name from an oddly appropriate concept: "A chicken tractor itself is a mobile chicken coop," Greiner explains. "People drag them from place to place, the chickens will come out, do what they do and, after a short amount of time, the land becomes more fertile, filling the holes. There are many holes in the art scene in Des Moines. We find those holes, park our chicken tractor on it, and it grows."
Burkhalter, an associate curator for the Des Moines Arts Center, says the organization's focus is on artists' professional development and bringing quality work to Central Iowa.
"I think people forget that art is a job. A lot of people think art just happens," Burkhalter says. "Working artists are essentially small-business owners. We don't often think about how they pay for their studio or how they connect or market their work. Most people don't know the process."
Since its inception in 2013, Chicken Tractor has produced more than 20 exhibitions for both local and national artists. One of those artists, Anna Cowley Ford, found overnight success thanks to Chicken Tractor.
After moving from rural Texas to Des Moines in June, Cowley Ford, a mixed media artist, participated in Chicken Tractor's microgrant dinner, an opportunity for a handful of artists to ask a group of investors for whatever they need to do their best work, whether that be money for research, materials or the chance to take their art in new directions. Although Cowley Ford didn't take home a grant that evening, TJ Moberg from Moberg Gallery saw her work and agreed to fund the project anyway.
"I really just thought this was going to be my chance to meet people and make some introductions in Des Moines," Cowley Ford says. "I had only been here for three weeks and no one knew my name. That really worked in my favor, and Moberg took an interest and is helping me make that happen."
Story Mob
With technology taking over our world, it's easy to see how we've gotten away from the true sense of storytelling. Chad Michael Cox not only noticed it, he started Story Mob to do something about it.
Story Mob offers amateur storytellers the chance to put down their phones, pick up a mic and share stories of their own creation. Organizers choose a theme or a prop and the narrators take it from there, telling five-minute tales to an audience of eager listeners. It's just two hours once a month, but to Cox and those telling the stories, it's much more.
"Story Mob is about getting people to connect again," says Cox, a community arts activist and a past president of the Des Moines Social Club's board of directors. "I remember being at a coffee shop and looking around, and there were all these people just staring at their phones. I remember thinking, 'Have we really lost the ability to converse and tell stories?' "
Cox responded by launching Story Mob at the Ritual Cafe in April 2012. After a short hiatus, it's back every third Thursday night at the Social Club. Storytellers find out the theme two weeks in advance and show up that night ready to "talk." Awards are given to those with the best tales.
Neil Salowitz has been both a storyteller and audience member at Story Mob.
"We (the Des Moines Social Club) really encouraged Chad to do Story Mob here," says Salowitz, who serves on the Social Club's board of directors. "It fits so well within our mission and creates that community engagement with the arts."
As for the storytelling itself, both Cox and Salowitz say it might be intimidating to get up in front of the audience if you're a first-timer, but everyone is welcome—and encouraged—to try.
"I say go for it," says Salowitz of his advice to wannabe storytellers. "You just have to get up there and do it. Tell people a story from your own experience. Tell something that's meaningful to you. Tell it from the heart. Put it out there. What's the worst that can happen?"
---
Find Out More
Chapman House chapmanhouseinfo@gmail.com
Chicken Tractor chickentractorarts.org/ or facebook.com/chickentractor
Story Mob facebook.com/StoryMob or desmoinessocialclub.org/calendar