Written and Styled by Belle Du Chene
Photos by Duane Tinkey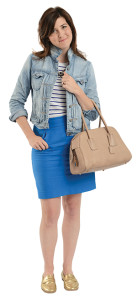 Laura Palmer
Illustrator
Go Big or Go Home
I recently bought this bag while I was in Italy with my best friend. We were in Florence, in the rain, and spent nearly two hours in this leather factory shopping for the perfect souvenir. We stayed an extra few minutes, nearly missing our bus, to have our initials burned into the fresh leather.
Small Fortune
These Up-Down tokens are leftovers from my last night out. We'll be back soon to spend the rest on Skee-Ball.
Lip Service
I have a minor addiction to Burt's Bees natural products. I think there's some sort of product by them in every room in our house, in the car and in every handbag I own.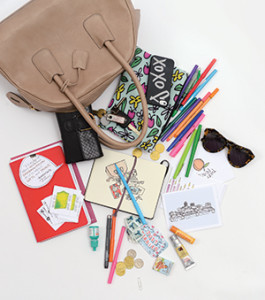 Nifty Thrifty
My wallet dates back to college. I bought it at Old Navy, and it's lasted me over 10 years. I haven't ever felt the need to replace it with a better one. I don't really need a fancy wallet, just something to hold things.
On Her Mark
I always carry markers with me. I might need to draw something on the fly or feel inspired and need to quickly doodle a scene.
The Write Stuff
Moleskine is my go-to for sketchbooks. They're compact and durable. As if one sketchbook weren't enough, I also carry a notebook full of notes, quotes, postcards and to-do lists.
Card Tricks
I always carry product samples with me, too. As a small-business owner, it pays to be prepared with business cards and examples of my work.
Budding Artist
The floral pouch is one of my pattern drawings, printed through Zazzle.com onto this darling bag.
---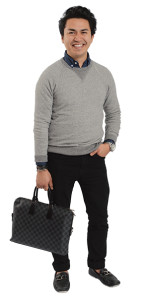 Joey Patino
General manager of Salon Spa W
Downright Dapper
While I was attending Columbia College Chicago, I would window-shop on Oak Street, stopping to admire the leather goods at Louis Vuitton. I promised myself I would
purchase my first Louis once I graduated and got my first big-boy job, and I did. The problem is, once you buy one and see how great it is, you can't stop.
Transit Techie
I'm on call 24/7 and it's important that I'm able to write emails and answer phone calls at all times, so I always carry a phone charger with me. We are introducing iPads at Salon Spa W for consultations, so we're moving toward being more technologically savvy.
Leaving a Mark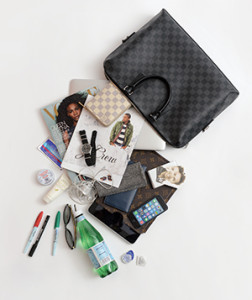 It's important for me to stay organized while scheduling stylists and ordering supplies at the salon, so I always carry a wide variety of colored markers. Each color represents a different assigned duty, time or need.
Pout Protector
I love this lip balm from Eden in the East Village. I can't leave home without it and probably have over a dozen of them in my car, bags, nightstand and, of course, my pocket.
Smart Mouth
I carry Crest Whitening Strips with me so that I can whiten my teeth on the go, like when I'm stuck in traffic. I don't use them at night because that's when I have my glass of wine, and I can't use them in the morning because that's when I have my morning smoothie.
Fresh Fix
I carry Pellegrino water bottles around because, in truth, I don't love to drink water. I'd live off Diet Coke if I could, but the fizz (in Pellegrino) gives me the illusion of bubbles. It's sort of the champagne of water.
Fine-Tuning
Because I'm always on the go, I keep a pocket square in my bag and a suit jacket in my car. That way, I can easily transition a day outfit into a more elevated look for evening.
Fashionable Flair
I really love flipping through Vogue and the J. Crew catalog to keep up on trends that we may not be exposed to in Iowa. That's where I pick up my style inspiration, which I consider to be high/low—a mix of a staple from Target and a splurge from Hermès.
---
Lana Jones-Gould
Sales director at K. Renee
In the Bags
I'm always going from one event to another and then another. So I bring one large bag and fill it with smaller ones, so I'm always prepared with the necessary items. This tote bag is so big I can carry an extra pair of shoes for an event, a bottle of wine to a party or even my 10-pound Cavachon dog, Rosie Jane.
Shady Lady
I love color! It's fun to pull out a flash of color, especially during the summer months. I specifically chose the yellow iPhone case so it would be easier to find my phone in all of my bags.
Hunger Games
My son, Kolby Jones, is a health and workout fanatic. He gives me these snack bars for a boost of protein, which increases my energy.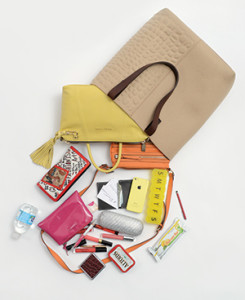 Just in Case
I always carry around two types of cards in this card holder, in case I need to network. Here I have my cards for K. Renee, where I am sales director, and for our property in Turks and Caicos, where I am a rental manager.
Beauty Bounty
I travel a lot and live in three places throughout the year, so I always have lipsticks and lip glosses in every place to keep my lips hydrated while I'm on the go. This is only about
5 percent of my collection; it's practically a fetish.
Fairest of Them All
I carry a pocket mirror like this one at all times. I call it my love-hate mirror, because I love that I can see everything … and hate that I can see everything at the same time!
Healthy Habit
I leave the house at 7 in the morning, go to work, go out to lunch or out to dinner, then usually end up at a party. To keep my energy up, I always carry supplements with me.
Peeper Keeper
I love things that sparkle, so I love this case for my sunglasses. It's a hard, protective cover … and it's easily found in my bag.