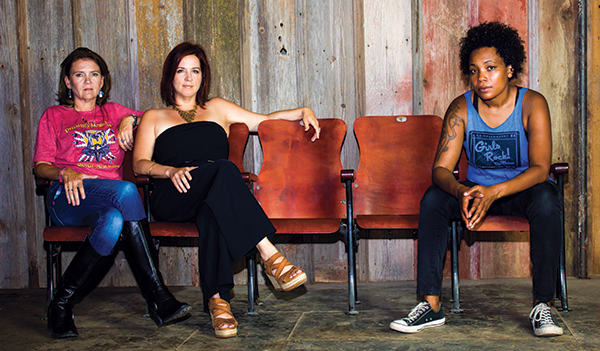 Written by Chad Taylor
Photos by Cody Osen
One has to be very careful with stories like this. Anytime someone—especially a guy—writes an article focusing on "women in (insert profession here)," it can be dangerously easy to come off sounding condescending. But the women you'll meet in this story are remarkable not because of some trope about getting ahead in a male-dominated field but because they looked at our city, saw places where they could make positive changes and made those changes happen. Here's how.
---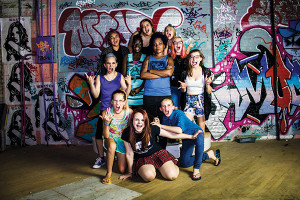 Rae Fehring
Girls Rock! Des Moines
As a feminist, queer-identifying, female of color, Rae Fehring knows a thing or two about the importance of identity. In a world where race, gender and sexual identity all still can serve to minimize a person's sense of self-worth, Fehring has seen firsthand how easy it can be for young girls to lose themselves before their lives really even begin.
"I was a feminist before I had the language for it," she says, speaking of her formative years in Davenport. "When I was a little girl running around the neighborhood during the summer and not understanding why I couldn't take off my shirt like the little boys, or being deathly afraid of growing boobs. When I was a 10-, 11-, 12-year-old girl, I didn't have a word for that; it was just who I was. I think I probably lost some of that growing up, trying to fit and trying to conform and trying to be accepted."
Fehring, now 41, credits her discovery of the legendary Michigan Womyn's Music Festival 15 years ago for helping her find the confidence to see herself fully realized. The festival also helped plant the seeds for the project that has become Fehring's calling.
Three years ago, Fehring started the Girls Rock! Des Moines band camp, a two-week event for girls ages 10 to 16. During the camp, the girls are put into groups where they select instruments (most of the girls have never played a note in their lives), form bands, write songs and perform a live show. Intermingled with all that are performances and talks from local and nationally recognized female musicians, plus team-building exercises and programming designed around the concept of establishing each girl's inherent value and strength.
"I saw the (2007) 'Girls Rock!' documentary years ago," Ferhing recalls. "The most striking thing was being able to actually see how participating in a program like that changed the girls for the better. You could see confidence. It was visible on their faces, and it was amazing to see the excitement and to see what they were able to accomplish."
Fehring decided the program was perfect for Des Moines. Her own musical background and connections within the industry would prove invaluable down the road, but at first, just figuring out what step one was proved a daunting challenge. She reached out to Matt McIver, who was on the board of directors at the Des Moines Social Club at the time, and asked if he could help. The Social Club offered Fehring her first bit of community support, and the Greater Des Moines Music Coalition was close behind. Fehring credits both organizations for helping get Girls Rock! Des Moines off the ground and has carried that community-driven momentum forward with her as the program has continued to grow.
"It's really about community and making those connections," she says. "Most Girls Rock camps don't record their music. We've partnered with Sonic Factory to record our music. We work with Palmer's Deli to get great local food for our lunches. It's really about forming those relationships in the community and providing that same support that enabled me to get started."
Now in its third year, Girls Rock! Des Moines has made two important changes this year. First, the organization has become a fully recognized 501(c)3 nonprofit, which Fehring believes will help the program expand and grow beyond its original, two-week mission. Second, Fehring quit her day job to focus full time on running Girls Rock. Both changes free up Fehring to turn the organization into what she really believes it can become.
"Girls Rock! Des Moines is no longer just a summer camp," she explains. "Now we're a big-girl organization. We're piloting an overnight camp this year; we're looking at adding after-school programming this fall; we're in talks with the Art Center to have programming during the winter and spring breaks there; we want to do a Little Girls Rock, with girls aged 5 to 9. We want to do Ladies Rock for moms and adult women; we're looking into adding a program out at Mitchellville prison, and working with some of the ladies within the judicial system."
At the core of everything that Fehring does lies a single, unwavering belief: No matter how old she might be, no matter what her station in life, no matter where her choices and experiences have carried her, every female has worth.
"I want to be able to create this whole integrated network of programs that is 99.9 percent gender-specific," she says, adding she wants "to reach girls as young as 5 years old and help them find their voice and feel empowered, and know that they can literally do anything they set their minds to."
---
Kathryn Dickel
Midwestix
Midwestix launched in 2002 as a lower-cost, locally produced alternative to Ticketmaster. But to Kathryn Dickel, the company is not really about the ticket it puts in your hand.
"If anybody would ask us what our mission is at Midwestix, I would say that our mission is to bring beautiful moments into people's lives," she says.
"These shows, these moments, it's where people meet their spouses, it's where they form family memories," she explains. "It's where they share food, and counteract all the stress and fear that you experience in your daily life. So that's what we help provide."
Des Moines is Dickel's love. It is where she was born (she still lives in the house she grew up in), and she's always believed in its potential. Dickel and her business partner, Heather Hansen, founded a marketing firm called Swaelu in 2001, which grew into the parent company for Midwestix after a conversation with the powers that be at Hoyt Sherman Place.
"We were called in to talk to them about online donations for a fund drive," she recalls. "Once we got through with that meeting, the executive director at the time approached us and said, 'What we really need is a ticketing system. Can you build one?' And our reply was 'Yeah, if you've got $250,000.' "
At the beginning of the 21st century, Ticketmaster was still the only viable option for ticketing in Des Moines. While places like the Des Moines Civic Center worked in large enough numbers to be able to offset Ticketmaster's fee structure, for most smaller venues, that was simply out of the question.
"We started thinking about what the town needed … to grow its entertainment ecosystem," the 42-year-old Dickel explains. "A ticketing system was really integral to that."
It can be easy to forget just how far forward technology has sprung in a relatively short time. In the early 2000s, Web-based businesses were still iffy propositions, and few companies had the money necessary to make themselves viable online.
"When we started, there was a considerable number of ticketing agencies—Ticketmaster included—that still operated through on-site server systems," Dickel says. "So Ticketmaster would stick a server in your building to process sales. That was one of the problems in the beginning: There was really only one place to get a ticket. A lot of people back in the day would go to Younkers or Hy-Vee to get their ticket. Now, you can get your ticket on your phone."
As the technology changed, so did the services Midwestix provided. Companies can no longer simply process credit card sales and issue a paper ticket. E-ticketing, season passes, online payments, multi-venue events and cross-promotion have all become standard operating procedure for any ticketing agency that wants to stay viable. Dickel and Midwestix provide even more than that.
"Since we started, we've added a full-service marketing company," she says. "We do all Civic Music Association's marketing, we do posters for events. We just did Launch at Water Works Park, and all the design work for the Maximum Ames Music Festival."
The ability to provide local businesses with one-stop shopping from a Des Moines-based company has provided Dickel and Midwestix with a unique selling point when talking to new clients. Additionally, by working closely with people like Wooly's and First Fleet Concerts owner Sam Summers and 80/35 director Amedeo Rossi, Dickel can provide a level of cross-promotion that larger entities like Ticketmaster don't bother with.
"We had a gentleman call the other day, looking for a ticket to a show," Dickel says. "It was sold out, so we told him about 80/35, and he wound up buying tickets to that."
At the end of the day, what drives Dickel and her staff of five is the desire to see her hometown realize its full potential. She wants more artists and musicians to turn
Des Moines into a home, and she wants more people to experience the things that are already here for the taking.
"I've lived in places … where music is everywhere," she says. "I want Des Moines to be like that."
---
Cherish Anderson
Shotgun Management
Three years ago, Cherish Anderson faced the kind of loss that can sink a person: Jim Parker, her husband of 11 years, died. At the time, she was a 44-year-old mother of three, working as the foundation director for Hospice of Iowa, and now her partner was gone. And it was there, in all that pain and sadness and anger, that Anderson had a life-changing insight.
She remembers the day clearly: "About a month after Jim died, I was sitting in the car after a bereavement meeting. I just asked myself, 'Where do I go from here? What do I do next?' At that time, in that parking lot, I wanted to work for Dave Matthews Band."
Dave Matthews Band was a long way off on that spring day. She reached out to a couple of people with contacts, but nobody even returned her calls. She did not have a resume that qualified her for a life in band management. Anderson realized that step one, then, would be changing that.
"I realized that this is what I wanted to do, so I did a lot of research," she says. "Spent a lot of time on the laptop, figuring out exactly what that meant, 'representing bands.'
"So I jumped in that fall," she continues, "volunteering for 80/35. And from there, I started working on my music resume so I can get to that dream."
In January 2013, Anderson started what would eventually become Shotgun Management. Her first client was Jean-Marie Salem, a Des Moines singer/songwriter who has been making a living performing cover songs for years.
"She said to me, 'You're going to do this? I want to sell my lyrics,' " Anderson recalls. "I didn't know she had lyrics. I thought she just did covers. Come to find out she'd been working on originals for years. I heard her sing one and realized she was the whole package."
Today, Shotgun Management has three bands on its full-time roster—The High Crest, Mighty Shady and the Jeff Banks Band—along with another baker's dozen or so that Anderson has developed working relationships with for
whenever a local venue needs to fill a couple of dates. It can be hard work, but anyone who has met the Spencer native will attest to Anderson's tireless work ethic and buoyant personality. She is driven to succeed not just because of her passion for music, but because of her passion for life.
"I look for joy in every day now," she says. "I've had a 'word of the year' for the past couple years, and 'joy' is this year.
"I think I have a different philosophy about what I do," she continues, eyes welling. "First and foremost, I do it for my kids. We survived something so tragic, but you have to get up. You have to move on. So I'm trying to show my kids that you can make the best of it. Then, I have my clients. To help them live their dream every day is so inspiring."