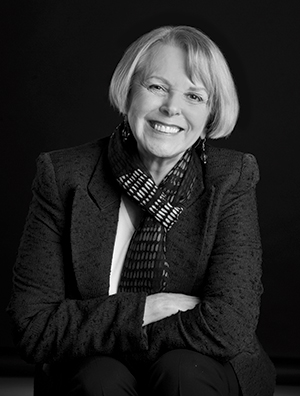 Throughout her career, well-known attorney Roxanne Barton Conlin has been a barrier-breaking and passionate advocate of equality and justice. Her distinguished career and her public service include a long list of honors and firsts: She was the first female president of the 60,000-member Association of Trial Lawyers in America and the first woman to run for governor of Iowa, among many others. Conlin, 71, also served as co-lead counsel in the high-profile Comes v. Microsoft case, winning a $180 million settlement from the software company in 2007. She and her husband, James Conlin, have been married 52 years and have four children. Here, in a conversation condensed by dsm Editor Christine Riccelli, she reflects on her journey, from fighting her personal demons to fighting for a more just society.
Face Your Fears
I'm the oldest of six children. We were mostly pretty poor, particularly during my teenage years. My dad was an engineer and extremely intelligent but had trouble keeping a job, in part because he was an alcoholic and in part because he would not hesitate to tell his bosses what they ought to do. So he didn't last very long at any one place. This caused our family serious disruption; we moved from South Dakota to Sioux City to Clinton to Des Moines.
My father was a vicious, violent drunk. One of my earliest memories—I think I was about 2 years old—was of him hitting my mother. I didn't know it at the time, but domestic violence always escalates unless there is intervention. When I was 16, he threatened to kill us all. I can't remember exactly how I got him out of the house, but he was on the porch and I called the police, locked the doors and had everybody go upstairs except for me. The police came and took him to jail. I went to court the next day and testified against him. The judge let him out of jail, but he sent deputy sheriffs to the house with my father for him get his clothes so he would not be alone with us.
I can't remember how long he stayed away. He continued being emotionally and verbally abusive, but he never hit my mother or me again. My mother didn't fight him, but I did. I'm not a good victim. But I think for many women, what I did would not be possible. For many women, particularly back then, the man would be walked around the block and sent back home and then he'd kill somebody.
Stay the Course
We moved to Des Moines when I was 14, and I went to St. Joseph's Academy, then an all-girl Catholic high school. It was a nun who suggested that I be a lawyer. My intention was to be a movie star. But she told me, "If you're a lawyer, you can use your talent for drama and use your brain at the same time."
St. Joseph's was a good experience for me, though I didn't get along very well with the principal because, frankly, I was a smart aleck. I can't imagine how insufferable I must have been. So I left high school at 16 and went to Drake. There was a program back then where if you could get a 99 on the college entrance examination boards and some other tests, you could get in.
I worked at all kinds of jobs while I was in college. I worked at Tiny Tots from 6 a.m. until 9 a.m. and from 3 p.m. to 6 p.m. After that, I would go to my job as a waitress at the Holiday Inn, and then I had a baby-sitting job that started around 10 p.m. I did all these jobs while going to school and taking 21 hours a semester.
I got married (to James Conlin) and shortly thereafter got pregnant in law school. That had never been done before, and I certainly did not mean to be the groundbreaker in that regard, but I had my daughter over Christmas break my senior year at law school.
Back then, there was a double standard in law school. There was a rumor that I was sleeping with the professors to get good grades. I was a good Catholic girl, so the rumors were very distressing to me. I thought that getting married would solve that problem, but instead, there were rumors I was an adulteress! Then when I got pregnant, there were rumors that it was not my husband's child. Fortunately, our children looked just like my husband.
I would get overwhelmed with school, work and family responsibilities, but most of the time, I just did it. You put one foot in front of the other and you do what you're supposed to do. I was extremely determined.
I did four years of college and three years of law school in five years. I graduated from law school and became a lawyer at 21. My goal was to get out of school as quickly as possible because I had siblings who needed to go to college. As the oldest of six children, if I could not put my siblings through college, nobody could.
Choose Your Life Partner Wisely
I always tell young women to choose a life partner who will support you no matter what. When my husband and I met, I told him, "I don't wash, I don't iron, I don't cook, I don't clean, and I never will." And he said, "OK." And I thought, "I have to snap up this guy. This guy is mine." So we got married two weeks and one day after we met. And now we've been married 52 years.
When I was young, every man in my life thought that law school was just a whim, that I'd get over it when I got married and had children. That is not what I thought—ever, ever, ever. And that's not what James thought.
Be True to Your Convictions
When I graduated from law school, the percentage of lawyers who were female was something like 1 or 2 percent. I faced blatant discrimination. There's no hiding that fact. After graduating, I applied for a job at a downtown law firm, and they said, "We are not going to hire you because our clients will not take advice from a woman."
I got a good job at an insurance law firm downtown, but I just wasn't suited for that type of law, so I moved on and became an assistant attorney general for the state of Iowa for Attorney General Richard Turner, a right-wing Republican whom I loved; we got along wonderfully. I had just had my son, and he hired me on a part-time basis. When I look back on it, I think about how Richard was way ahead of his time, because that was not the norm. People certainly predicted that I would fail as a lawyer if I did not devote myself full time. I wanted to practice law, but I also wanted to practice parenthood.
I worked for the attorney general from 1969 until 1976. I became kind of the go-to person for antitrust cases in the state. I was also the first person to head the Department of Justice's Iowa Civil Rights Section. Of course, it was easy to be the head, because I was the only person in it! I tried the first case ever tried under the Iowa Civil Rights Act. Being part of the development of the law to forbid discrimination on the basis of sex was so fulfilling and exciting. It made me absolutely intolerant of injustice. …
The attorney general and I used to joke about how conservative members of the Legislature would come to his office at least once a week asking that he fire me because of my politics—I was an outspoken advocate for a woman's right to choose. But whenever it came up, I would always say, "This is not the opinion of the attorney general; this is my personal opinion." I thought I was doing the right thing, but controversy followed me wherever I went.
One day, the attorney general just got sort of enveloped by party people who thought I did not belong in that office. He called me over and he said, "Why don't you just resign so that I don't have to fire you?" And I said to him, "OK, fine." He gave me a big party, and I left.
Believe You Can Make a Difference
I knocked on doors for John Kennedy. When he won, it was a wonderful feeling. I thought I had helped make a real difference, and I loved that feeling. So I stayed involved. When I was 19, I became the president of the Polk County Young Democrats. …
I ran for governor in 1982. It was so much fun. It wasn't a campaign; it was a cause. I had thousands of volunteers and ran the campaign on $800,000. People would volunteer 40 hours a week or more because they thought that it was time for a woman to be governor. But it wasn't that time.
One of the worst things about losing an election is disappointing people who have given so much of their time, their money and their energy. It felt terrible to me to let those people down. But I got thousands of letters from people who had been my supporters—many from girls in grade school and high school. Many women who were trained in that campaign went on to become public officials themselves.
When I ran for U.S. senator in 2010, things had changed so dramatically. When I ran in 1982, I did not do any fundraising. Now when you're a candidate, you spend the bulk of your time raising funds, calling people on the phone and begging for money. It's demeaning. It's exhausting. It's distressing. Where is the time to study the issues? Where is the time to go out and meet the voters?
I am done running for public office. But I am by nature an optimist.
I believe in the civics book version of government.
I believe that anyone who is committed, caring and compassionate can make a difference. You just have to keep trying.
Confront Your Demons
In 1992, a police officer followed me home, and I was arrested in my driveway for driving and drinking. It forced me to confront that I am an alcoholic, that I had a disease that would kill me—and that I didn't want to die.
I was great at diagnosing alcoholism in others. But I didn't see the signs in myself because I drank only wine and I drank only occasionally. I didn't get hangovers and never missed work. My conceit made me think the disease had skipped a generation.
Many people think that to acknowledge a problem is to show weakness. The truth is that it takes strength to face our personal demons.
Pursue Your Passion
After the 1982 election, I went into the private practice of law, where I have been ever since. Where there is injury, there needs to be a remedy and that's what we try to do, whether the law provides one at the time or not. One of the things my office does is law development. Where does the law fall short? How can we make the law better? How can we make the law a tool for justice? And so, I take cases—sometimes cases with no economic value—in order to move the law forward.
I truly love what I do. I love going to trial. I would try cases all day every day if I could.
There are times when I get tired. There are times when I get discouraged. There are times when I think, "Why don't I retire?" I can retire, but I don't because I think people need someone like me to speak for them in court. I have absolutely amazing clients, people who have endured difficult, sometimes unbelievable, circumstances and who deserve justice. It's my job to give them that justice.