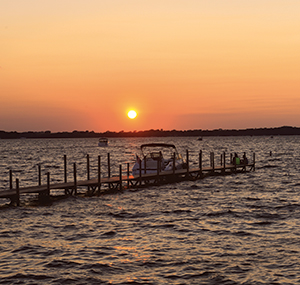 Writer: Larry Erickson
Photographer: Duane Tinkey
Okoboji. Nothing says summer fun in Iowa more joyfully. A glistening playground for the masses, the region offers everything from campsites to luxury homes, with dining and recreation options to fit every taste and budget.
For many visitors, it's one big raucous party. For others, less is more: "We love the peacefulness," says Kathy McNamara-Pitsor, a Des Moines health care consultant who has been a 'Boji regular since the idyllic summers of her childhood. "We would go to Okoboji most every summer to vacation for many, many years." Growing up in Omaha, she and her family had condos by Brooks Golf Club, the most prominent of six courses that thread among the region's lakes.
"My favorite time is late in the evening with the sun going down," says McNamara-Pitsor. "It's just gorgeous."
That beauty is spread over quite a landscape, a gift of glaciers that carved through northwest Iowa a while back. The Okoboji "brand" encompasses a chain of lakes and surrounding communities, a region marketers call the Iowa Great Lakes. Water covers 12,000 acres traced by 70 miles of shoreline. Largest in the chain is 5,700-acre Big Spirit Lake, where waves lap over the Minnesota border.
But the big dog in this pack is sparkling, spring-fed West Okoboji Lake—the shimmering poster boy of Iowa lakes, with tranquil bays, rocky points and 19 miles of rambling shoreline. Adjacent East Okoboji Lake is smaller, with the quiet dignity of a suburban neighborhood (albeit with a few rowdy neighbors).
The Pitsors—Kathy and her husband, commercial banker Deon Pitsor—have made the trip countless times with their sons, Joe and Jack. At the end of the road, Okoboji offers a wealth of variety; a typical visit for the Pitsors includes golf, boating, dining and blissful relaxation.
Family Fun
"We rent a boat from Parks Marina, a pontoon boat to tool around and eat dinner," says McNamara-Pitsor. "And we rent another boat for tubing."
Fishing is popular on all of the area's lakes, as are sailboat regattas. "We enjoy watching the races from down by The Inn (at Okoboji)," says McNamara-Pitsor, referring to a landmark of Okoboji lodging on West Okoboji's eastern shore.
"When the kids were younger, we did Arnolds Park amusement park all the time," McNamara-Pitsor says. Popular family entertainment today also includes miniature golf courses and go-kart tracks, she adds. She also recommends Bridges Bay Resort,
an East Okoboji complex with a water park—"a great place for families
with kids."
And if you're planning a family vacation, save time for the Dickinson County Nature Center, she says: "It's fun for hiking and learning about animals, fossils and things that are interesting for kids."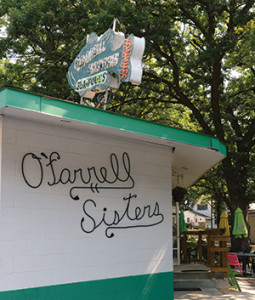 Grown-up Diversions
For golfers like the Pitsors, the area has attractions apart from the lakes. "When we're there," McNamara-Pitsor says, "we always do a round of golf at Brooks or Emerald Hills," two of the best among the region's six well-maintained courses.
Just east of the amusement park is Preservation Plaza, where the Pitsors enjoy listening to outdoor concerts with West Okoboji as a backdrop.
"We also like to go to the annual art fair the first weekend in August," McNamara-Pitsor says. Art is prominent in the lakes area. The Pitsors enjoy visiting the Wine Bar and Art Gallery in Arnolds Park, "a fun little spot with local artwork," she says.
More formally, the free Pearson Lakes Art Center on Highway 71 has six galleries and a performing arts theater. "It's a beautiful spot," McNamara-Pitsor says, "and they have different exhibits that come in and out all summer."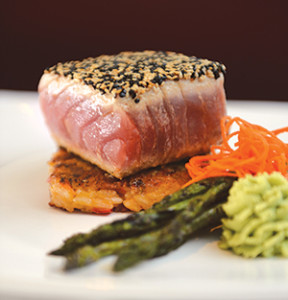 For a memorable evening, she suggests visiting "the fabulous Okoboji Summer Theatre." It features professional actors performing with students from Stephens College in Missouri, whose drama department operates the program. Shows are entertaining and lake-life casual.
Local museums include the Iowa Great Lakes Maritime Museum, the genuinely amazing Okoboji Classic Cars, a museum of money, a regional rock-'n'-roll hall of fame and the Abbie Gardner Sharp Cabin, site of an unpleasant interaction between early settlers and the region's prior residents.
Okoboji Flavors
You could spend a summer at Okoboji and never repeat a meal. Dining opportunities range from ubiquitous fast-food outlets to quirky local favorites. "I'm partial to Maxwell's," McNamara-Pitsor says. "It's a little pricier than others, but the food is always consistent." If you want a table on the weekend, you'll need a reservation, she adds.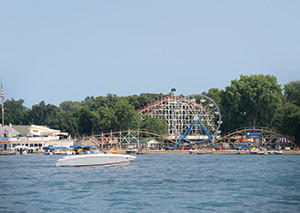 Another recommendation: Bracco World Cafe and Island Bar is located at Bridges Bay Resort on East Okoboji Lake. "You can't beat the atmosphere," she says. "For just a burger, there's The Ritz," she suggests. And don't miss breakfast at O'Farrell Sisters: "You have to go there for the atmosphere."
For a different atmosphere and a younger vibe, find your way to the Barefoot Bar, a Tiki hut cluster of fun. "Everybody goes there. It's on East Lake, with tons of boat parking and a total party atmosphere with live music," McNamara-Pitsor says. Friends, boats, music and fun—just some of what's great at Iowa's Great Lakes.
Ready to go? For information on accommodations (from campgrounds to condos), entertainment, dining and nightlife, start your online search at vacationokoboji.com. It has links with addresses and phone numbers for most of the Pitsors' recommendations.