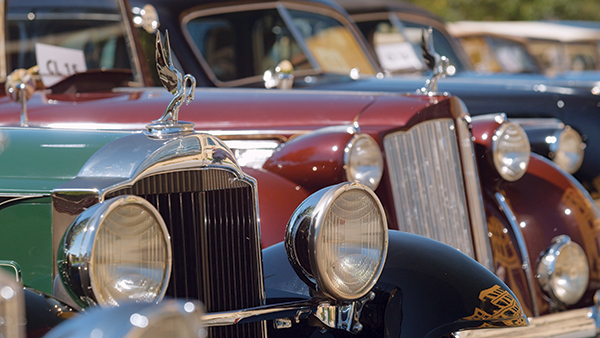 Writer: Larry Erickson
Photographer: Brent Isenberger
The luster of lacquer, the gleam of chrome, the smell of wax with a whiff of oil, the throaty thrum of a smoothly idling engine—the annual Des Moines Concours d'Elegance is a sensory delight arising from a century of carefully, often lovingly, maintained automobiles.
For disciples and dreamers of classic cars, this is wealth beyond measure, rolling works of automotive art rightfully arranged around a sculpture park. Sept. 10 and 11 will bring the 17th assembly of the event. Beginning with a motor tour on Saturday, the Concours continues Sunday, from 10 a.m. to 4 p.m., with some 160 vehicles surrounding the John and Mary Pappajohn Sculpture Park, surrounded in turn by keenly curious and appreciative onlookers.
The exhibit always includes antiques and classics, but this year special exhibitor classes include early Cadillacs, pickup trucks, Hudsons and a variety of cars built in Iowa.
The downtown location is fitting, says event promoter Steve Simpson, noting that the site was once flanked by car dealerships on Locust Street and Grand Avenue, and the nearby
Des Moines school district's Central Campus building was once a Ford plant. This is the third year the Concours has rallied downtown, Simpson says, after years at Salisbury House and Gardens.
Produced by the Iowa Automotive Heritage Foundation, the event is free to the viewing public; sponsorships cover the event's expenses and an annual donation to the Children's Cancer Connection.