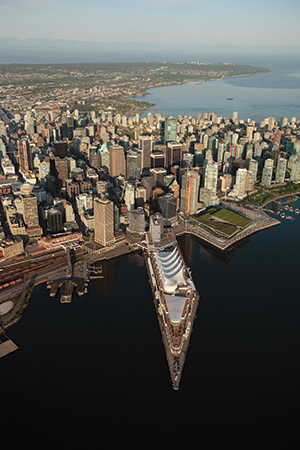 Writer: Larry Erickson
Ask Linda Hunter what she loves most about Vancouver, British Columbia, her adopted second city, and the answers tumble out.
"It's the air," she says, closing her eyes and smiling at the thought. "I've never experienced air like they have in Vancouver. That air travels 5,000 miles from Japan, being bathed by the waters of the Pacific. Within minutes, I notice it; it's so pure.
"And the city is a garden," she adds quickly. The climate is temperate; summer highs rarely top 80 degrees, she says.
"And we love the multiculturalism," Linda continues, including husband Robert Hunter, who has just joined the conversation in their Des Moines dining room.
"Just sitting on a park bench along the water, you can find yourself in a conversation with people from anywhere in the world," Robert says.
After selling a Wisconsin cabin, the Hunters were looking for a new getaway. "We were looking for mountains or oceans," Linda recalls, "and we took a scouting trip, rented a car and went all over the place."
The search ended in a Vancouver condo just a block from the beach. They visit whenever they can, leaving cares behind with their Des Moines home in the hands of house-sitting friends.
Set between the Pacific waters of the Georgia Strait and snowcapped Coast Mountains, the city is nestled in a dense rain forest. With a population of 2.4 million, Vancouver consistently ranks as one of the most livable cities in the world.
It's also one of the world's most diverse cities, with European, Asian, Middle Eastern, African and Latino cultural influences. Both French and English are the official languages.
"You walk down the street and hear all these languages," Linda says. "It's not only the people, but the culture … all these influences right there. It's wonderful; I can go to this one city and travel the world."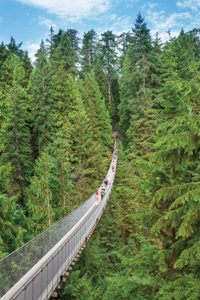 Top Destination
"One of the first things I always do is go down to Granville Island," Linda says. Renovated into an arts community with theaters, potters, sculptors and retail shops, it's a must-do destination for visitors. "We go to the Granville Island Public Market (famous for seafood and produce), stop at Lee's Donuts and then walk down to the water to watch the boats and read The New York Times."
The Great Outdoors
After a dozen years as part-time residents, the Hunters have come to appreciate that folks in Vancouver aren't as "work-focused as we are in the States," Linda says. "They work to live, rather than living to work. People really enjoy their down time, getting together with friends and doing things outdoors."
That's most important to the Vancouver experience: "Get outdoors," Linda insists. "Walk the seawall, breathe the air. You really know where you are then. It's wonderful."
One way to experience the outdoors is by bicycling the long trail that snakes the length of the city, through downtown and past the 2010 Olympic village, converted to shops and housing. Rental bikes are available, and the ride is easy, Linda reports. Pacific Spirit Park offers great hiking over a broad range of terrain. "Vancouver is right on the edge of the wilderness," Linda notes.
If exertion isn't your thing, the city has excellent public transportation; locals and tourists rely on it.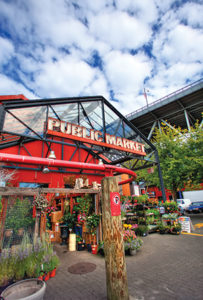 Dining
Fresh air and exercise may leave you with quite an appetite. The Hunters have suggestions:
Rodney's Oyster Bar in Yaletown—"the yuppie area," Linda says—has fresh seafood and a casual atmosphere. "It's loud and it's fun." Have lunch at Go Fish on Fisherman's Wharf. Diners eat on picnic tables or benches along the water, with seagulls for company. For something more exotic, East Is East serves Afghan and Persian food. With Persian rugs hanging on the walls, Linda says, "you feel like you're in another world, with healthy food and interesting spices." Try the Flamingo Restaurant for Sunday dim sum, a Chinese dish of savory dumplings. "Waiters come by with food on carts, and you can just point to what you want," Linda says. "It's fun and it's cheap."
Fine dining in Vancouver has to involve seafood, the Hunters agree, recommending the Blue Water Cafe downtown. "It's the place to go."
Culture
Vancouver culture is lively and diverse. The heart of the entertainment district is Granville Street, stretching across town from Waterfront Station.
An international fall film festival (Sept. 29 through Oct. 14 this year) is a major annual attraction. Last year featured 370 films from 70 countries. Perennial favorites that the Hunters recommend: "The anthropology museum at the University of British Columbia gives you a sense of where you are and how the area has grown," Linda says.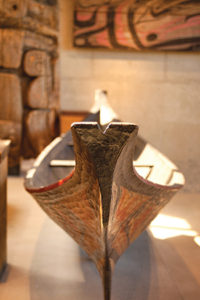 Another highlight is the Vancouver Art Gallery downtown. "If you want to get a whiff of culture, it's all happening on the steps of the art museum," Linda says. "You'll see everything there. I like to get a sandwich, find a place to sit and watch the carnival."
Shopping
Retail sampling is a vital component of many vacations. Vancouver's is unique. "There's a lot of interesting fashion because of the multicultural influence," Linda observes. "It's like Asian with a French flair."
The city is a grand bazaar of boutiques and pop-up shops. Linda recommends a stretch of Fourth Street between Burrard and Vine, where you'll find boutiques, plus French, Afghan and Italian restaurants. You'll also see European-style specialty shops selling cheese, bread, fruit and meat.
On the Water
If you visit Vancouver, the Hunters recommend taking a ferry to the Gulf Islands. "You need to get on the water; it just sort of calls to you," Linda says. "And each island has its own personality and culture."
Inland, take a trip up to Great Bear Rain Forest, where you can see white bears, called "spirit bears" by the Inuit people original to this area. By land or water, trips around Vancouver provide a broader understanding of the Hunters' second city.