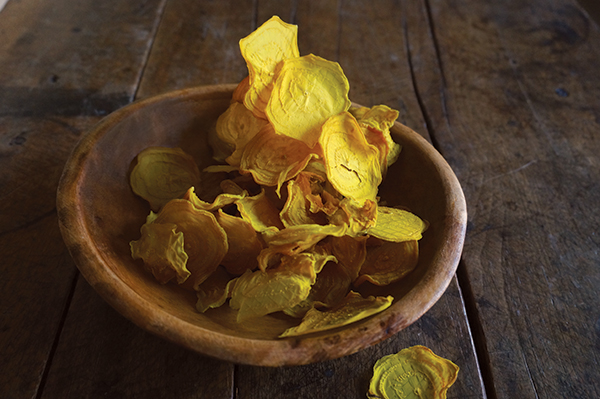 Writer and Photographer:
Lisa Holderness Brown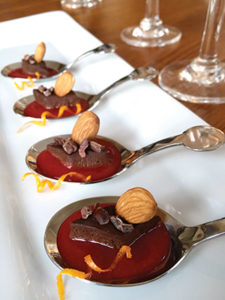 It all started with my weakness for charity auctions. I told myself that I would just peek at the online items in the annual International Association of Culinary Professionals auction. A set of new pans? A private wine tasting in Napa? Or how about a six-month plant-based professional certification course? Oddly, I was most drawn to that one and ended up winning it. Similar to the next-day feelings I had after a fundraising event when my husband, Peter, and I bid on a trip to Switzerland with limited details, I wondered what this course entailed and how it would affect our lives.
Beyond the initial eye-rolling, my family was fine with the course if it meant cooking for them. Peter and son Parker's only dictum was no lectures if they added meat. Daughter Emma ruled out tofu. My relatives were mostly concerned about what I would serve at family gatherings. I reassured them all that I wasn't in this to become vegan, only more vegan-ish. I wanted to up my veggie game: to dehydrate and ferment stuff, whirl up nut milks and creams, eat more raw dishes, and push vegetables to the limits of creativity. I saw myself as more of a food geek than a vegan and more into moderation than restrictions.
The certification course was through Rouxbe (ROO-bee), an online cooking school with students from all over the world, and required completion of 447 lessons to graduate. I could work at my own pace, but to avoid all-nighters in my kitchen during the last few weeks, I would have to be focused. For the next six months, I wedged in about 10 hours a week for online lessons on subjects such as getting enough vitamin B-12 without eating meat, sweating vegetables, and batch-cooking legumes and grains for the freezer. I could email or call the instructors with questions and interact with them and other students during online seminars and in a Facebook group. But most of the time, I was in the kitchen.
Some of the most rewarding lessons were the most basic. Knife skills—especially a sharp, quality chef's knife held correctly—were an ongoing focus since plant-based cooking is all about slicing, dicing and chopping. Every recipe started with the gathering of mis en place, which is French chef speak for "put in place." This meant prepping all of the ingredients and organizing them in order of when they are used in a recipe.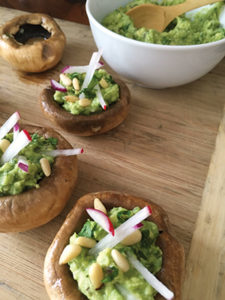 I also had to reset my pantry and refrigerator, pitching outdated ingredients and replacing refined foods with whole, nutrient-dense ones. I bought new glass storage containers, mini Lazy Susans for condiments and spices (in the fridge, too), baskets for grains, and canning jars for beans and rice. I even adhered decorative tape strips to the front of the shelves that contained ingredients collected for the course and labeled all new foods with purchase dates. This was like what you would expect in a self-help book for cooks, and I lapped it up.
For each cooking assignment, I snapped in-process and final-food photos to upload just like bloggers do. The recipes were all doable and usually impressive but did take scouting some new ingredients. Favorites included nutritional yeast since it adds a cheese-like flavor, the spicy chili sauce sambal oelek, and raw cacao powder for desserts and smoothies.
Simple building-block recipes that were really techniques are now my kitchen staples, such as softening raw kale for salad by massaging mashed avocado into it until coated and seasoning it with a squeeze of lemon and pinch of salt; and marinating (instead of cooking) raw mushroom caps and stuffing them with hummus or guacamole and a sprinkle of radish sticks and pine nuts. Cashew cream whirled in the blender is my go-to dairy sour cream substitute, and seed crackers in the dehydrator turn out crisp and addicting.
The only real failures at our house were dishes that wanted to be meat. If we are what we eat, nobody wanted to be a seitan (wheat gluten) brisket or a tempeh (brick of fermented soybeans) taco.
Since graduation, I am still not vegan—I don't cook plant-based every night—but I am a firm believer in Michael Pollan's diet wisdom: "Eat food. Not too much. Mostly plants." The course has made a difference in both the way
I eat and the way I think about food. I have a freezer full of prepped ingredients, I make my own nut milks, and I joined a CSA that delivers produce to my house. But the biggest reward is that I'm no longer intimidated by preparing plant-based foods for friends and family. I'm even considering teaching plant-based cooking classes.
My advice for anyone thinking of going vegan or even just making an effort to eat more plants: Focus on new dishes, opportunities for discovery, and the helpful resources in our community—not on what you chose to leave behind. Check out restaurants that offer plant-based dishes, hit the many local farmers markets, take a veggie-based cooking class, invite friends over for a "tasting night," or just start buying more vegetables and experimenting with one plant-based recipe at a time.
Cashew Sour Cream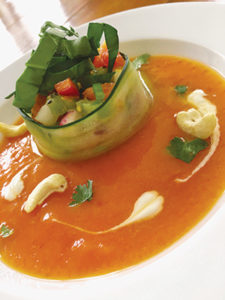 Spoon or drizzle this cream atop bean bowls, soups, veggie tacos, fruit, or as a replacement for dairy sour cream. It's easy and so yummy—I promise!
1 cup raw cashews
1/2 to 3/4 cup water, or as needed
1 1/2 tablespoons apple cider vinegar
1 tablespoon lemon juice
1/4 teaspoon sea salt, or to taste
Place the cashews into a bowl and cover with water. Let soak for a few hours or overnight. To make the sour cream, drain and rinse the cashews. In a high-speed blender, blend the cashews, 1/2 cup water, apple cider vinegar, lemon juice and salt, starting on low speed and increasing the speed until you reach a really smooth consistency, adding water as needed. For a more cream-like drizzling consistency, add more water. Use immediately or cover and keep for several days in the refrigerator.Makes 1 cup.
Note: This is where a high-speed food blender is worth the investment. The higher the power, the smoother the sour cream will be. Scrape the sides and continue to pulse until smooth. For a more neutral-flavored cashew cream, omit the lemon juice and apple cider from the recipe.
Recipe courtesy of Rouxbe Cooking School—Plant-Based Professional Certification course (rouxbe.com).
Five Equipment Picks
You can prepare plant-based meals without purchasing special equipment, but using these will enhance your skills. Plus, they're totally cool.
Vitamix blender: Crush nuts into butter, milk and creams, or puree green smoothies, soups and spice blends with this workhorse blender. Williams-Sonoma or Bed Bath & Beyond stores.
Dehydrator: Dry fruits and purées for snacks, dry tomatoes and other vegetables for later use, make veggie powder and herb seasonings, and even make vegan taco shells and crackers. Nesco Gardenmaster at nesco.com.
Nut milk bag: Drain soaked and blended nuts for making nut milk. Kitchen Collage, 430 E. Locust St.; mykitchencollage.com.
Paderno Spiralizer: Turn a zucchini or a potato into long, noodle-like ribbons for roasting or to add to salads. Kitchen Collage, 430 E. Locust St.; mykitchencollage.com.
Sprouting jar: Pick up this jar and seed packets, and you can grow sprouts in just a few days. Campbell's Nutrition Center, 4040 University Ave.; campbellsnutrition.com.
Six Veggie-Friendly Restaurants
Some of my top picks for eating plant-based dishes when you're dining out:
A Dong: Page through their dedicated vegetarian menu. 1511 High St.
Alba Restaurant: Ask for the spicy vegetarian hash with cornbread if it is on the ever-changing menu or order anything with vegetables—Alba does them right. 524 E. Sixth St.; albadsm.com.
Campbell's Nutrition Center: Go for lunch—a fresh juice, homemade soup, salad or sandwich—and grab some all-natural groceries while you're there. 4040 University Ave.; campbellsnutrition.com.
Fresh Cafe & Market: Order the top-selling raw tacos or wheat grass to go after working out—the restaurant is located in the YMCA Healthy Living Center. Fresh Cafe also offers classes. 12493 University Ave. in Clive and the Downtown Farmers' Market; freshcafeandmarket.com.
The Juice Company: Pick up a smoothie, a Green Hornet juice or juice rations for fasting any day of the week. 845 42nd St.; juicecompanydsm.com.
Open Sesame: Try the vegetarian sampler plate at this Middle Eastern restaurant in the East Village. 313 E. Locust St.; facebook.com/Open-Sesame.