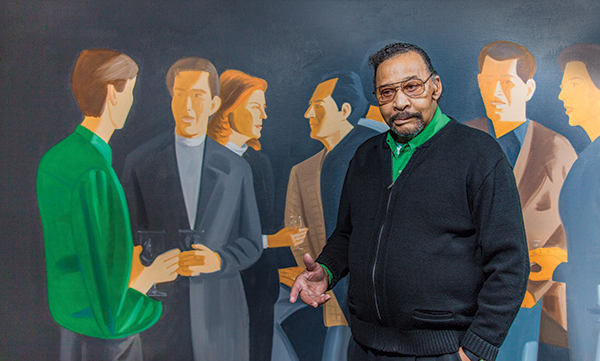 Photographer: Ben Easter
Writer: Laura Kristine Johnson
Ernie Moore | Security Guard
In a soft-spoken voice, Ernie Moore tenderly sums up why he cherishes the 20 hours each week that he spends immersed in sculptures, sketches and paintings: "I love art."
After a career making tires at a Pirelli Armstrong plant, the Missouri native traded the texture of rubber treads for the luster of paintings and the smoothness of statues. He's in his ninth year as a guard, a part-time job he took on after retirement.
The hobby gospel singer and saxophonist says his job has given him a new appreciation for fine art, especially the works of one prominent appropriation artist. "Glenn Brown is fantastic," Moore says of the London artist whose works were featured in a temporary exhibit this summer. "The reproductions he creates are very interesting, and although at first look the art appears almost lumpy, the textures are actually quite smooth." Moore has met several artists while at the Art Center, including Brown.
The key to Moore's success as a guard, he says, is his love of interacting with visitors and learning from them, no matter the topic—economics, weather and, of course, art. "You have to be congenial to be a guard, and I have a ball talking with people from all over the world: England, Nova Scotia, Alaska, Denmark, Germany—even Texas," Moore says with a laugh.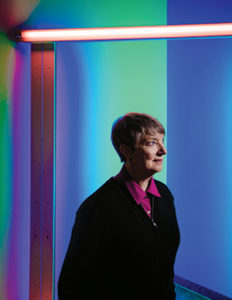 Eileen Gloor | Docent and Security Guard
Trips to the Art Center with her children first piqued Eileen Gloor's penchant for Des Moines' art scene. "The children took art classes there when they were young, and we would visit two or three times a year," Gloor says. "It was always
a beautiful place."
So when the native New Yorker retired after a 45-year career in nursing, she joined the Art Center staff first as a docent and then also as a security guard.
"My work had always revolved around science and medicine, and I really wanted a new exposure in life," Gloor says. "There's a different way of thinking in the world of art. It isn't always scripted, and you don't always have to have the right answer the way you do in science. For me, that's been delightful. It's opened up a whole new vista of how to look at things in life, at colors, at what I see on my walks. I notice things I never noticed before."
Seeing visitors likewise gain a new perspective on art is one of Gloor's biggest sources of joy.
"Our primary purpose is to protect the art, but we also want people to enjoy it, learn about it, and respond to it," she says. "For instance, Francis Bacon has a piece here that can look a bit scary, especially to children," she says. But then she explains that a handful of Bacon paintings, including this one, inspired the Joker's makeup in "The Dark Knight."
"And then all of a sudden the kids' eyes light up, and they're more engaged with the art," she says.
She also enjoys helping the elderly and those who are disabled gain access to art using approaches adapted for their needs and abilities.
"Some might not be able to walk as fast or understand the intricate ways that the artists created their pieces, but these groups are so respectful to the art," Gloor says. "They love the colors, and they love the experience. They love being in a place where they're accepted. We want guests to know that it's OK to be here no matter who you are. You're welcome here."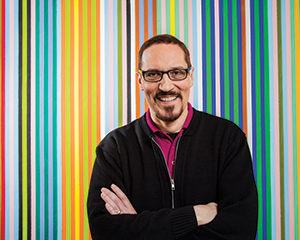 Michael O'Neal | Protection Services Director
For Michael O'Neal, guarding art was supposed to be a short stint nestled between the restaurant business and going back to school.
"You could pretty much see the writing on the wall that the Mexican restaurant I was working at was going to be closing down," O'Neal says. "I called up the Art Center, and they said they had a security guard position with benefits. I don't think I'd visited since I was in third grade, but once I started at the Art Center, I fell in love with the place."
That was 25 years ago. O'Neal now serves as the museum's protection services director, hiring and training guards and ensuring the art remains pristine. The most menacing foe he's had to do battle with? A heavy downpour that breached the Art Center's gutters and roof and then spilled into the galleries below.
"We were running around, picking sculptures up off the floor and getting things out of harm's way," O'Neal recalls. "Fortunately, not one piece of art was damaged."
Another memorable moment? Meeting the woman who would become his wife.
"I worked Thursday evenings, and she was working at TJ Maxx at the time so she could only visit the Art Center at night," O'Neal says. "I noticed her a couple of times when she came through, and then by the third time I finally got up the courage to talk to her. One year after that, we got married. So, for so many reasons, the Art Center holds a very dear place in my heart."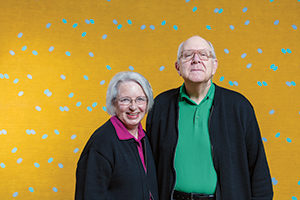 Tom and Trudy Dolezal | Security Guards
Retirement made Tom and Trudy Dolezal antsy.
"I was bored sitting at home," Tom says. "We never thought we'd spend our retirement not doing anything. So three years ago, a friend recommended me to the Art Center, and two years later, Trudy followed me there."
The Art Center is one of several stops along the Dolezals' career path. After 20 years of calling Carroll, Iowa, home, the adventurous couple one day packed up and headed to West Yellowstone, Montana, where they ran a consulting business focused on advising the federal government how to ensure garbage cans and trash disposal areas at national parks were bear-proof. And that was before they relocated to Seattle to run Jamba Juice franchises, and then to Bend, Oregon, to open a European fine furnishings store.
Retirement and the needs of Trudy's elderly parents drew the couple back to Des Moines, where she had spent her childhood. After her parents died, the Dolezals joined the Art Center's security staff as the museum's first (and only) husband and wife team. They were drawn to the opportunity to chat with visitors and fellow guards alike.
"I'm a people person," Tom says, "and as a security guard, I'm able meet and greet the visitors and take care of their needs."
Trudy adds: "Many of the people who guard are around our age. We try to go in a bit early on the days we work so we can sit and have coffee and chat with people."
The couple says the guards often swap art facts over their morning cups of joe and attend docent training on Thursday mornings to broaden their repertoire of knowledge. An artistically talented guard even encouraged Tom to pursue his inner artist. "I'm a brand-new watercolorist," Tom says.
As for working in the same place, the couple has had 41 years of marriage and joint career ventures to grow accustomed to it. In fact, not dressing alike might just be the hardest part for the pair.
"We have four color choices of shirts for our uniforms," Tom says. "We try very hard not to be the Bobbsey Twins when we show up at the Art Center. We have to review what we're wearing before we head out of the house."
Andy MacDonald | Chief Guard
Andy MacDonald was seeking any opportunity to be closer to art when he arrived at the Art Center's door for an interview.
"After 15 years in the health and human services field, which often deals with the downsides of human life, I wanted to pursue art, something that is there to inspire," MacDonald says. So he went back to school, earned a degree in commercial art and got a job in computer graphics. Then the layoff came.
A security position at the Art Center caught his eye, and he figured that it would at least allow him to be around the art he loved.
Twelve years later, MacDonald now holds the title of chief guard and regularly chats with visitors, albeit briefly, about the art pieces they encounter as they roam the galleries.
"Art gets people thinking," MacDonald says. "Sometimes people who haven't been exposed to a lot of fine art don't like contemporary pieces because they're provocative. But it's just a matter of getting those people to return a few times. Art can change the way you think about things. It becomes a vehicle for growth, making you see the world differently."
Being at the Art Center has fed MacDonald's hunger for more artistic knowledge as well. "It's a pretty great place to be if you have a curious mind," he says. It's not a job where you're out just trying to make a buck. It allows you to ponder and think and philosophize. Those things can't be valued in a monetary way."