Writer and Producer: Lacy Brunnette
Photographer: Joelle Blanchard
Hair: Ashley Harvey
Makeup: Annie Clevenger
Model for Acanthus Apparel: Oxana Zhrinova
Model for Laura Rodriguez: Maria Avalos
Model for Locally Grown: Jeff Naples
Location: The Des Moines Building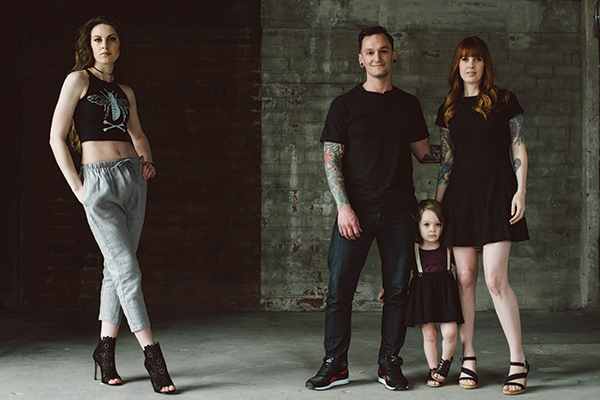 Joshua and Alyssa Bowers
Acanthus Apparel
There's no question tattoos have crossed from the subculture over to mainstream pop culture. Indeed, some 36 percent of Americans ages 18 to 25 have at least one tattoo, according to the Pew Research Center. Local tattoo artist Joshua Bowers and his wife, Alyssa, have seized on that trend to build their clothing company, Acanthus Apparel.
"The same thing that makes a good tattoo design makes a great T-shirt design," Joshua says.
"We think of how (the clothing) is going to fit on the body so it's like a tattoo," Alyssa adds. "Instead of thinking about what everyone else wants, I think about what I want to wear. The best designs are the ones you'd actually want as a tattoo on your body."
Acanthus, which the Bowerses founded in 2005, specializes in designing T-shirts and other cotton separates for adults, babies, kids and even dogs. The apparel features screen prints of their original art.
By trade, Joshua builds tattoo machines and is an artist at Iron Heart Tattoo. Alyssa is the full-time director of Acanthus. The two met as design students at Iowa State University in the early 2000s with a shared interest in design, art, fashion, classical architecture and Greek mythology. About 10 years ago, after Alyssa gave him a sewing machine for Christmas, Joshua began sewing patches on shirts and distressing and bleaching the cotton. His designs resonated with the 20-something crowd and were picked up by Von Maur and several high-end clothing boutiques, including Kitson in Los Angeles.
As trends changed, Acanthus Apparel evolved into focusing solely on producing screen-printed designs using Joshua's freehand tattoo-style sketches.
They have built a lifestyle around their shared passions for tattoos and fashion design—creating a workspace within their Des Moines home. With the addition of their three Chihuahuas and 2-year-old daughter, Isla, Joshua and Alyssa, now both 35, expanded their collection to include apparel for infants, toddlers and small dogs. They sell their clothing through Etsy, as well as at pop-up shops, Des Moines' biannual Market Day and tattoo conventions.
They maintain a busy schedule of traveling to tattoo conventions around the world; keeping up with the brand's demand and production; and making plenty of time for family adventures.
"I think my reasons for continuing to be passionate about Acanthus have changed as I've grown and the business has grown," Alyssa says. "The need to create and the way I feel when a customer loves my products has always been a motivator. But becoming a mother to a little girl was a game changer. I found passion I didn't know I had."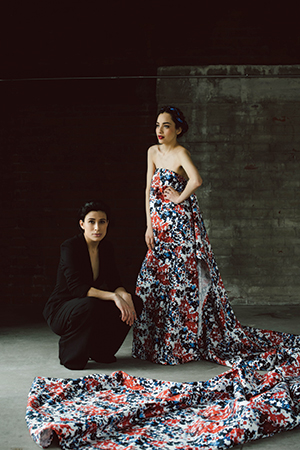 Laura Rodriguez
As a child in Guadalajara, Mexico, Laura Rodriguez was mesmerized by how her mother dressed for dinner parties. "I watched my mom getting ready … and it was so dreamy," says the now-26-year-old Rodriguez. "She looked like a movie star."
Her glamorous mother and eclectic, folksy grandmother inspired Rodriguez to become a clothing designer. A visit to a dress shop with the two women when she was 6 further sparked her imagination. As her mother described a dress
design, the store owner sketched his ideas on a large pad of paper. "Fifteen minutes later he turned the paper, and voila!" Rodriguez recalls. "I remember hearing the pencil scratching on the paper, and knew that I wanted to be a designer."
After that visit, she taught herself to draw and, at age 8, started sewing by making clothes for her Barbies. Since then, her ambition and passion for design have never wavered, even when she moved to the United States as a high school sophomore without knowing English.
Throughout that adjustment and other challenges, Rodriguez has remained resolutely optimistic. "As my mother once told me, 'Do your work with a little heart and a lot of passion,' " she says.
Rodriguez, who began participating in fashion shows at age 18, specializes in dressmaking, from flouncy minis to grand gowns. Her gowns marry crisp neutral palettes with vibrant patterns, bringing to life a strong Southwestern influence. Overall, she says her "big plan" for the next couple of years is to create a fashion label dedicated to preserving, revitalizing and maintaining the textile heritage of indigenous communities in Mexico and Guatemala.
The clothing varies in price, as each piece is handcrafted individually for the model or customer. "I don't make easy pieces or ready-to-wear," Rodriguez says. "It doesn't give me the same satisfaction."
At press time, Rodriguez had just released LR + MINI, a brand that offers clothing and accessories for kids. Her own children—6-year-old twins Azul and Luca—have provided inspiration for the new collection.
"The older I get, the more peace of mind I have about what I've done," Rodriguez says. "I have never stopped dreaming and have molded my own reality—getting older, having kids and making Des Moines my home."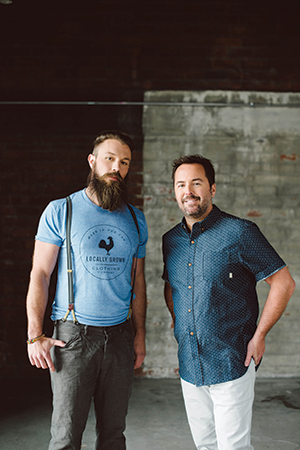 Fred Scott
Locally Grown Clothing Co.
Fred Scott's Locally Grown Clothing Co. isn't just about producing cool graphic T-shirts; it's also about delivering a message—and reflecting a lifestyle.
Specifically, the 44-year-old businessman advocates supporting local communities, including eating locally and shopping locally, as well as embracing an active and environmentally sound lifestyle and helping people connect with one another and their communities.
Scott has parlayed these passions into the Locally Grown apparel brand, which began as a hobby in 2008 with T-shirts he sold at the Downtown Farmers' Market. The messages on those shirts focused on eating locally and on sharing state pride.
Since then, the company has grown to spread a broader philosophy and to offer a more diverse collection for men, women and children that includes not only T-shirts but also pullovers, cardigans, sweatshirts, onesies for babies and accessories. All garments are sourced from U.S. manufacturers.
"Rooted in the movements to eat and shop local, Locally Grown has evolved into a larger movement," says Scott, a native of Spencer, Iowa, who formerly worked in commercial real estate. "With messages like 'bike local' and 'run local,' it's also appealing to a healthy, active lifestyle."
The message-driven line clearly resonates with consumers: Some 700 outlets across the country carry the apparel, including sporting goods retailers like Scheels and, starting in late August, REI; food co-ops and health food stores; department stores like Von Maur; and boutiques carrying men's, women's and children's clothing. In Greater Des Moines, you'll find Locally Grown at the company's retail store in the East Village, plus at other specialty shops and online.
As the company has grown, Scott hasn't lost sight of its roots or the mission it's built upon. He works with independent farmers and producers, both as sources of inspiration and as a way to encourage a larger conversation about land preservation and rural community growth.
Locally Grown "flourishes from the inside out," Scott says, "and I think it is because of our Midwestern roots and the authenticity in the message."
---
Acanthus Apparel
Find online at acanthusapparel.com, on Facebook and on Instagram.
Laura Rodriguez
Find on Instagram or at Preservation, 321 E. Walnut St.
Locally Grown
Find online at locallygrownclothing.com, on Facebook and on Instagram. In the metro area, the clothing is also available at Locally Grown's retail store, 350 E. Locust St. #101, plus at Scheels, Active Endeavors, REI, Swell Shop for Baby, Gateway Market and Campbell's Nutrition Center.