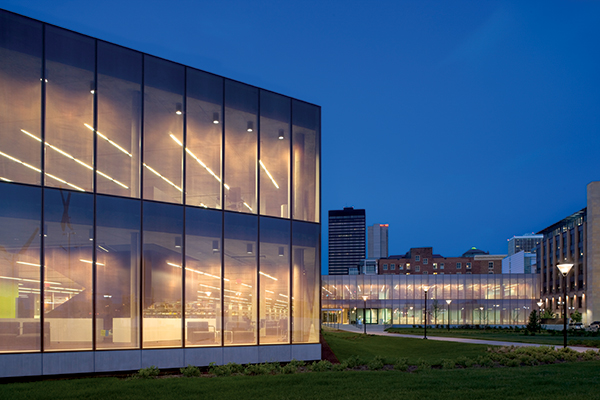 Writer: Barbara Dietrich Boose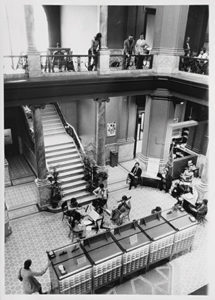 It's Saturday at the Forest Avenue Library, where Marlu Abarca leads a lively bilingual storytelling and singing event among approximately 50 kids and family members, while new American citizens practice speaking English during "Conversations and Coffee." Meanwhile at the South Side Library, Michelle Abrahamson and a handful of teens code credit card-sized Raspberry Pi computers to turn on a light bulb. And at the East Side Library, teens gather to wage Pokemon battles on Nintendo devices and trade playing cards.
Also at these and other library branches, kids assemble vast Lego constructions, job seekers fill out applications, readers engage in earnest book discussions and crafters produce everything from bird feeders to black light paintings. Beyond library walls, Rosie Reader, a friendly book monster mascot, promotes reading at an Iowa Wild game; staff members explain homebound services to senior community groups; and thousands at home access e-books, podcasts and other online resources.
"We're no longer the 'shhhh' place," sums up Greg Heid, director of the Des Moines Public Library (DMPL).
Indeed, this is the DMPL system: six locations filled with stories, and not just those on the shelves. They're stories about minds expanded, doors opened and lives transformed, thanks to the resources and services of the institution that marks its 150th anniversary this year and will celebrate that milestone with a Book Ball on Sept. 30 (Scroll to the end of this story to find details.)
And although the amount of information and the way we access it have changed radically since the library's humble beginnings, the institution's mission remains to inform, educate, inspire, engage, entertain and connect people.
"A free public library is the democratic ideal," says Dory Briles, executive director of the Des Moines Public Library Foundation, which raises funds and promotes the institution. "It is a community center for people of all ages."
Want to listen to Babe Bisignano talk about Prohibition in Iowa? Partake in an adult coloring party? Learn how to enroll in Medicare or speak another language? Polish your résumé? Peruse more than 40 databases on topics ranging from genealogy to auto repair? Check out a Western romance? Experiment with a three-dimensional printer? Those and much more are available at the branches and on the library's website.
"As all-encompassing as the library's services and programs are, what remains constant are providing access to information and responding to the needs of the community," says Susan Woody, community engagement librarian. "No two people use the library in exactly the same manner, and the way the library has changed over 150 years—it's a constantly transforming entity."
DMPL's history stretches back to Dec. 17, 1866, when a group of men met in the basement of Methodist Episcopal Church on Fifth Street and agreed to establish a library; it opened with 2,300 books in rented rooms at the B.F. Allen Bank Building at Fourth Street and Court Avenue. The library moved to 100 Locust St. in 1903, opened branches through the years and relocated its Central Library to 1000 Grand Ave. in 2006. It's weathered openings and closings of branches, continual changes in technology and the flood of 1993, when a chain of staff and volunteers rushed books to higher levels in the middle of the night. The library likely always will deal with financial challenges; every branch is closed one day per week as a cost-saving measure.
Still, staff members emphasize a shared theme: "We want to draw people in," says Brenda Hall, supervisor of the South Side Library. "We want to get the word out that we're for everyone. We want to increase usage and circulation of our materials."
Adds Heid: "Come see us and use us. The library is a free service, paid by taxpayers. … We don't judge people. We serve the entire socioeconomic spectrum. And when there's a need in the community, we try to step in to fill it if it fits our mission."
Meeting that goal requires branch managers and supervisors who know their patrons and neighborhoods, he says: "What keeps me up at night is keeping up—not just with technology, but with our very dynamic community of changing cultures, ages and families."
Heid and his colleagues are planning for the library's next 150 years, during which he anticipates technology will become even more interactive; virtual reality increasingly will be used to educate, train and entertain; and self-publishing services will be in greater demand. Downsized school media centers and a growing number of home-schooled students will call upon libraries to provide more resources and research instruction. Libraries may add social services, like health screenings, legal counsel and, as the DMPL has offered for the past three years, help on tax returns. And as in the past, the library will be there to bridge the digital divide, whether on how to use a computer, how to download photos of the grandkids or how to navigate the next new technology tool. (See "The Virtual Library," below.)
"We are looking 150 years out, and we don't see our demise," Heid says. "The worth of a society is measured in part by its freedom of information. We're a trusted source for that information."
---
The Virtual Library
The Des Moines Public Library was named a 2015 Top
Innovator by the Urban Libraries Council for its Virtual Library.
Here are just some of the library's online offerings:
desmoin.ent.sirsi.net
Via the library's new catalog, you can search for and place holds on materials, have them sent to any of the six locations, explore best-seller lists and read reviews and summaries. A children's catalog also is available.
dmpl.org/our-collection/research/all
The library's research site puts a vast range of information at your fingertips, from encyclopedias to newspaper indexes to talking picture books for kids.
dmpl.org/our-collection/research
Are you, or do you want to be, a job seeker, a savvy consumer, a small-business owner, a traveler, an urban farmer or a local history buff? Find an array of resources to fit your persona.
dmpl.org/pronunciator
Pronunciator lets you learn any of 80 languages at your own pace and at no cost. You need a web browser with JavaScript enabled and Flash version 10.0 or higher, or an iPad or iPhone/iPod with iOS 5.0 or higher.
archive.org/details/iowaoralhistoryproject
The Iowa Oral History Project, linked from the library's home page, consists of a series of interviews conducted from the early 1970s through 2002 on a wide range of topics.
dmpl.org/our-collection/e-books-and-more
Library patrons can check out e-books, e-audiobooks and e-magazines using an iPhone, iPad, iPod Touch, Android device, Kindle, Nook or other device.
dmpl.org/shelf
Need recommendations for your next read? Get staff picks, notifications about your favorite authors, reading lists by interest and other selection tools.
dmpl.org/podcast
The Des Moines Public Library podcast offers information on books and library services as well as interviews with authors and others.
In addition to its virtual offerings, the library's six locations offer a variety of free events for people of all ages, stages and interests, from story times and summer reading programs to book clubs and "makerspaces," which are do-it-yourself events that let participants create and learn using craft materials, software, electronics and other tools. The free-to-the-public Authors Visiting in Des Moines series, or AViD, has brought internationally acclaimed authors to Central Iowa for the past 15 years. All libraries also offer meeting rooms.
---
Turning the Pages With…
…Thomas Ahart
Jim Autry
Rob Denson
Herb Eckhouse
Greg Heid
Charlotte Hubbell
Steve Lacy
Cyril Mandlebaum
Suku Radia
Scott Sanders
Ann Selzer
Patsy Shors
Jay Simmons
Tim Urban
To celebrate its 150th anniversary, the Des Moines Public Library Foundation asked community leaders to complete a questionnaire. Here's what some of them said.
Finish this sentence about you:
Once upon a time …
I lived in a slum with my single mother and had no ambition beyond earning $50 a week. —Jim Autry
I was hitchhiking and was picked up by a pretty blonde in a pickup truck. She lured me to where she and her family lived on a ranch and I fell in love with her cousin. We've been married for 37 years. —Herb Eckhouse
I was in fifth grade and I wasn't selected to visit the Carnegie Library with part of my class because my reading scores weren't high enough. That became the impetus for me to want to be at the library as often
as possible. —Cyril Mandlebaum
… A boy and his twin needed a quiet place to study. His mother would drive them to the downtown library. The main room was like a sanctuary, and the library was one of his favorite places to go without fighting with
his brother. —Tim Urban
What book has had the biggest impact on your life so far?
"The Little Engine That Could," by Watty Piper. Best message EVER. —Rob Denson
Robert M. Pirsig's "Zen and the Art of Motorcycle Maintenance." I first read the book 30 or more years ago. To this day, Pirsig's explanations of the classical and romantic understandings of the world tend to frame my own thinking. —Jay Simmons
"Black Like Me," by John Howard Griffin, made me aware of discrimination while I was in high school and shaped my thought process about people of color. —Cyril Mandlebaum
John Wooden's "Wooden On Leadership: How to Create a Winning Organization." Talk about a disciplined, humble guy who impacted so many people so positively. The message about how black players were treated and how he fought it is especially powerful. —Suku Radia
"Cheaper By the Dozen," by Frank Bunker Gilbreth Jr. and Ernestine Gilbreth Carey. It taught me about time-motion study. Not a day goes by that I do not observe something that could be done faster, with better time-motion management. —Ann Selzer
"A Christmas Carol," by Charles Dickens. A message of realization, forgiveness, redemption and renewal.
—Greg Heid
What is one of your favorite public library memories?
An entire summer when my cousins and I checked out C.S. Lewis books, went across the street to a beautiful park, sat next to the large ornate water fountain and took turns reading out loud. —Scott Sanders
Trying very hard, as a 9- or 10-year-old, to convince the librarian that the books I was trying to check out were not too difficult for me. —Thomas Ahart
Waking up early on Saturday mornings and walking with my sisters to Dahl's grocery store at 35th Street and Ingersoll Avenue to the mobile library and then hanging out at Bauder's devouring our library books along with a Green River and Salted Nut Roll. —Patsy Shors
Bicycling to the public library on Carrollton Avenue in New Orleans, my hometown, to browse through the wooden stacks, sit at the weathered wooden table and check out at least five books to read in the coming weeks. The ceilings must have been 20 feet high, or so they seemed to my diminutive self! —Charlotte Hubbell
Sitting on the floor in the stacks, looking through books. The Dewey Decimal System would take me to a specific section, but it was impossible not to notice other interesting titles nearby. So I would end up on the floor, pulling books out, browsing and traveling through them to places I hadn't yet imagined. —Herb Eckhouse
Who is your favorite fictional character, and why? How are you like or not like this character?
Gandalf from "The Lord of the Rings." I love anything magical. —Rob Denson
Scarlett O'Hara—for tomorrow IS another day! —Greg Heid
I am reading Douglas Adams' "The Hitchhiker's Guide to the Galaxy" for about the hundredth time, so Arthur Dent is on my mind. Dent is a well-meaning, clueless protagonist thrown into a galaxy he usually doesn't understand, but he tries to muddle through. I can relate. —Jay Simmons
Huckleberry Finn. I'm a little rebellious. —Charlotte Hubbell
What is the best book you have read in the past year?
"All the Light We Cannot See," by Anthony Doerr. —Steve Lacy
"The Boys In The Boat," by Daniel James Brown. —Jim Autry
"The Bully Pulpit: Theodore Roosevelt, William Howard Taft, and the Golden Age of Journalism," by Doris Kearns Goodwin. —Thomas Ahart
"Their Eyes Were Watching God," by Zora Neale Hurston. —Patsy Shors
"Destiny and Power: The American Odyssey of George Herbert Walker Bush," by Jon Meacham.—Suku Radia
"Flash Boys: A Wall Street Revolt," by Michael Lewis. —Anne Selzer
"The Battle Hymn of the Republic: A Biography of the Song That Marches On," by John Stauffer. —Greg Heid
"When Breath Becomes Air," by Paul Kalanithi. —Charlotte Hubbell
What book would you recommend for "All Des Moines Reads"?
"Our Kids: The American Dream in Crisis," by Robert Putnam. —Thomas Ahart
"American Nations: A History of the Eleven Rival Regional Cultures of North America," by Colin Woodard. In this most political of seasons, (this book) is relevant, topical and insightful. —Jay Simmons
"America's War for the Greater Middle East," by Andrew Bacevich. —Tim Urban
"Between the World and Me," by Ta-Nehisi Coates. This nonfiction book gives whites a better understanding of the black perspective of raising sons in today's society. —Cyril Mandlebaum
"Atlas Shrugged," by Ayn Rand. This book is a triumphant call to action—to doing something! I find its message is timeless—championing creativity, passion and the power of the individual. Any of us could be Dagny, Hank, Francisco or John Galt. —Steve Lacy
Thomas Ahart is the superintendent of Des Moines Public Schools. Jim Autry is a poet, author and former executive of Meredith Corp. Rob Denson is president of Des Moines Area Community College. Herb Eckhouse is the owner of La Quercia. Greg Heid is director of the Des Moines Public Library. Charlotte Hubbell is a writer, longtime library supporter and community volunteer. Steve Lacy is chairman and CEO of Meredith Corp. Cyril Mandelbaum is a CPA who owns a public accounting firm. Suku Radia is CEO of Bankers Trust Co. Scott Sanders is the city manager of Des Moines. Ann Selzer is president and owner of Selzer & Co. Patsy Shors is a community volunteer. Jay Simmons is president of Simpson College. Tim Urban is president of Urban Development Corp.
---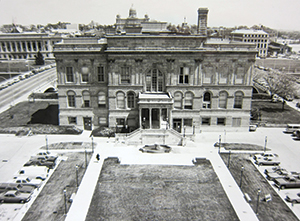 Having a Ball With Books
The Des Moines Public Library will toast its first 150 years Sept. 30 by returning to the past—literally: Book Ball 150 will take place at the World Food Prize Hall of Laureates at 100 Locust St., which the library occupied from 1903 until relocating to 1000 Grand Ave. in 2006.
Hosted by the Des Moines Public Library Foundation, which advocates for the library, Book Ball 150 will recognize Meredith Corp. as the 2016 Friend of Literacy for contributing resources to promote literacy, education and cultural and recreational opportunities. Barbara and Michael Gartner are honorary chairs.
Des Moines native Patricia O'Conner, the author of four books and a former editor at The Des Moines Register, Wall Street Journal and New York Times, will be honored as recipient of the foundation's 2016 Iowa Author Award.
The gala also will feature a reading by Jim Autry, an author of 13 books who was honored as the foundation's 2000 Iowa Author.
Tickets cost $200, and various sponsorship levels are available.
For more information, call 515.248.6402 or email the foundation office at dbriles@dmpl.org.
A Brief History of the Des Moines Public Library
1866: A group of Des Moines men, led by Hiram Y. Smith, adopts articles of incorporation for a library.
1867: The Des Moines Library Association opens in rented rooms in the B.F. Allen Bank Building on the southeast corner of Fourth Street and Court Avenue. A paid membership of $4 per year ($68 in 2015 dollars) or $50 for a lifetime ($847 in 2015 dollars) is required.
1876: The library moves across the street to a site that would later become the Randolph Hotel.
1878: Books are cataloged for the first time by librarian Ada North.
1882: The Library Association turns governance of the library over to the city of Des Moines. Fees are dropped as a free public library is established.
1898: Riverfront property for a new library is purchased for $35,000.
1902: The first branch library opens in Sevastopol, in south Des Moines.
1903: The new Public Library of Des Moines building, designed by the Des Moines architectural firm of (Oliver) Smith and (Frank) Gutterson, opens.
1927: The library passes the 1 million mark in circulation for a single year.
1941: The first microfilm viewer is purchased.
1966: The library celebrates its 100th anniversary.
1978: Elaine Estes, a library employee since 1956, becomes the first African-American director of the Des Moines Public Library. Active in defeating censorship and protecting library patrons' privacy, she leads the library as the nation's first to carry out a "preservation of material program and disaster preparedness plan," modeled across the state and nation.
1990: The library's card catalogs are replaced by PAC terminals.
1993: Access to the library's catalog is available from remote computers. On July 12, the main library closes until Aug. 23 because of flooding along the Des Moines and Raccoon rivers. Books are moved up from the ground floor in the middle of the night by a chain of staff and volunteers.
1995: The library launches its presence on the internet.
2001: The Authors Visiting in Des Moines, or AViD, series is launched.
2002: A groundbreaking ceremony is held for the new Central Library at 1000 Grand Ave.
2006: The new Central Library opens.
2010: E-books are offered for the first time.
2013: The Virtual Library is launched.
2015: Des Moines Public Library receives the 2015 Top Innovator Award from the Urban Libraries Council.
2016: The library celebrates its 150th birthday.