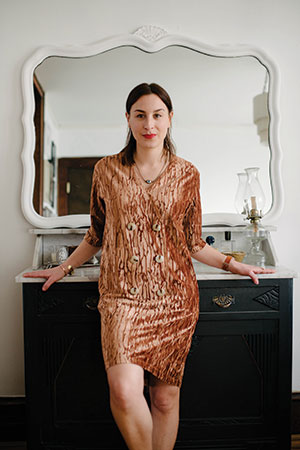 Photographer: Joelle Blanchard
Meet Tatiana Giacinti
Giacinti, 32, was born and raised in Greater Paris, moving to Des Moines in 2015 to work as a senior marketing communications specialist at Kemin Industries.
How you would describe your style:  I wouldn't put myself in one category. Here are three hashtags on Pinterest that best fit my everyday look: #casual #minimalist and #classic. You mix all
of these, and I think you'll get what's truly me.
The part of your style you're known for: I have a couple of pieces that are pretty much a Tat signature. Last year I found an extra large, thin silk bomber jacket in a thrift store. It has a fitted waist, padded shoulders and a Gucci-like pattern. It's definitely a daring piece to wear, but I have no regrets! Also, if you see someone with a silver shirt or pants on a vintage bike with high heels, it's probably me.
The piece of clothing or accessory you couldn't live without: A gray cotton T-shirt.
Any fashion regrets? Pastry sneakers.
Where you shop locally: I've been shopping secondhand and local since moving to Des Moines. Thanks to thrift stores, I've met the best ladies in town, including Megan Evans with the pop-up clothing shop As Seen On M.E. Also, you can't go wrong at Preservation in the East Village.
Passion: Film photography. My favorite camera is from Lomography, the LC-A+. It is a mistake if I leave home without it. A few years ago, I created a collection taken in Des Moines called #somewhereindesmoines. It is minimal street photography featuring random life hilarities, unexpected landscape symmetries or odd circumstances.
Always up for: A bloody mary, an art show, an entire day at the lake or the beach.
Never up for: Football games and politics.