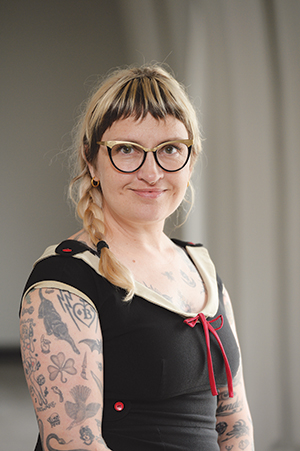 Writer: Missy Keenan
Photographer: Duane Tinkey
Each month, the art gallery at Wesley Acres retirement community features work from a different artist. When Amy Putney-Koenig was invited to display hers, she set out to make the work meaningful for the center's residents by collaborating with them on a series of collages.
An art director at Sticks since 1994, Des Moines native Putney-Koenig is a prolific artist who creates collages, paintings and murals for businesses such as Fresh Cafe and Power Life Yoga.
The 48-year-old artist was introduced to collage almost 30 years ago by a design professor at Iowa State University. Intrigued by the art form, Putney-Koenig combed junk shops for quirky treasures—antique receipts on yellowing paper, scraps of handwritten love letters or a century-old collection of pressed fern leaves. She then married such items into a collage, often imagining a story to explain how the random assortment of artifacts fit together.
As she began experimenting more with collage, some of her work became deeply personal. For a final photography project at ISU, she overlaid a self-portrait with portions of a letter her grandmother sent her when she was 16. In response to the punk-rock hair and clothing Putney-Koenig experimented with as a teenager, her grandmother suggested she had "low self-esteem and [was] trying to hide behind goofy clothes and dyed hair … looking like a slut, a tramp."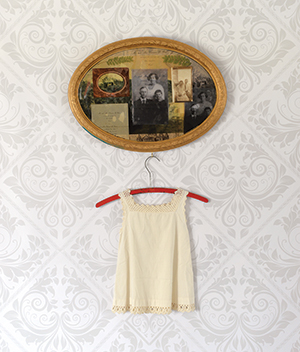 "I included my grandmother's letter with the self-portrait as a statement that she could say and think what she wanted, but I get to choose my own path to be an example of individuality and strength—and to love myself when she couldn't," Putney-Koenig says. "We all have personal stories of sadness and heartbreak and suffering and joy. Once I came through the other side of some of my own struggles, I realized that through sharing my stories I could also help others share their stories."
In recent years, Putney-Koenig has helped kids create collages at Cattell Elementary and the Downtown School, where her son is a student. "I bring in things like old greeting cards, sheet music and crayons, and take a photo of each child so they can create a self-portrait," she says. "Even with a limited amount of items to work with, each kid's personality really comes through."
Putney-Koenig says that in many ways, the Wesley Acres project was a natural extension of her work with schools, but it was her first time collaborating with older adults.
"I invited residents to submit items from their personal artifacts that I could use to create collages, and then I would give them the pieces after the show," she says. "They didn't know me, and
I didn't know if they would appreciate my work, so it was amazing that within a couple days I had boxes of items from four people."
One collage features a photo of a woman surrounded by lace, quilt squares, a thimble, recipes and demitasse spoons. The piece is in honor of a resident's mother, who died in 1934 when the resident was 3 years old.
Another collage includes a wedding photo and a scrap of lace from the dress in the photo. The woman in the photo made her own dress and then, when she was pregnant, used the remaining fabric to sew a baptism gown. She died after the birth of that child in 1922.
"The residents were excited to share their special mementos of their loved ones," says Wickie Dawe, Wesley Acres' resident life coordinator. "They were thrilled to see the finished collages and how skillfully Amy told their stories. They now have their collages proudly on display in their apartments."
For Putney-Koenig, "It's been amazing to hear the stories of the treasures people have carried around for years," she says. "This work is more about them than about me. It's so special that they trusted me with their things. It was a real gift."