Above: To create a space for his collection of some 1,200 bottles, Dave Roberts turned the basement in his Glen Oaks home into a wine cellar.
Writer: Missy Keenan
Five years ago, Sundance Homes would receive just a couple of calls per year about adding a home wine cellar. These days they get that question about every month. And for new construction of Sundance's luxury homes, wine cellars have become standard, according to Kevin McGlothlin, the company's CEO.
A wine cellar is essentially a large walk-in refrigerator kept at a temperature of about 55 to 58 degrees and a humidity level of about 50 to 70 percent. Wine cellars must also include proper vapor barriers and insulation to protect the rest of the home from being adversely affected.
In addition to storing wine at optimal temperature and humidity, wine cellars can also be a handsome way to display a prized wine collection. And they are often located near a home bar or tasting area where homeowners can relax and enjoy sharing wine with friends.
Most wine cellars built by Silent Rivers Design + Build come to about $300 per square foot, according to Tyson Leyendecker, the company's lead designer. This price is similar to the company's range for a kitchen or bathroom remodel.
Looking to build your own wine cellar or just dream a little? Here are two custom wine cellars in the Des Moines area to get you inspired.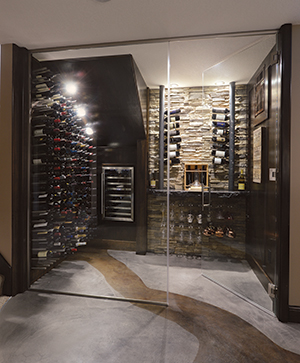 Modern Design
Jana Van Polen has always enjoyed a glass or two of white wine with friends. But after a wine-tasting trip to Napa Valley with her husband, Doug, they both developed a stronger appreciation for wine, especially bold, dry reds like cabernet and merlot.
When they decided to remodel the basement of their Waukee home, they wanted to add a wine cellar in a previously underutilized storage space under the stairs. Jana wanted the room to be more modern than many traditional wine cellars, with glass doors to make the wine collection visible from the nearby bar, a tasting table and a TV area—and to use elements that would tie all of the rooms together.
Sundance Homes designed and built the wine cellar and the rest of the remodeled space. The wall isolating the wine cellar is floor-to-ceiling glass to showcase their collection. The design on the basement's colored concrete floor resembles a river flowing under the glass wall and between the rooms, tying the area together. Just outside the wine cellar door is a tasting table made for the couple by West End Architectural Salvage.
"We love our wine cellar," Jana Van Polen says. "It can hold up to 300 bottles, which is more than enough for us. Sundance designed something functional and beautiful that doesn't take up a lot of space."
The Van Polens love to entertain family, friends, and employees from their businesses—The Aveda Institute and several salons. When they enjoy a memorable bottle of wine on a special occasion, Van Polen will often keep and display the empty bottle, writing on the label what the bottle was commemorating.
"I have certain types of wine I've grown to love that I enjoy collecting," Van Polen says. "But I'm not necessarily good at talking about wine. I mostly just like to drink it and I enjoy sharing it with friends."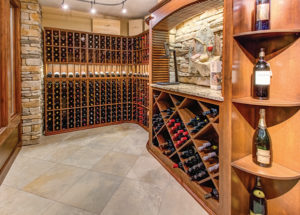 Traditional Mediterranean
When Dave Roberts and his late wife, Jennie Douglas-Roberts, moved from a Chicago suburb to West
Des Moines in 2012, they found a house they loved in the Glen Oaks neighborhood. The only thing missing was a specialized space for Dave, who had just retired as a McDonald's executive and wanted to spend more time enjoying his passions—movies, whiskey and wine. So they hired Silent Rivers to renovate their home's previously wide-open basement space.
"I really liked working on this project," says Silent Rivers founder and CEO Chaden Halfhill. "The wine cellar isn't just for displaying wine. It was about their appreciation of wine as a couple. They were traveling together and enjoying the flavors of wine and the nuances of starting to collect it. We used lots of rich materials like cherry, mahogany and cultured stone. The space has a warm, Mediterranean feel like a true destination."
Outside the wine cellar is a tasting room with a small table featuring a wine barrel as the base. The barrel was given to Roberts by friends who own a small vineyard in California. It previously stored a 2011 cabernet from the vineyard, one of Roberts' favorites in a collection that now numbers about 1,200 bottles.
Near the tasting room is Roberts' whiskey bar and a theater room, places where he enjoys spending time with family and friends.
"It was an expensive project, but it was worth it," he says. "I really wanted to have a place to enjoy myself and entertain after I retired."